Microsoft launches DALL-E-based, AI-powered Bing Image Creator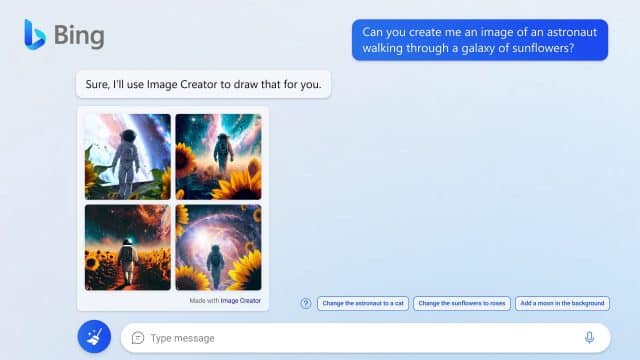 Continuing its AI push, Microsoft has announced Bing Image Creator. Powered by OpenAI's DALL-E, the tool can be used to generate images using artificial intelligence.
Microsoft says that Bing Image Creator will form part of Bing chat, and it will accept natural language prompts to create (just about) any sort of image you might want. The tool will also be made available in Microsoft Edge, making it -- the company is quick to highlight -- the first and only browser with an integrated AI-powered image generator.
See also:
In its announcement, Microsoft says: "We're excited to announce we are bringing Bing Image Creator, new AI-powered visual Stories and updated Knowledge Cards to the new Bing and Edge preview. Powered by an advanced version of the DALL∙E model from our partners at OpenAI, Bing Image Creator allows you to create an image simply by using your own words to describe the picture you want to see. Now you can generate both written and visual content in one place, from within chat".
Predicting concerns about how such as tool might be used and abused, Microsoft points out that there are safeguards built into Bing Image Creator.
At Microsoft, our teams are guided by our Responsible AI principles and the Responsible AI Standard to help them develop and deploy AI systems responsibly. To curb the potential misuse of Image creator, we are working together with our partner OpenAI, who developed DALL∙E, to deliver an experience that encourages responsible use of Image Creator. We have ensured OpenAI's safeguards, plus additional protections, have been incorporated into Image Creator. For example, we have put controls in place that aim to limit the generation of harmful or unsafe images.
The company adds: "When our system detects that a potentially harmful image could be generated by a prompt, it blocks the prompt and warns the user. We also make it clear that Image Creator's images are generated by AI, and we include a modified Bing icon in the bottom left corner of each image to help indicate that the image was created using Image Creator. We continue to work closely with OpenAI to build, test and review mitigations for our integrations".
Bing Image Creator is rolling out to desktop and mobile Bing Preview users. It is also possible to test drive the system at bing.com/create in English.  The tool is also available to Edge users (mobile and desktop once again) via the Image Creator icon in the sidebar. Microsoft says: "We will also soon integrate Image Creator into Edge from the new Bing button in chat mode in the preview version of Edge".