Collaborative working app Microsoft Loop is now available in public preview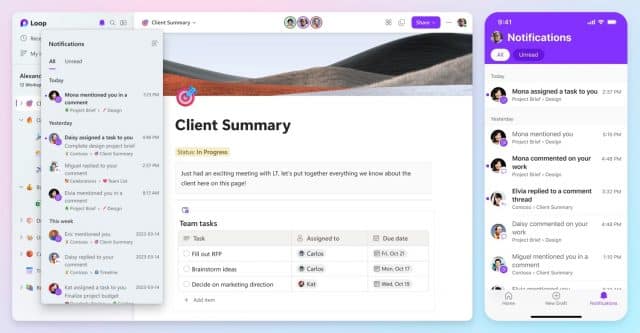 Microsoft has announced the availability of a public preview of its new collaborative working app, Loop. The public launch follows a period of private previews with enterprise customers.
Microsoft Loop is available on the web, as well as for iOS and Android, and it allows teams to work together in shared workspaces that integrate neatly with Microsoft 365 apps. The app competes with the likes of Asana and Notion and has been in development for a couple of years. As you might expect, there is a dash of AI thanks to Microsoft 365 Copilot's support for Loop.
See also:
While hardly a groundbreaking idea, Loop benefits hugely from its tight integration with and support for Microsoft 365 apps such as Outlook and Word. It is a product designed to help with a range of different types of project, but the overriding theme is collaboration.
Describing the app as a "transformative co-creation experience" Microsoft explains:
Microsoft Loop helps you organize everything you need for your project into a single workspace and even does the searching for you to kick it off. Simply add a workspace title and any other relevant keywords, and Microsoft Loop will suggest the most relevant pieces to add to your workspace. Choose which ones to add and create your workspace -- content will be organized into pages that you can easily view.
The company continues: "One of the challenges of a project is how quickly it evolves. Microsoft Loop's flexible workspaces enable you and your team to keep pace. Start new pges easily with templates and drag and drop pages or blocks of content to structure your workspace the way that's best for you and your team".
Microsoft then highlights one of Loop's biggest selling points:
When working on a dynamic project, you often need to share pieces of information with different groups of people, some of which may not be within your immediate project team. Microsoft Loop components allow you to decompose information, sharing just the right parts with the right people. Turn any content on a Loop page into a component, then simply copy and paste across M365 apps, including Teams chat, Outlook, Whiteboard, and rolling out for Word for the web.
Loop also functions as a project management tool, with the option to sync across Microsoft Planner and To Do
This promotional video serves as a neat introduction to what Loop is, how it works, and how it can be used:
More information about Microsoft Loop is available here.