Apple Pay Later: A new way to pay for your purchases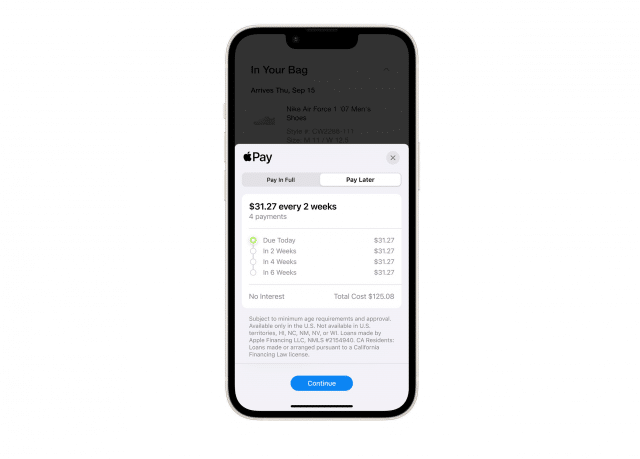 Today, a prerelease version of Apple Pay Later is being launched. This is a new service that allows Apple Pay users to split their purchases into four equal payments -- over six weeks -- with no interest or fees. Apple Pay Later is available for purchases in apps and online when customers check out with Apple Pay.
Apple Pay Later is a convenient way to finance purchases that customers may not be able to afford to pay for all at once. However, it is important to note that Apple Pay Later is not a loan. Customers are not borrowing money from Apple or from a bank. Instead, they are simply splitting their purchase into four equal payment. Goldman Sachs is involved with the process, however.
There are no interest or fees associated with Apple Pay Later, and users can pay off their balance early at any time without penalty. A "hard" credit pull, which can impact a credit rating, is not involved with getting approved for the service. Instead, Apple just does a "soft" pull. Apple Pay Later is also subject to the same security measures as other Apple Pay transactions, such as Face ID, Touch ID, and passcode, so users can be confident that their information is safe and secure.
Jennifer Bailey, VP of Apple Pay and Apple Wallet explains, "There's no one-size-fits-all approach when it comes to how people manage their finances. Many people are looking for flexible payment options, which is why we're excited to provide our users with Apple Pay Later. Apple Pay Later was designed with our users' financial health in mind, so it has no fees and no interest, and can be used and managed within Wallet, making it easier for consumers to make informed and responsible borrowing decisions."
As stated previously, Apple Pay Later is only available today for select users. as part of a limited early access launch. Apple says users will be selected at random, so there is no way to request the access -- you must be chosen. For now, it is limited to those in the USA as well.