Kingston launches DC600M Enterprise SSD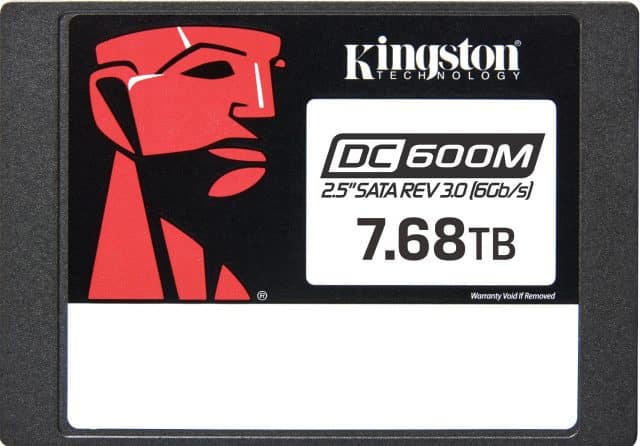 Today, we have some exciting news from Kingston Digital, Inc. The company just announced its latest offering in the world of data storage — the DC600M Enterprise SSD.
This new product has been optimized for mixed-use workloads, with excellent Quality of Service (QoS) to ensure latency and IOPS consistency. With 6Gbps SATA 3.0 storage and 3D TLC NAND, the DC600M is perfectly suited for high-volume rack-mount servers. Plus, it includes hardware-based on-board power loss protection via power loss capacitors, reducing the risk of data loss in the event of an unexpected power failure.
But that's not all. The DC600M is designed for system integrators, hyperscale data centers, and cloud service providers, and boasts predictable low latencies over a wide range of read and write workloads. This makes it the ideal storage solution for businesses and organizations that demand stability and low latency to meet strict customer SLAs.
The DC600M isn't just powerful, it's also secure. It comes with AES 256-bit encryption, making it the optimal data center storage solution for organizations that require enterprise-class reliability and strict QoS requirements.
Kingston shares performance below.
Sequential Read/Write:

480GB – 560MBs/470MBs
960GB – 560MBs/530MBs
1920GB – 560MBs/530MBs
3840GB – 560MBs/530MBs
7680GB – 560MBs/530MBs

Steady State 4k Random Read/Write:

480GB – 94,000/41,000 IOPS
960GB – 94,000/65,000 IOPS
1920GB – 94,000/78,000 IOPS
3840GB – 94,000/59,000 IOPS
7680GB – 94,000/34,000 IOPS
With capacities ranging from 480GB to 7680GB, the DC600M data center SSD is ideal for businesses of all sizes. If you're looking for a powerful, reliable, and secure storage solution for your organization, the DC600M from Kingston Digital, Inc. is definitely worth checking out.
Unfortunately, pricing for this drive is not yet known, but it should soon be available for purchase here.
Please note: Some of the above links may be affiliate links, meaning we, or our writers, may receive payment if you purchase one of these items (or other items) after clicking on them.