KIOXIA unveils BG6 PCIe 4.0 SSD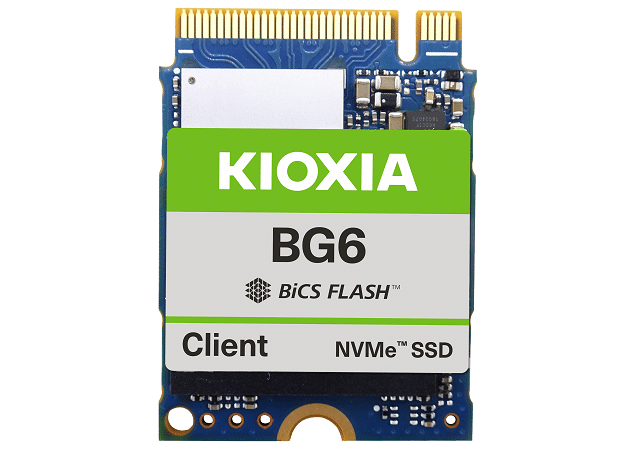 KIOXIA has announced the the latest addition to its PCIe 4.0 solid state drive lineup. Called "BG6," this SSD showcases the company's 6th generation BiCS FLASH 3D flash memory, delivering nearly 1.7 times the performance of its predecessor. With a focus on unleashing the full potential of PCIe 4.0 for PC users, the compact and powerful KIOXIA BG6 Series client SSDs come in a discrete M.2 2230 form factor, offering higher capacities and improved power efficiency. Additionally, M.2 2280 single-sided form factor versions will be available.
The KIOXIA BG6 Series SSD delivers exceptional performance while expanding capacity. This makes them an appealing choice for both commercial and consumer notebooks and desktops. Notably, the KIOXIA BG6 drives support the fully matured Host Memory Buffer (HMB) technology, which effectively utilizes a portion of the host memory (DRAM) to function as its own, resulting in a high-performance SSD without the need for additional DRAM.
Neville Ichhaporia, the senior vice president and general manager of the SSD business unit at KIOXIA America, Inc., emphasized the importance of next-generation storage meeting the demands of mobile computing applications. He stated, "Our new KIOXIA BG6 SSDs deliver increased performance and density in a small footprint, making them well-suited to today's 'work and play from anywhere' lifestyle."
The BG6 Series boasts impressive features and benefits, including capacities ranging from 256GB to 2YB. It also incorporates a PCIe standard 64 gigatransfers per second (GT/s) interface (Gen4 x4 lanes), enabling lightning-fast data transfer speeds of up to 6,000 megabytes per second (MB/s) for sequential reads and 5,300 MB/s for sequential writes. In terms of random read and write operations, the BG6 Series achieves up to 850,000 IOPS and 900,000 IOPS respectively.
Pricing and availability for the BG5 PCIe 4.0 NVMe solid state drive are currently unknown, with KIOXIA only offering samples to PC manufacturers at this time. However, what we do know for sure are the planned capacities -- 256GB, 512GB, 1TB, and 2TB. The SSD should eventually be available for purchase here.
Please note: Some of the above links may be affiliate links, meaning we, or our writers, may receive payment if you purchase one of these items (or other items) after clicking on them.