The evolution of Apple iOS from 1.0 to 17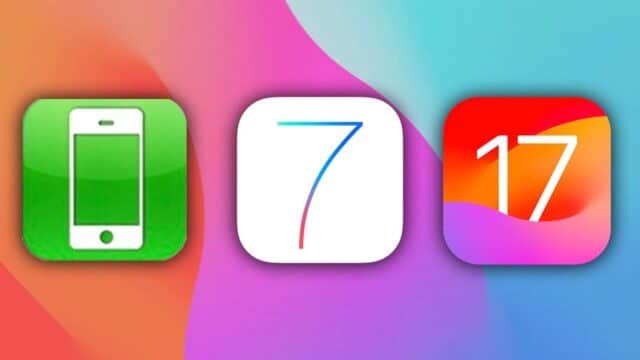 Apple has come a long way since the introduction of its first mobile operating system back in 2007. With each iteration of iOS, the tech giant has revolutionized the mobile experience, and introduced a wealth of new features and experiences.
At its World Wide Developer Conference (WWDC) on Monday, the company revealed some of the many changes it is preparing to deliver in iOS 17 later this year. To celebrate that, YouTube channel Nobel Tech has put together a visual guide to the changes that Apple has made over the years to its mobile operating system.
SEE ALSO: Apple's Vision Pro isn't the VR headset you were expecting, but it is the future -- for rich people
Pivotal moments from iOS 1.0 to iOS 17
1. The Game-Changer: iOS 1.0 (iPhone OS)
Initially released in June 2007, iPhone OS marked a new era in mobile technology. With its touchscreen functionality and user-friendly interface, iPhone OS set a powerful precedent for future generations of mobile devices.
2. The App Store Revolution: iOS 2.0
With the introduction of the App Store in July 2008, iOS 2.0 offered users a plethora of applications to choose from. This innovation propelled the iPhone ahead of the competition (killing off BlackBerry in the process) and shaped the future of smartphones.
3. Spotlight Search & Voice Control: iOS 3.0
In June 2009, iOS 3.0 introduced the Spotlight search feature, which allowed users to search within the iPhone. Voice control also made its debut, which laid the groundwork for Siri to become a reality.
4. Multitasking & FaceTime: iOS 4.0
June 2010 saw Apple adding multitasking to iOS 4.0, a game-changer for productivity and user experience. The advent of FaceTime, Apple's video calling feature, was another highlight in the iPhone's evolution.
5. Notifications & iMessage: iOS 5.0
In October 2011, iOS 5.0 refined the notifications system and introduced iMessage, Apple's messaging platform.
6. Goodbye Google Maps, Hello Siri: iOS 6.0
Released in September 2012, iOS 6.0 marked the departure from Google Maps and the introduction of Apple Maps (which was dreadful in its first iteration). Siri, the intelligent personal assistant, also made its grand debut.
7. A Fresh New Look: iOS 7.0
With its flat design and a focus on simplicity, iOS 7.0, launched in September 2013, was a game-changing overhaul, and Apple's biggest visual change to date.
8. HealthKit and Family Sharing: iOS 8.0
Released in September 2014, iOS 8 introduced new features like Handoff, enabling seamless transition between devices. Other notable additions included interactive notifications, HealthKit and Family Sharing. Apple Pay was added in iOS 8.1.
9. Better performance: iOS 9.0
September 2015 heralded the arrival of iOS 9, with improved performance, battery life, and user experience enhancements, including an all new App Switcher and the News App.
10. The Siri Revolution: iOS 10.0
Launched in September 2016, iOS 10 marked Siri's integration with third-party apps, making the personal assistant even more useful.
11. Augmented Reality & Machine Learning: iOS 11.0
Expanding upon Siri's capabilities, iOS 11, introduced in September 2017, ushered in a new era of augmented reality (AR) and machine learning to the masses.
12. Stability & Animoji: iOS 12
In September 2018, iOS 12 prioritized stability and performance, while also introducing fun features like Animoji and Memoji.
13. System-wide Dark Mode: iOS 13
Released in September 2019, iOS 13 introduced a long-awaited Dark Mode, new privacy features, and enhanced Photos, Maps, and Messages apps.
14. A Fresh Face: iOS 14
Debuted in September 2020, iOS 14 offered customized home screens, new widgets, and the App Library.
15. A Focus on Connections: iOS 15
In September 2021, iOS 15 highlighted features to help users connect with others, including a redesigned FaceTime, interactive SharePlay, and Focus mode.
16. Lock Screen Improvements: iOS 16
Released in September 2022, iOS 16 delivered a personalized lock screen, iCloud share photo library, Apple Pay Later, and Safety Check.
17. Communication and Sharing Improvements: iOS 17
At its recent WWDC, Apple unveiled iOS 17. Highlights of that include a new Journal app, improvements to Phone (including personalized contract posters), AirDrop, FaceTime, and Messages. It will also improve Autocorrect (about ducking time) and gain a new Standby mode.
Watch Nobel Tech's video showcasing Apple's iOS evolution below:
Image Credit: Nobel Tech