Apple's Vision Pro isn't the VR headset you were expecting, but it is the future -- for rich people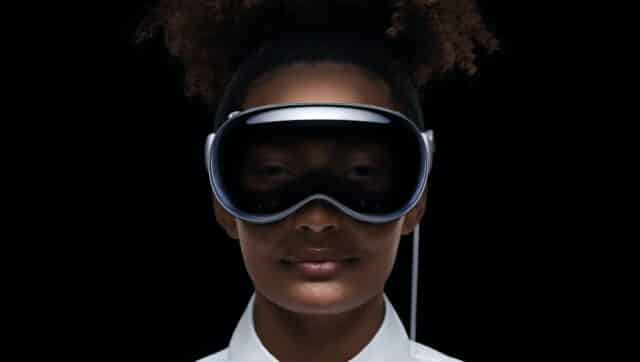 Last week, Meta officially took the wraps off Quest 3, its next gen VR product. Today at its World Wide Developer Conference (WWDC), Apple showed us the long rumored headset it's been working on for years. If you were expecting a VR device designed to take on Meta, you're going to be disappointed. What Apple has come up with is something incredible, but whether you'll want to buy it is another matter.
Apple's Vision Pro is a mixed reality headset that overlays apps on the real world, but there's more to it than just that. There's a reason that Apple has filed over 5000 patents to protect the technology inside it.
Apple's first spatial computer (as the company terms it) "seamlessly blends digital content with the physical world, while allowing users to stay present and connected to others".
As Apple explains:
Vision Pro creates an infinite canvas for apps that scales beyond the boundaries of a traditional display and introduces a fully three-dimensional user interface controlled by the most natural and intuitive inputs possible -- a user's eyes, hands, and voice. Featuring visionOS, the world's first spatial operating system, Vision Pro lets users interact with digital content in a way that feels like it is physically present in their space. The breakthrough design of Vision Pro features an ultra-high-resolution display system that packs 23 million pixels across two displays, and custom Apple silicon in a unique dual-chip design to ensure every experience feels like it's taking place in front of the user's eyes in real time.
There are some interesting -- and very futuristic features -- such as "EyeSight" which shows your eyes to anyone in the same room as you. If you switch to a full screen app, your eyes vanish, so people know your attention is elsewhere.
There are no controllers to hold; everything is interacted with using your eyes, hands or voice, and the headset can recognize your irises, and sign you in using Optic ID when you pull on the headset. It can also create a creepy representation of you which is shown when you FaceTime people.
The device also comes with a special R1 chip to reduce motion sickness in VR games.
If you've used Meta's Quest 2, you'll be used to a wireless headset. Apple's Vision Pro requires you to be tethered to an external battery that you can place in your pocket. It looks a bit clunky, but users will no doubt get used to it.
"Today marks the beginning of a new era for computing," said Tim Cook, Apple's CEO. "Just as the Mac introduced us to personal computing, and iPhone introduced us to mobile computing, Apple Vision Pro introduces us to spatial computing. Built upon decades of Apple innovation, Vision Pro is years ahead and unlike anything created before -- with a revolutionary new input system and thousands of groundbreaking innovations. It unlocks incredible experiences for our users and exciting new opportunities for our developers."
"Creating our first spatial computer required invention across nearly every facet of the system," adds Mike Rockwell, Apple's vice president of the Technology Development Group. "Through a tight integration of hardware and software, we designed a standalone spatial computer in a compact wearable form factor that is the most advanced personal electronics device ever."
Apple Vision Pro isn't cheap. In fact, it's likely to be out of the budget for most individuals. So just how expensive is it? The new headset will set you back $3,400. That's not a typo.
It will be available early next year on apple.com and at Apple Store locations in the US, with more countries coming later in 2024.
To see Apple Vision Pro in action, watch the video below and share your thoughts in the comments.