Summer time and cybersecurity ain't easy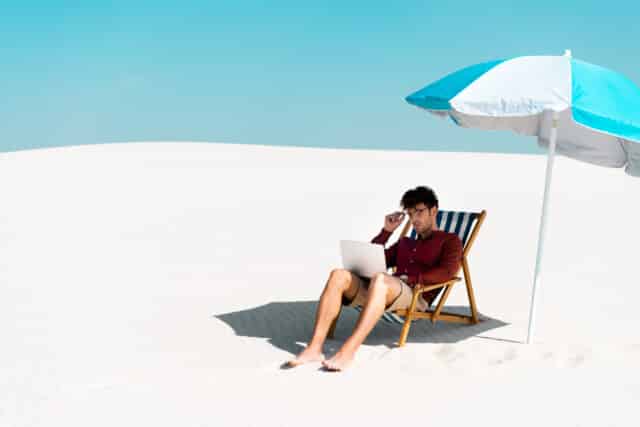 Cybersecurity concerns are likely to go out of the window during the summer months according to a new study which finds that 33 percent of employees in the US and UK are less likely to worry about following best practices while working in the summer.
The research, from API and application protection platform ThreatX, also shows IT teams are struggling to monitor and enforce BYOD policies during summer months when more employees are traveling or working remotely.
ThreatX surveyed 2,000 people across the US and UK and the findings reveal that 55 percent of employees admit to relying solely on their mobile devices while working from vacation and holiday destinations in the summer. In addition, 25 percent claim that they aren't concerned about ensuring network connections are secure when accessing company data, and only 12 percent use a VPN when working remotely.
It becomes harder for IT teams to monitor BYOD policies and application usage with 38 percent of respondents neglect to notify their employers when working from new locations while traveling. Employees admit to using public or local WiFi or cellular data most (51 percent in US, 47 percent in UK) when working from different locations, and are only somewhat concerned about the security risks of doing so when accessing corporate data (34 percent in US, 36 percent in UK).
"The summer months lead to increased cybersecurity risks as employees' behaviors shift and as cyber hygiene becomes laxer. Factors such as increased remote work and travel, and even employees' children using parents' devices to browse the internet and play games, all can potentially expose corporate data through attacked APIs," says Jeremy Ventura, director, security strategy and field CISO at ThreatX. "To avoid this, it's important organizations strengthen the visibility and security by tracking, monitoring, and uncovering vulnerable API and applications."
Younger employees are most likely to use their mobile devices for work. 67 percent of Millennial employees (compared to 55 percent overall) say they depend on their personal mobile devices to work, which poses more risk to an organization's security.
45 percent of employees in the US and UK say no specific measures are taken in their organization to educate and remind employees on security best practices are taken during the summer. Only 24 percent of UK respondents received access to online cybersecurity training and guides and even less (17 percent) in the US.
You can find out more on the ThreatX site.
Image credit: HayDmitry/depositphotos.com