Google's Nearby Share officially comes to Microsoft's Windows 11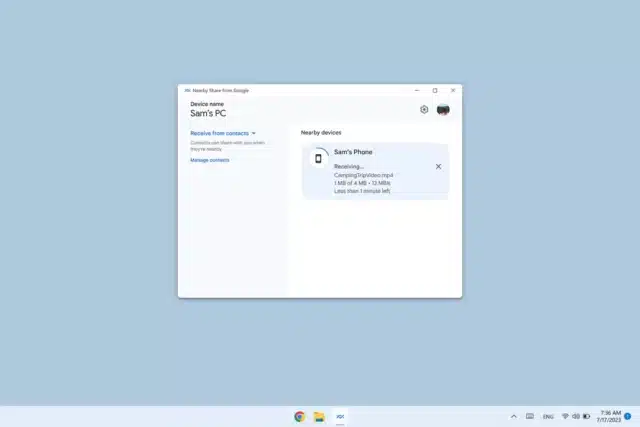 Google's innovative feature, Nearby Share, used by nearly 3 billion Android devices worldwide, has long made file sharing a breeze across smartphones, tablets, and Chromebooks. Earlier this year, in a move to expand its reach, Google initiated a beta version of Nearby Share for Windows PCs.
The expanded capability of Nearby Share opened the doors to a new kind of hardware connectivity between Android devices and Windows PCs. The Nearby Share for Windows app, which was globally available for download as a beta, has already seen an installation count exceeding 1.7 million, showcasing its growing demand.
Today, Google officially launches Nearby Share for both Windows 10 and Windows 11, promising improved performance and new features to simplify content sharing and boost productivity. Yes, folks, Nearby Share has finally graduated from beta!
Since its beta debut, the app has facilitated the transfer of over 50 million files between PC and Android devices, with photos and videos being the most commonly shared files. This means users can forego the need for physical cables and cords to share media; everything can be done swiftly with just a few clicks.
Google has been working diligently to increase the speed and reliability of the Nearby Share feature during beta. Thanks to regular updates, the incidence of crashes has dropped, and the success rate of file transfers has soared. The official release also brings a couple of notable improvements to the Nearby Share for Windows app.
To better facilitate file sharing, especially for large files or folders, the app now shows the estimated time for transfer completion. Additionally, a new image preview feature within device notifications ensures that the right file is being shared.
Looking ahead, Google is teaming up with hardware manufacturers like HP in an effort to make the Nearby Share feature even more accessible. This partnership means that select Windows PCs, such as the HP Dragonfly Pro, will come preloaded with the Nearby Share app.
If you want to try Nearby Share on your Windows PC, you can download the program here now.