LibreOffice 7.6 adds support for Document themes, adds navigation panel to Impress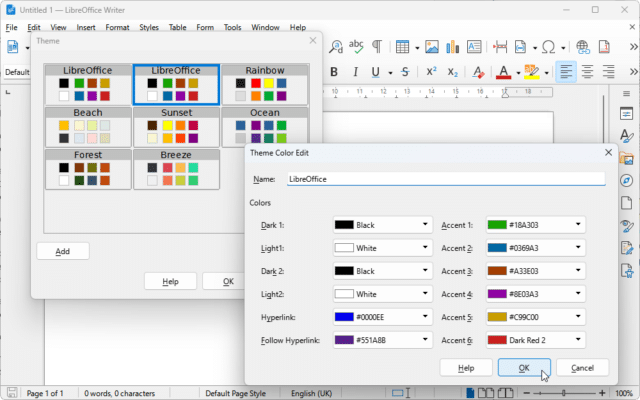 Six months after its last major point release, LibreOffice 7.6 Community Edition makes its bow on Windows, macOS and Linux. The Document Foundation's open-source, cross-platform office suite offers three major highlights with this new release: document themes, a navigation panel in Impress and the ability to highlight used styles.
The headline new feature is support for document themes, which allows users to apply consistent coloring across documents. A new Theme dialog -- accessible via the Format menu -- makes it easy for Writer users to quickly switch themes (eight are provided by default, but users can click Add to define their own).
In addition, Writer and Calc users will be able to access theme colors via the color picker. Themes can be imported and exported in OOXML and ODF formats.
Elsewhere, Impress users gain a useful navigation panel to help them quickly switch slides when viewing a presentation -- the feature can be enabled by ticking the 'Show navigation panel' under Slide Show > Slide Show Settings.
The suite also adds a new spotlight check box to the Styles pane -- when ticked, text is colored by its style to highlight which ones have been used within that document.
Other new features include support for multi-page floating tables in Writer alongside a page number wizard, accessibility check in the sidebar and improved hyperlink visibility in Calc.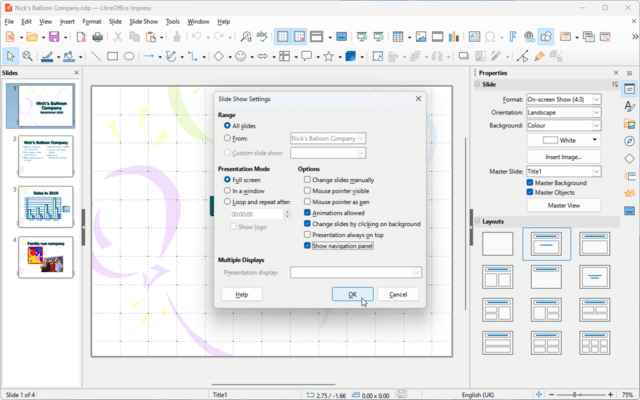 The pivot table gains a new compact layout, autofilter now supports sorting by color, and the help content has been updated to provide context-sensitive documentation for LibreOffice's different user interface choices, such as toolbar and tabbed views. Touchpad users also gain the ability to use zoom gestures in the main view.
As always, for a comprehensive list of new and depreciated features, plus improvements and fixes, check out the Release notes.
LibreOffice 7.6 Community Edition is available now as a free open-source download for Windows 64-bit and Windows 32-bit, plus Macs running macOS 10.15 or later and Linux.