Microsoft updates Paint in Windows 11 with support for layers and transparency, and is working on generative AI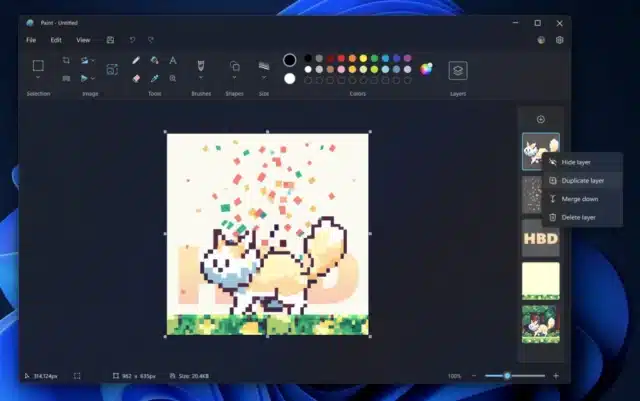 Far from abandoning Paint after nearly four decades, Microsoft is actively developing the app. Having already updated the longstanding image editor with a powerful background removal feature, the company is continuing to equip Paint lovers with new tools.
The latest additions to the beloved app are support for layers and transparency. This is yet another example of Microsoft elevating Paint above being a basic bitmap editor, and there is more on the way. There are also hints in the code of the app that generative AI is under development, meaning that Paint will be able to create images using the DALL-E-powered Cocreator.
See also:
For now, it is the Dev and Canary builds of Windows 11 -- available to anyone signed up to the Windows Insider program -- that are being treated to the Paint update. As of version 11.2308.18.0 of Paint, the ability to use layers has been added and it is a more advanced implementation of the feature than you might expect.
Layers can be added and deleted, re-ordered, duplicated and merged, allowing for the creation of much more complicated composite images than ever before.
The arrival of layers opens up a new world of creative possibilities for users of Paint, especially when combined -- as Microsoft suggests -- with the recently added background removal tool. But layers are not the only new addition; there is also support for transparency. Microsoft says:
We are adding support for transparency as well, including the ability to open and save transparent PNGs! When working with a single layer, you will notice a checkerboard pattern on the canvas indicating the portions of the image that are transparent. Erasing any content from the canvas now truly erases the content instead of painting the area white. When working with multiple layers, if you erase content on one layer, you will reveal the content in layers underneath.
Transparency and layers are available right now, but AI-powered features are on the horizon too. References have been spotted in the code of Paint that show support for AI image generation is on the way:
There is no word on when this feature will launch, and it may be some time off yet.