Microsoft updates the Windows 11 Snipping Tool app with OCR, and brings powerful new features to Phone Link and Windows Photos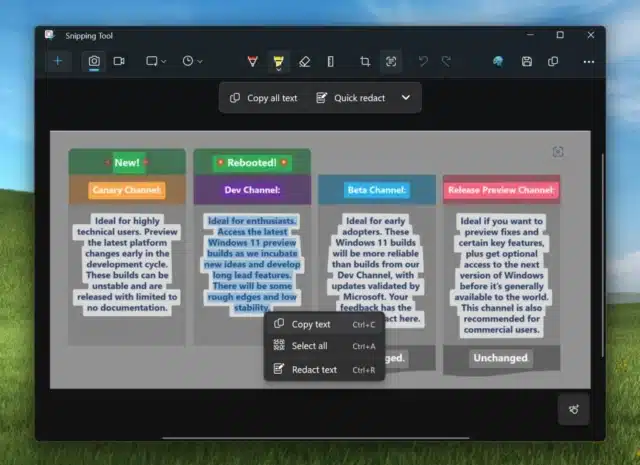 As ever, the Dev and Canary channels of the Windows 11 Insider Program are exciting places to be, bringing updates for not only the operating system itself, but also the bundled apps.
The latest builds of the OS include significant changes and new features for the Snipping Tool, Windows Photos and Phone Link apps. Perhaps the most important addition is Text Actions which brings OCR functionality to Snipping Tool.
See also:
The arrival of OCR in the screen capture utility is something that has many uses. Microsoft explains that the feature "detects text in your captured screenshots, making it easy to copy text from any image to share with others or paste in another app".
This is not the only change to Snipping Tool; there is also a new text redaction feature that makes it easier to hide sensitive information from screen grabs. Both of these new features are to be found in version 11.2308.33.0 of Snipping Tool.
Also updated is the increasingly powerful Phone Link. Microsoft says:
We are also beginning to gradually roll out a new feature for Phone Link (version 1.23082.123.0 or greater on PC) that introduces the ability to effortlessly access and edit your most recent photos from your Android mobile device in Snipping Tool on your PC. Say goodbye to missed opportunities as you'll receive instant notifications on your PC whenever a new photo is captured on your Android device, provided both devices are connected via Phone Link.
Having recently started introducing some impressive tools to Paint, Microsoft is also updating the Window Photos app with great new image editing capabilities. First up is background blur:
Make the subject of your photo stand out by opening a photo in Edit mode and selecting the new Background Blur option. The Photos app automatically finds the background in the photo, and with a single click, instantly highlights your subject and blurs out the background. You can also customize the effect by adjusting the Blur Intensity or use the Brush Tool to modify the areas being blurred.
Other new features include a new search option for OneDrive-backed photos which lets you find the image you're looking for based on the content of the photo. You can also search for the location a photo was taken.
More information is available here.