Spotify launches new collaborative playlist feature called Jam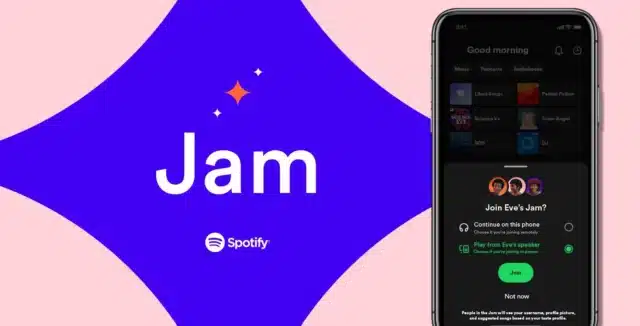 Streaming music service Spotify has announced Jam, a group playlist feature that can be used by up to 32 people. Spotify describes the new social feature as a "personalized, real-time listening session for your group to tune into together".
It is, in many ways, an amalgamation of several existing features of Spotify, such as Blend, personalized playlists and collaborative playlists. All users of Spotify -- free and paying -- are able to contribute to a Jam, but the ability to create them is limited to Premium Subscribers.
See also:
Spotify is betting big on the idea of social listening, and the company has been careful to ensure that it is accessible to all rather than being locked behind a paywall. Once a group of users have been invited to a Jam by a Premium subscriber, Spotify will no doubt be hoping that everyone involved will contribute to the playlist, and that free users will end up listening to more advertising.
The company has produced a promotional video showing off Jam:
Spotify says of the new feature:
Jam is rolling out for all Spotify users globally starting today -- so make sure your app is up-to-date. Premium listeners everywhere can start a Jam and anyone on Spotify can join. Simply invite your squad and Jam will help you find the perfect songs to add to the queue, finding the overlaps in your listening preferences to deliver music recommendations that everyone will love. You'll have the ability to see who's added which track so you know whom to thank for that crowd pleaser, whether you're prepping food together in the kitchen or enjoying games in the backyard.

Once you start a Jam, you can invite a group of friends or family -- Free or Premium users, or a mix -- so they can share the experience. Premium listeners can join from wherever they are, whether they're in the same room or across the world.
An existing playlist, or an individual song or album, can be quickly converted in a Jam by a host (just the click speaker icon at the bottom of your screen or use the the three dot menu to select the Start a Jam option.
Spotify adds:
You can also select a device to play on, whether that's your phone or speaker. Those in your household on your shared Wi-Fi will also be prompted to join the Jam when they open Spotify.

You can then invite your squad in one of three ways:

1. Turn on Bluetooth, then tap your phones together

2. Have your friends scan the QR code on your host screen

3. Hit "share" to send the link through social, text, SMS, and more

Everyone in the Jam can add songs to the queue, see who added which song, and receive recommendations, all from their own devices. The host also has the ability to determine who's in the Jam, change the order of the tracks, or remove a song that doesn't fit the vibe.