Microsoft makes important clarifications about this week's Copilot-touting Windows 11 update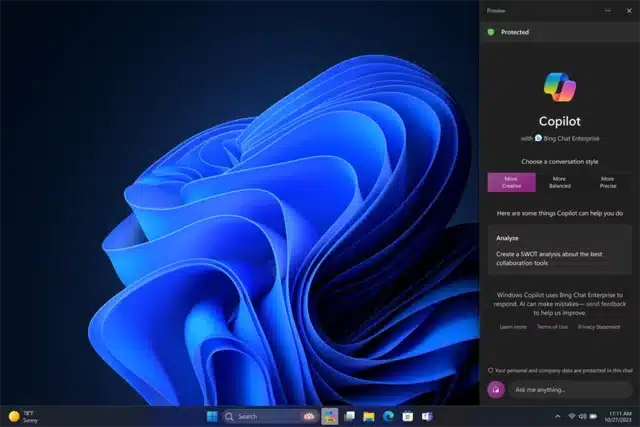 There are big changes coming to Windows 11 this week as Microsoft starts the rollout of a huge update, as it announced at its recent Surface event.
Starting on September 26, the update will make features such as Copilot and passwordless security options available to users of Windows 11, but Microsoft has made a couple of clarifying points out it. Firstly, it is important to note that this update, although big and noteworthy, is not Windows 11 23H2 -- this is coming later in the year. But there's more.
See also:
Not only is this week's update not the same as the upcoming Windows 11 23H2, it is also an optional update. This means that anyone who is interested in getting hold of Copilot will have to manually seek out and install this update. Copilot will roll out automatically later in the year, but for now it is only for seekers.
Microsoft explains:
On September 26th, Copilot in Windows will start to roll out in September 2023 optional non-security update for Windows 11, version 22H2 -- and will be available behind the commercial control for continuous innovation. It will later be included in Windows 11, version 23H2, the annual feature update for Window 11, which will be released in Q4 of this calendar year. With the feature update, Copilot in Windows will be on by default, but under your control with Microsoft Intune policy or Group Policy.
But this is not all. Copilot will not be available worldwide. Microsoft shares the following note: "Copilot in Windows is available in all global markets, except European Community, Russia, Belarus, and China (PRC)".