Score a massive discount on Sabrent's 4-drive NVMe SSD to PCIe adapter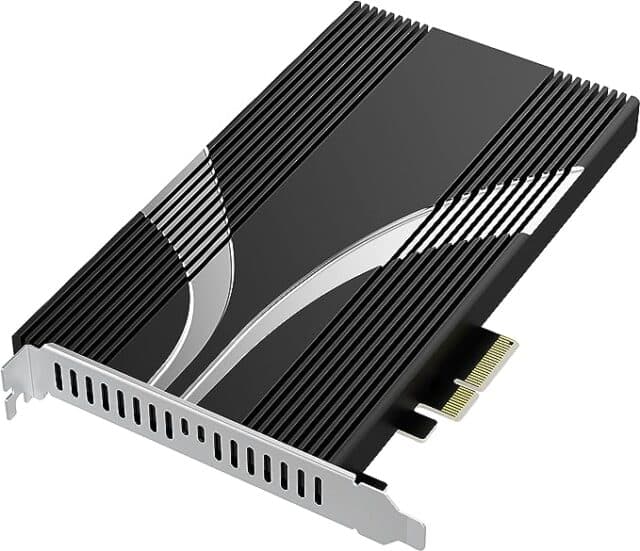 In a landscape where digital hoarding is becoming more of a norm than a novelty, storage solutions are increasingly becoming crucial for both casual users and hard-core tech enthusiasts. Sabrent, a name synonymous with robust and reliable storage solutions, has a new 4-Drive NVMe SSD to PCIe 3.0 x4 adapter card (EC-P3X4). And guess what? It's now available at a discounted price on Amazon, slashing 20 percent off its typical price tag, bringing it down to a tempting $143.99 from $179.99.
This petite powerhouse is engineered to effortlessly add up to four NVMe SSDs to your computing rig without needing setting adjustments in the BIOS. Simply slide in 4x SSDs into the PC-P3X4, and you are ready to roll. The adapter is tailor-made for M-Key 2280 SSDs and can nestle comfortably in x4/x8/x16 PCIe slots, making it a boon for legacy machines craving for a storage facelift.
The aluminum housing isn't just for show; it comes with built-in thermal padding ensuring your drives remain cool, reliable, and secure, thereby delivering NVMe levels of performance sans any hiccups. With support for a PCIe payload size of up to 512 bytes, running software RAID/JBOD is as smooth as silk.
The EC-P3X4 isn't just about brute force; it's a smart piece of tech too. It's designed to be in harmony with a myriad of power states and other features for optimum efficiency. This includes Active State Power Management (ASPM) with the L0s/L1/L23/L3 power states and L1 sub-states. It's also in compliance with the S3 and S4 sleep states, and supports Latency Tolerance Reporting (LTR), Advanced Error Reporting (AER), and Separate Reference Clock with Independent Spread (SRIS), ensuring maximum compatibility and state management across the board.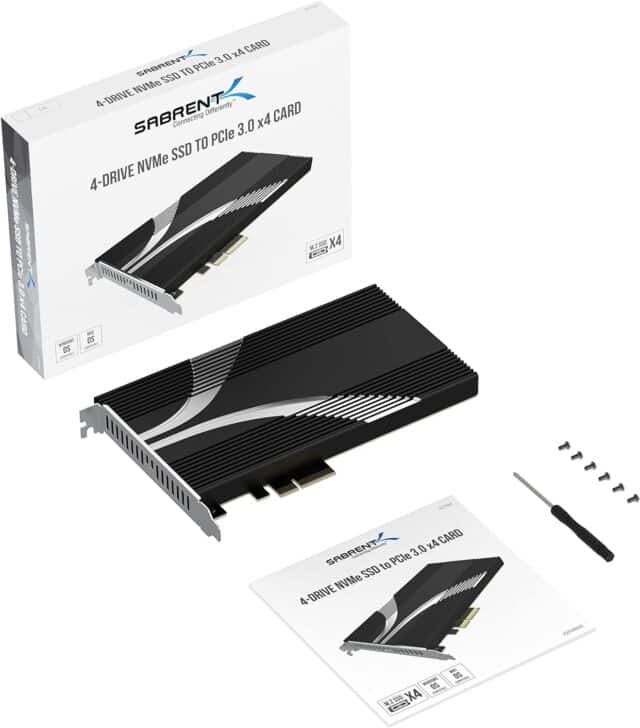 With just one slot, you can now enjoy the luxury of having four NVMe SSDs on your system, thanks to the Sabrent 4-Drive NVMe SSD to PCIe 3.0 x4 Adapter Card. The package is all-inclusive, bundling in M.2 screws and a screwdriver to make installation a breeze. The adapter card is a perfect blend of expansiveness, resilience, compatibility, efficiency, and robust support from Sabrent. It's not just a product; it's a statement by Sabrent, emphasizing how modern storage solutions can be seamlessly integrated, even with older systems.
Moreover, the wide spectrum of power protocol support ensures that your system runs efficiently without burning a hole in your pocket. This adapter only supports M-Key NVMe SSDs, ensuring you're getting the best performance possible. Sabrent has got your back with support for both Windows 8.1+ and macOS 10.3.3+ operating systems.
This offer on Amazon is a golden ticket to not just upgrade your storage capacity, but to do it with a brand that stands for quality and reliability. Head over to Amazon here to make your saving.
Please note: Some of the above links may be affiliate links, meaning we, or our writers, may receive payment if you purchase one of these items (or other items) after clicking on them.