Raspberry Pi 5 is the 'everything computer' -- out at the end of October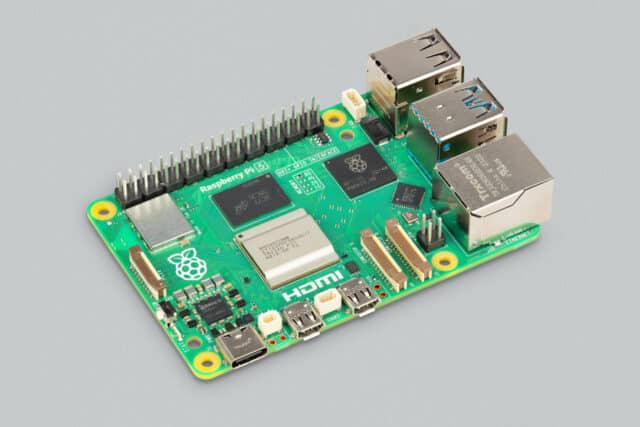 The Raspberry Pi Foundation launched the Raspberry Pi 4 four years ago now. It's been quite the wait, but a new, much faster follow up is finally here.
The Raspberry Pi 5 is described as the "everything computer" and will run at 2-3x the speed of the previous generation. It's built on silicon designed in‑house "for the best possible performance".
The new model runs on a 64-bit quad-core Arm Cortex-A76 processor with a speed of 2.4GHz and features an 800MHz VideoCore VII GPU to provide a substantial uplift in graphics performance. This, coupled with dual 4Kp60 display output over HDMI and advanced camera support from a restructured Raspberry Pi Image Signal Processor, ensures a seamless desktop experience for everyday consumers.
The RP1 "southbridge" is responsible for the majority of the I/O capabilities for the Raspberry Pi 5, delivering a notable improvement in peripheral performance and functionality.
The aggregate USB bandwidth has more than doubled, resulting in faster transfer speeds to external UAS drives and other high-speed peripherals. The dedicated two-lane 1Gbps MIPI camera and display interfaces of previous models have been superseded by a pair of four-lane 1.5Gbps MIPI transceivers. This triples the total bandwidth and supports any combination of up to two cameras or displays.
SD card performance has also been significantly enhanced, with peak performance doubled through support for the SDR104 high-speed mode. In a first for the platform, a single-lane PCI Express 2.0 interface is exposed, providing support for high-bandwidth peripherals.
It comes with a choice of 4GB or 8GB RAM and requires the latest version of Raspberry Pi OS -- Bookworm, which is set to launch in mid-October.
Specs for the new generation of Pi are as follows:
Broadcom BCM2712 2.4GHz quad-core 64-bit Arm Cortex-A76 CPU, with cryptography extensions, 512KB per-core L2 caches and a 2MB shared L3 cache
VideoCore VII GPU, supporting OpenGL ES 3.1, Vulkan 1.2
Dual 4Kp60 HDMI display output with HDR support
4Kp60 HEVC decoder
LPDDR4X-4267 SDRAM (4GB and 8GB SKUs available at launch)
Dual-band 802.11ac Wi-Fi
Bluetooth 5.0 / Bluetooth Low Energy (BLE)
microSD card slot, with support for high-speed SDR104 mode
2 × USB 3.0 ports, supporting simultaneous 5Gbps operation
2 × USB 2.0 ports
Gigabit Ethernet, with PoE+ support (requires separate PoE+ HAT)
2 × 4-lane MIPI camera/display transceivers
PCIe 2.0 x1 interface for fast peripherals (requires separate M.2 HAT or other adapter)
5V/5A DC power via USB-C, with Power Delivery support
Raspberry Pi standard 40-pin header
Real-time clock (RTC), powered from external battery
Power button
Raspberry Pi 5 is set for release at the end of October, but available to pre-order from today. It will be priced at $60 for the 4GB model, and $80 for the 8GB version. Find out more here.