Samsung T9 Portable SSD blends luxury and ruggedness with top notch performance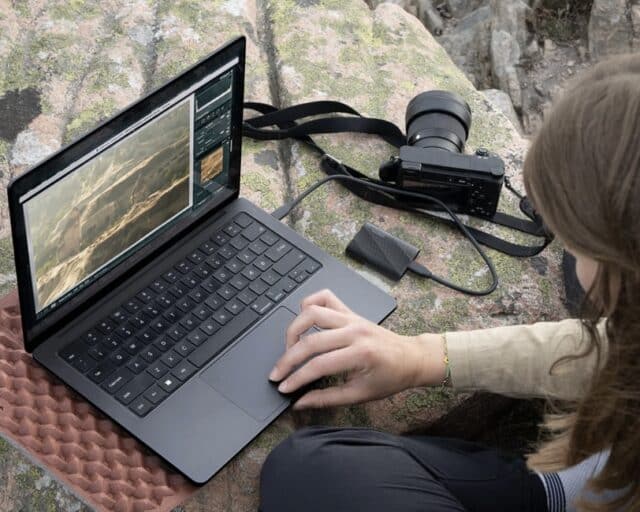 Samsung today expands its T-series storage product line with the launch of the T9 Portable Solid State Drive (SSD), blending aesthetics with portability and performance. The T9 is engineered to be a reliable companion for data safety during transit, boasting swift data transfer rates and generous storage capacities. The rugged USB-C drive can survive drops up to nine feet, but if it does somehow become inoperable, it comes with a five-year warranty.
"Modern-day creators necessitate a storage ally capable of securely housing their artworks, while also saving them precious time, particularly when on-the-move," remarked Jose Hernandez, the Senior Director of Memory Product Marketing at Samsung. "The T9 emerges as an apt choice, aiding a vast global community of creators in effortlessly capturing high-definition photographs, filming and editing 4K videos, transferring files, and executing seamless backups in a matter of seconds."
Highlighting its superior performance and colossal storage, the T9 provides up to 2,000 megabytes-per-second (MB/s) sequential read and write speeds over the USB 3.2 Gen 2x2 interface. This interface facilitates a 20 Gbps data transfer rate, significantly accelerating the transfer of high-res videos or bulky files. The T9 showcases a substantial speed improvement, approximately doubling the speed of its predecessor, the T7, allowing for the transfer of a 4-gigabyte Full HD video in nearly two seconds or an hour and a half-long 4K video (21GB) within 12 seconds.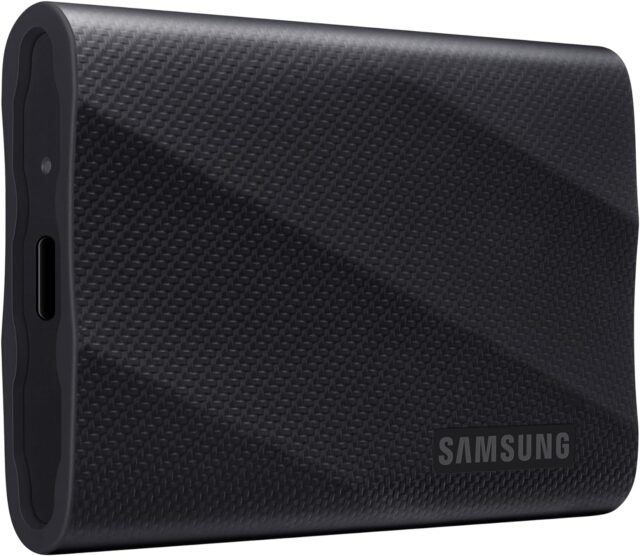 Adding a touch of luxury to ruggedness, the T9 inherits the robust design from the T7 Shield, adorned with curved diagonal lines and reverse carbon patterns, offering a fabric-like luxurious feel akin to an exquisite wallet. The T9's design utilizes rubber material not just for aesthetics but for enhancing performance and temperature regulation, all while providing a comfortable grip.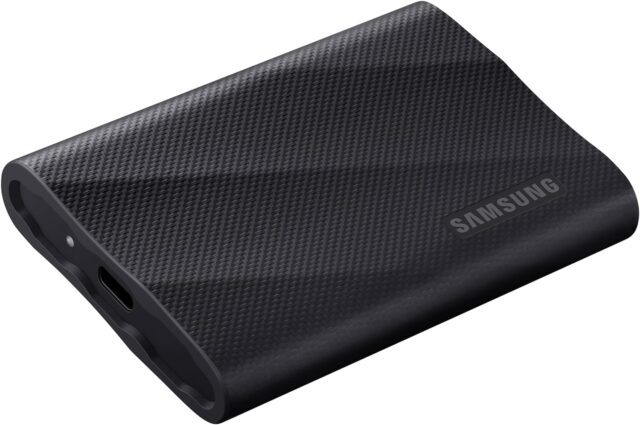 For those who demand swift, efficient large file transfers sans any slowdown, the T9 is crafted with silicon and aluminum to ward off heat, ensuring unhindered operation during intense work sessions. The Samsung Dynamic Thermal Guard technology effectively curtails performance dips due to overheating, thereby ensuring consistent, fast transfer speeds. This superior thermal management permits professionals to transfer hours of 8K videos or thousands of high-res images, sans any fret over data loss.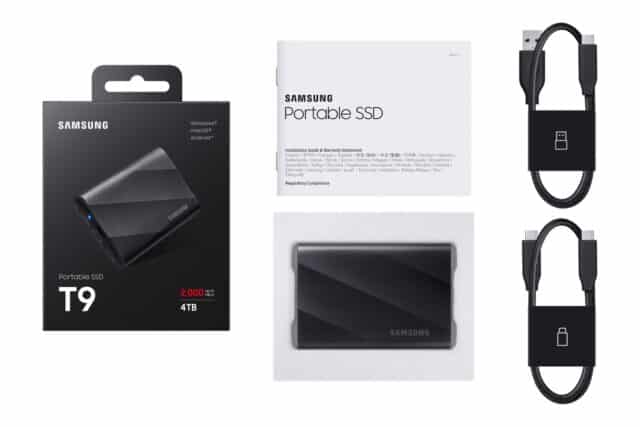 The T9 is being offered in three capacities -- 1TB, 2TB, and 4TB, catering to the diverse needs of creators. Its compact dimensions, akin to a credit card, ensure creators can carry their work effortlessly wherever they venture. The drive is available for purchase from Amazon here priced at $139.99 for the 1TB model, $239.99 for the 2TB version, and $439.99 for the 4TB variant.
Please note: Some of the above links may be affiliate links, meaning we, or our writers, may receive payment if you purchase one of these items (or other items) after clicking on them.