Microsoft unveils the next generation of OneDrive with a massive update of its cloud storage service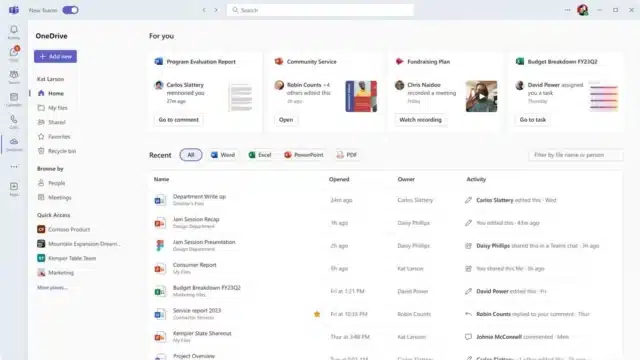 Microsoft is updating OneDrive as part of a major revamp of the cloud storage service. With the third generation of OneDrive, there are not only visual changes, but also new tools and features to use along with, almost inevitably, a dash of AI courtesy of Copilot.
Described as heralding the "future of file management", Microsoft's OneDrive update includes a redesign home experience to help speed up finding what you need. File sharing has been simplified, there is better offline support, and there are numerous performance enhancements. What is currently rolling out is only the beginning; Microsoft promises even more tools and features soon.
See also:
Microsoft says that the next generation of OneDrive makes it more streamlined and intuitive, whether it is used collaboratively or by individuals. The company says it "includes new file views, governance controls, creation tools, and Copilot to help you quickly search, organize and extract information from your files".
Going on to list the changes that have been introduced, Microsoft shares the following:
OneDrive home: We've redesigned the home experience in OneDrive for Web to help you swiftly retrieve your files no matter where they live in your organization.

For you: This section, at the top of the OneDrive home page, surfaces AI-powered file recommendations to you at the right time, so you have what you need at your fingertips.

Meetings view: The Meetings view shows your upcoming and past meetings along with meeting recordings and shared files. Whether these files were shared in chat or the meeting invite, you'll find them all here.

People view: Sometimes you don't remember the name of a file, but you do remember the person who shared with you. Context is vital when looking for the right file. The People view organizes your files by the people you work with.

Shared view: Any file that's been shared with you, regardless of how it was shared or who shared it, now shows up in the Shared view. It's your go to spot to get back to all the files you are collaborating on.

Colorful folders: Express yourself by choosing the color of your folders and stay organized your way.

Favorites: Keeping track of important files is now easier with Favorites. You can mark any file as a favorite and access it from your Favorites list across OneDrive, Teams, File Explorer, Microsoft 365 apps, and more.

Shortcuts: For quick access to files shared with you or residing in shared team locations, just create a shortcut to them in your OneDrive. This simplifies collecting files for projects, regardless of their original location.

Simplified sharing: Sharing files and copying links is now the most user-friendly it's ever been, and there's less clicks involved.
These are the changes, additions and improvements that are available right now, but there is more just around the corner. Other new features are going to be added soon, including the option to open any file in the desktop app, edit it and have changes synced to OneDrive, which will be available globally by December.
Microsoft is also adding OneDrive to Teams and Outlook around the same time, while early in 2024 we'll see files On-Demand for Web, Microsoft says:
Offline file access and sync in fundamental to OneDrive. Now, we're extending sync to the browser experience. When you want files and folders available for offline access on your device, just select them to be always available locally directly from OneDrive for Web. No more navigating away to Windows File Explorer or Mac Finder to perform this action. Once selected you'll have offline access to these files.
Offline mode is also due to arrive in early 2024, while the middle of the year will see the launch of media view, and the ability to create blank documents with an Add New button.
On the artificial intelligence front, Microsoft expects Copilot in OneDrive to become available by December for all customers who have a Microsoft 365 Copilot license. But the AI options added first are just the start of things:
We're working on new Copilot skills that will help you find what you need and stay organized. Imagine you've just started working on a new project called Munson, and you need to quickly get up to speed. You ask Copilot, "Show all the files shared with me on Project Munson in the last week". Once Copilot has helped you find the relevant files, it understands that you might benefit from adding them to a new folder. Copilot then adds these files to the new folder, and recommends other files related to Project Munson that were not part of your original search, so that you can add them to your newly created folder. What started as a simple natural language search has now resulted in your personal knowledge library on Project Munson.

When you want to share these files with other people, Copilot can generate summaries to include with the share links so your coworkers have more context. Lastly, Copilot can make it easier than ever to catchup on important updates to your content. Imagine seeing a daily digest in OneDrive that shows new files shared with you, changes to files you've shared, new comments, documents relevant to upcoming meetings, and suggestions for follow-up actions.
Other improvements include security and governance enhancements, better search and more.
Full details are available here.