Do 9 out of 10 Apple App and iTunes store account holders own iOS devices?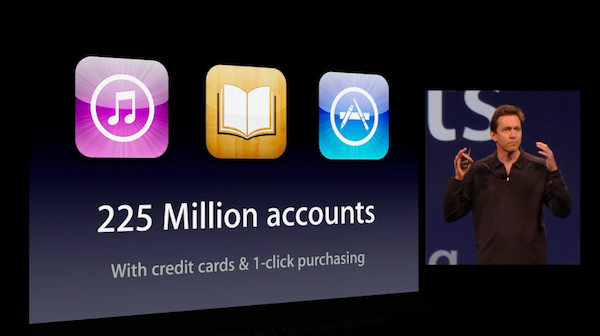 Something startling happened today. Either someone in Apple's PR department royally screwed up, or the landscape of iOS device users is dramatically different than I or many other people thought.
Last month, during the event announcing iOS 5, Scott Forstall, Apple senior vice president of iOS software, said: "For our stores we have more than 225 million accounts, all with credit cards and one-click purchasing". Forstall also said that Apple had sold 200 million iOS devices.
Today, Apple announced there have been 15 billion downloads from the App Store. Phil Schiller, Apple's senior vice president of Worldwide Product Marketing, is quoted in the press release using the same 200 million number, to which I attached "devices" in my news story. Later, commenter SaxonXXX chided: "What do you know, Joe, it says iOS users not devices; you missed that one". I checked the quote -- and, hell, that's right: "Thank you to all of our amazing developers who have filled it with over 425,000 of the coolest apps and to our over 200 million iOS users for surpassing 15 billion downloads". I corrected the story.
Hours passed before the significance of the difference dawned on me. "Devices" infers hardware sold -- and not necessarily in use. So there could be X number of devices now obsolete, meaning that many fewer devices than Apple accounts. "Users" infers, in this context, "active" ones. By that reckoning, 89 percent of iOS users would have an Apple account, which is required to activate a device and purchase content. Presumably, the remaining 11 percent are iTunes-only customers who may or may not own an iPod.
The implications are remarkable. Before June 29, 2007, when iPhone launched, Apple accounts generally were associated with iTunes and, but not necessarily, iPod. No one needed an iPod to get an iTunes account. Four years later, it's looking quite possibly like most Apple account holders own an iOS device, which is a staggering shift that shows:
1. Apple hardware, services and software are closely tied. This is to be expected, except for the extent. People are either buying into the whole Apple device-services ecosystem, or not much at all.
2. Apple cloud services have little appeal outside of iOS devices. I guess there are reasons why Apple is dumping MobileMe, and it's a wonder anyone without an iPad, iPhone or iPod touch buys anything from iTunes.
3. Apple needs something else to generate new account sign-ups. Mobile payments are going to be big. That 225 million accounts may look large now but the number will seem puny later, particularly when Google makes its play. This shows the weakness of Apple's social strategy, which pales compared to Facebook.
4. Google can easily catch Apple account numbers, if it hasn't done so already. Google is activating 500,000 Android devices every day -- that's 180 million a year. Android Market purchases use Google Checkout, which also requires a credit card. Google accounts will reach more people on more devices in more places, based on current sales momentum, number of handset manufacturers and geographies covered.
Bottom line: Apple has a tightly-knit ecosystem. Competitively, its strengths are also weaknesses.