Larry Page has got some kind of balls to buy Motorola Mobility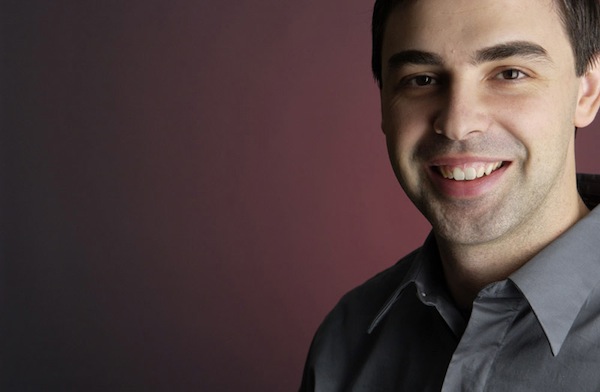 Google's CEO proved his mettle today, just four months after assuming the role from Chairman Eric Schmidt. Google's $12.5 billion Motorola Mobility acquisition is bold for its risks, which are no less great than the benefits.
There's something fitting about the merger. Motorola Droid, backed by $100-million Verizon ad blitz, made Android. Google launched Android on a single handset (the G1) from a single carrier (T-Mobile) in autumn 2008. Moto Droid launch came about a year later. The operating system really took off -- really started wooing consumers, developers and handset makers -- following the Droid line's stunning success. In 2010, Android sales grew 888.8 percent according to Gartner. Android shipped on 48 percent of smartphones in second quarter 2011, according to Canalys.
Moto also is a loyal partner. "In 2008, Motorola bet big on Android as the sole operating system across all of its smartphone devices. It was a smart bet and we're thrilled at the success they've achieved so far", Page observes today in a Google+ post. "We believe that their mobile business is on an upward trajectory and poised for explosive growth".
He adds: "Motorola's total commitment to Android in mobile devices is one of many reasons that there is a natural fit between our two companies. Together, we will create amazing user experiences that supercharge the entire Android ecosystem for the benefit of consumers, partners and developers everywhere".
From that perspective, Google owes much to Moto, which ranked eighth in the world for overall handset sales during second quarter, according to Gartner. That said, more recently, HTC and Samsung have done more for Android. The big benefit is Moto Mobility's huge patent portfolio, which could stop patent bully Apple in its tracks. But Google has to close the deal first, which could face opposition. Google couldn't likely have worse timing to acquire Moto Mobility, which is the first reason it shows real balls behind cofounder Page, Google board of directors and his executive team.
Government investigation. The Moto Mobility deal is subject to government approval, which is fraught with risk because the Feds are gunning for Google. The Federal Trade Commission, which could take jurisdiction over approving the deal (as could the Justice Department), is investigating Google competitive practices around search and Android. That puts a deal involving a major Android manufacturer in the bulls-eye. Meanwhile Schmidt is scheduled to appear before the Senate on September 21. All this government monkeying around will occur during the merger approval process.
From that perspective, with competitors likely to gang up against approval and use antitrust as a club, the acquisition's timing is ballsy. Google has to really line up its ducks to quack, quack loud enough above the rabble. Given that Moto Mobility's patent portfolio likely is a main motivation, Google could let go the hardware division to seal the deal. On the other hand, Moto is eighth in the world, which should count for something. Then there is the price paid -- about a 60 percent  premium -- and that suggests bigger plans than just intellectual property. "That's the kind of price paid by a strategic buyer who plans to use the acquisition target as leverage for its (Google's) own core business", patent analyst Florian Mueller observes.
Channel competition. Should Google get the whole kit-and-caboodle, it will be in position to compete with other Android licensees. That makes the merger ballsy, too, since there is risk of scaring some of them off and perhaps to Windows Phone. But if Google is smart, it will do to Moto mobile devices what it does with Nexus series smartphones -- offer baseline configuration hardware that is reference design for Android OEMs, provides developers will stable, always-up-to-date Android platform and lets the geek elite buy a pure Google handset. Right now, Google depends on OEMs to produce its own branded smartphones.
More importantly, Google gets a helluva resource for future research and development. Software can't be developed divorced from hardware. Google could turn Moto Mobility into an R&D lab for improving Android and supporting services, giving Google an end-to-end software-hardware-services platform rivaling Apple's, from a R&D perspective, whether or not there is a serious mass-market play. Licensees would benefit if Android gets better faster.
Google plans to operate Moto Mobility as a separate business unit. The question: At what point does that change such that Moto Mobility gets an edge over other licensees? Google is rapidly pulling together its products and services into a tightly integrated set. This, by the way, is the kind of future that might give FTC or DOJ pause approving the deal -- or the European Union. It also suggests that Google's plans to operate Moto Mobility as a separate entity is a ploy during the approval process and to keep Android licensees, particularly those adopting tablets, from jumping ship. Remember, all top-tier Android licensees also sell Windows Phone handsets.
Mueller sees fundamental changes:
We're looking at a deal that would fundamentally change Google's Android-related business model. Google assures that Android will continue to be available on open source terms, but Android's openness has previously been doubted, including by a partly EU-funded study. The likes of Samsung, HTC and LG obviously don't have any other choice than to say at this point that they welcome the deal. They will continue to say that for some time. They obviously weren't going to bash the deal in public. But there's no way that they can compete with a Google-owned Motorola Mobility on a level playing field.
But Page offers reassurances: "This acquisition will not change our commitment to run Android as an open platform. Motorola will remain a licensee of Android and Android will remain open...Many hardware partners have contributed to Android's success and we look forward to continuing to work with all of them to deliver outstanding user experiences".
Patent fool. Google played the patent fool, while obviously looking at other options, which reflected bad on Page's leadership but now shows balls. It seemed strange that Google let itself get left out of the Nortel patent deal, but if the Moto Mobility acquisition was being negotiated then, suddenly Google's strange Nortel bids and other behavior make sense.
The real question is the patent portfolio's value. Mueller cautions: "It would be a mistake to look at this as just (or primarily) a patent deal". But it's a huge portfolio. According to Moto Mobility's 2011 annual report:
Motorola Mobility has approximately 24,500 patents and patent applications, worldwide. These include substantially all of the patents unique to the Mobile Devices and Home businesses, and a number of other patent families allocated to Motorola Mobility by our Former Parent and intended in part to mitigate certain intellectual property risks associated with operation as a new entity. Motorola Mobility's patent portfolio generally relates to wireless, audio, video, security, user interface and product design, along with applications and services related to our products. The Mobile Devices business segment has approximately 15,200 granted patents and 6,200 pending patent applications, worldwide.
The patents do have huge value that shouldn't be understated. Google's ultimate goal here should be twofold:
1. Building up a portfolio that eventually will lead to cross-licensing deals with heavy-hitters Apple and Microsoft, thus ending the most distracting and potentially debilitating claims against Android licensees.
2. Increasing Android licensees' confidence in the platform. As I've stated before, Apple's patent and other intellectual property claims again HTC, Samsung or other Android licensees is about deterrence -- stalling for time.
The lawsuits are a distraction as much as a weapon to potentially bar allegedly patent-infringing products. Legal threats can cause hesitation everywhere -- among handset manufacturers, software developers, peripheral makers and business or other organization adopters. Hesitation gives Apple time to push back with new products, iCloud, iOS 5 and iPhone 5 -- even iPad 3, if it ships this year. The Moto Mobility acquisition, even the promise of it, could empower other licensees to push ahead, with renewed confidence that Google has their back.
"Our acquisition of Motorola will increase competition by strengthening Google's patent portfolio, which will enable us to better protect Android from anti-competitive threats from Microsoft, Apple and other companies", Page explains.