A year later, Bing+Yahoo still treading water against Google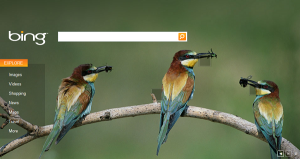 It has been a year since Bing began powering search results for Yahoo. That pairing has done little to increase the overall market share of Microsoft's search engine entrant, increasing only four percent during the period.
In an even starker example of Bing's troubles, it still lags behind Yahoo in terms of searches launched directly from bing.com. A larger portion of Bing's overall share still comes from Yahoo, Experian Hitwise has found.
Google's search share in August was 65.09 percent, down a little under one percent from the previous month and down from 71.59 percent a year ago. Bing's total searches rose to 28.99 percent, up from a combined 24.56 percent one year ago.
Searches from yahoo.com itself made up 15.89 percent of that number, while Bing searches coming from bing.com made up 13.10 percent.
While it is clear that having Yahoo under Bing's belt is helping Microsoft overall, it appears as if overall consumers are still reluctant to make a change in their search habits.
Bing is also fighting a losing battle against Google in mobile search: Windows Phone continues to struggle against both iOS and Android, which default to Google for web searches.
As more consumers turn to their mobile devices for web searches, lacking a strong foothold in the market could hurt Bing in the future unless Windows Phone begins to gain traction in the marketplace.