How does Amazon Kindle Fire compare to iPad 2? [chart]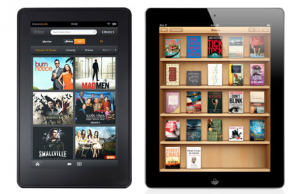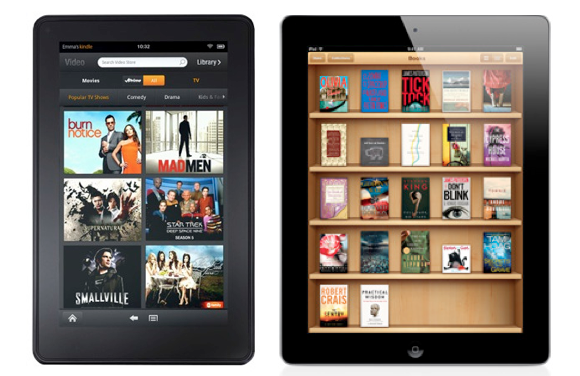 Amazon's unveiling of the Kindle Fire on Wednesday took the eReader ever closer to becoming a full-fledged tablet device. With the move, Amazon will now have its devices ever-more increasingly compared to tablets rather than other e-readers in its class.
The most obvious comparison is price. At $199, Amazon is clearly aiming to get as many Fires in the hands of consumers as possible. It could see the device as a loss leader, hoping to make up any lost margins on the sales of content from its music and entertainment services.
iPad 2, on the other hand, costs $499 for the 16GB model. No doubt in the coming days and weeks we will hear Apple point out that iPad 2 is a full-fledged computing device, and not a reader with tablet capabilities as the Kindle has grown into.
Note that Kindle Fire only has 8GB of internal storage, while iPads have anywhere from 16GB to 64GB. Amazon is positioning Fire as an entertainment device first, and hopes that a lot of users' content is stored on its free cloud offerings that will be included with the device.
Another comparison is the operating system. While Fire is based on Android, it is not fully "open". Instead, it runs a modified version of Android OS 2 -- and while it can run Android apps, Amazon chooses which apps to give access to much like Barnes and Noble's Android-based Nook.
You could argue this is no different from what Apple does with iOS: all native apps are also curated by the company before being permitted to be installed on the device. Is this necessarily a bad thing? Probably not, since Amazon will be able to ensure the experience for its end users with third-party applications will be a positive one.
Apple made a big deal out of Mobile Safari when launched, claiming it made browsing the desktop web on a mobile device truly possible. There were two problems though: iOS doesn't support Flash, and mobile connections are still sometimes slow.
Silk, Amazon's web browser, aims to correct that. It leverages Amazon's cloud to deliver pages faster to the device by having to rely less on the hardware itself. It also supports Flash. The first Fire model is Wi-Fi only; Amazon's approach truly could make a big difference should future Fires offer mobile data capabilities.
An argument certainly can be made here that Amazon may just have the best mobile browser solution on the market, and something Apple might be wise to take a hard look at for future tablet devices.
For those of you looking for a more comprehensive comparison, we've included this chart below comparing the device's most notable features. We'd also like to know, is the Fire for you? Do you see it as a tablet or just a souped up e-reader? Let us know in the comments.