Call me when Nokia Windows Phones connect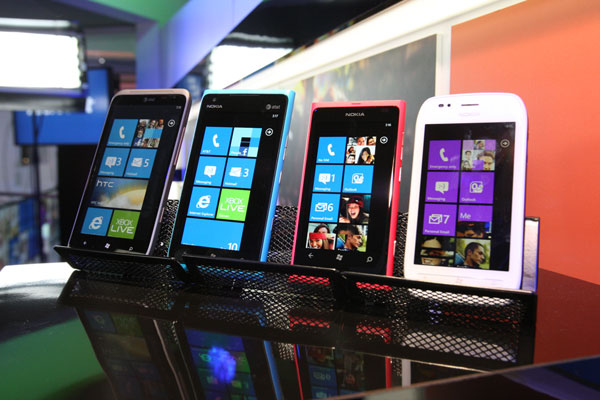 I'm a fan of Windows Phone and its glance-and-go concept, and Microsoft has made lots of noise at Consumer Electronics Show 2012 about the future. Say, how's that "Get smoked by Windows Phone" competition going, anyway?
But somebody is blowing smoke about how grand will be Nokia Windows Phone sales this year. Thirty-seven million? Cough. Cough. iPhone may have reached that number during holiday quarter 2011. Besides, it's pitiful compared to the Nokia we all used to know.
Morgan Stanley put out that 37 million figure -- 43 million, when including HTC -- and 64 million Nokia Windows Phones in 2013. Those numbers are a shadow of Nokia's former self, from the company that invented the smartphone category more than a decade-and-a-half ago. In 2008, Nokia sold 472 million cell phones, for 38.6 percent share, and handily led the smartphone market -- that despite shipment delays, according to Gartner. For example, in fourth quarter 2008, Nokia sold 15.6 million smartphones for 40.8 percent market share. For all 2009, 80.9 million phones with Symbian -- then Nokia's flagship OS -- sold worldwide, for 46.9 percent market share.
It's all downhill from there. In third quarter 2011, Samsung snatched Nokia's smartphone crown. If Morgan Stanley's projections are right, Nokia will sell about half as many smartphones in 2012 as four years ago, when the market was considerably smaller. For example, smartphones accounted for 26 percent of global handset sales in third quarter 2011, according to Gartner. Three years later, smartphones accounted for 11.8 percent of global handset sales. IDC predicts that smartphone shipments, not actual sales, will reach 1 billion in 2015.
I simply don't see much reason to coo about 37 million shipments when looking at Nokia's past and Androids' and iPhone's future. I sure would like to. Windows Phone stands apart from the rabble. The user interface is fresh and, honestly, refreshing.
Nokia has announced three Windows Phones -- the Lumia 710, 800 and 900 -- but only two have shipped. T-Mobile started selling the Lumia 710, the first Nokia Windows Phone available from a US carrier, today for $49.99 with contract. Earlier at CES, Nokia announced the Lumia 900, which will come to AT&T later this year.
I'm a long-time Nokia enthusiast, who would really like to see a comeback -- marriage of exceptional hardware and Microsoft software. Perhaps I'll be more excited when Lumia 900 ships. For now, the sales numbers will look paltry if iPhone achieves in one quarter what Nokia Windows Phones might do in a year.
The photo above and infographic below are courtesy of Microsoft.