Make Google TV your living room entertainment hub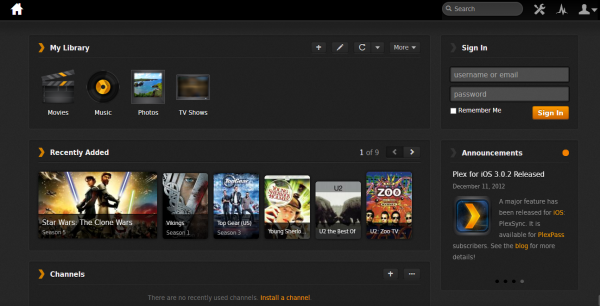 A month ago I made a major change in my living room, moving from HTPC running Windows 7 to Vizio Co-Star Google TV box. While the move saved a lot of shelf space, that was not the goal. My living room computer was old and slow, Windows Media Center no longer received real investment from Microsoft and developers had largely come to ignore the platform -- I only got Hulu on it via a hack.
Your first question may be how I can watch and record TV now, but that is not an issue. I never used WMC for that because I have DirecTV, which does not support input to WMC, although the company had once planned to do so before scrapping the idea. So, my HTPC was simply used for viewing our collection of ripped DVDs and digital photos, as well as listening to our large music collection through the living room home theater speakers and those on the outdoor patio. In other words, I never used WMC to its full potential.
WMC also does not have a web browser, meaning it needed to be exited or minimized whenever we wanted to visit a site like YouTube, Pandora or a network TV site.
But, how do you get all of that home media onto Google TV?
Plex Media Server and App
Plex is incredibly simple to set up. You will need to add the media server portion to a home computer, preferably a PC that is always on -- never goes to sleep. Once installed the app is controlled through a dashboard in whatever web browser you have set as your default -- simply click the icon in your system tray to launch it.
The media server easily allows you to add Movies, home videos, TV shows, music and pictures. Those are pre-set categories, but you can also create your own.
Plex also provides an Android app that is specifically made for Google TV. Simply access the app and you get a clean simple menu for all of the above mentioned categories, along with any you have created.
Both the server and app are free.
Watch and Record TV with PlayOn
If you do wish to watch and record shows through Google TV then PlayOn will fill that need. The service is not free, but very reasonably priced and provides a number of channels such as the basic networks, ESPN, Cartoon Network, CNN, Discovery and many others. It also supports HBO GO, Netflix and Amazon. For an additional annual fee you can record shows to the cloud DVR for later viewing.
PlayOn is compatible with many devices -- pretty much any that support DLNA. In fact, for a good price you can purchase a Roku with PlayOn pre-installed, along with a subscription included.
More Apps
Both Amazon and Netflix, depending of which you prefer, work on Google TV. Version 3 of the operating system brings a native Amazon Prime app, which is a huge deal for those of us who use Prime as our movie and TV show platform of choice.
Pandora also makes a native app for the operating system. Like other apps, you need only sign in one time. If your audio is output through a receiver with external speakers then this is especially nice.
There are launchers, like Open Launcher for Google TV, if you prefer to change the look of your set top box. There are also other video sources like Redux TV and more.
What apps do you prefer on your Google TV? I am always on the lookout now for cool new ones, so let me know in the comments below.