Moving to VoIP? 10 things you need to know before ditching the PBX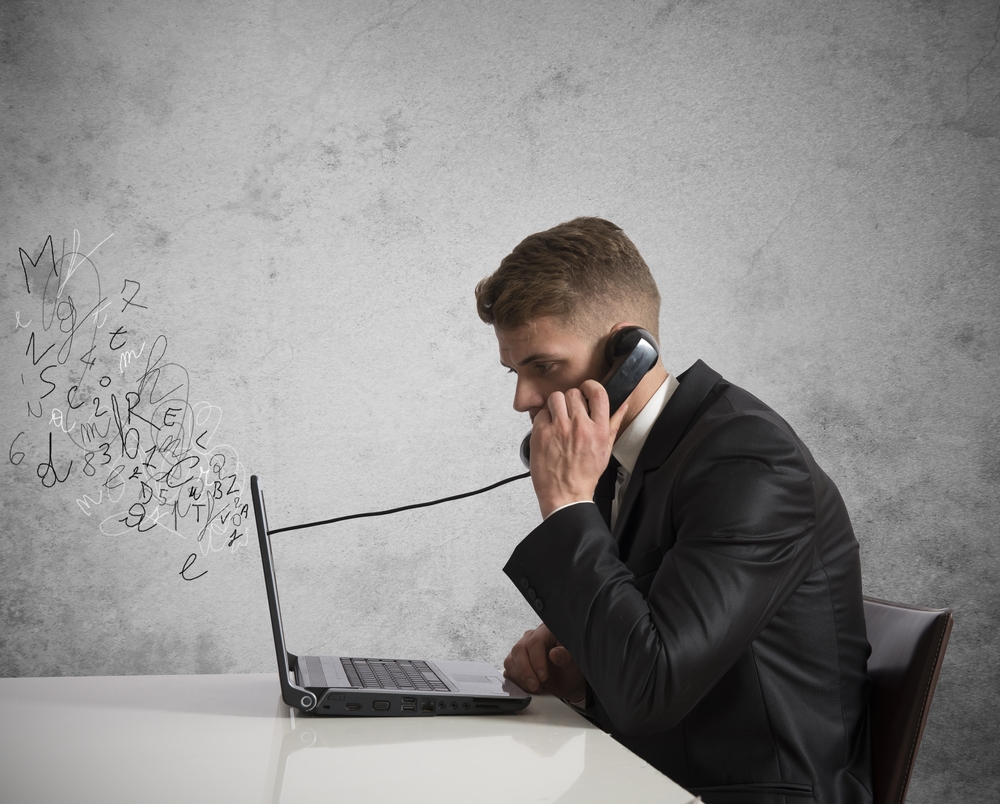 If you haven't heard of VoIP (voice over IP) by now, you've been living under a bridge. This broad term blankets a ton of technologies, from things as simple as Skype and Google Hangouts, to more business-esque offerings like Lync and IP desk phones. "The cloud" is already passe and so 2012 -- the next hot item in tech is without a doubt unified communications, or simply UC, as the industry geeks call it. And chances are, based on the latest stats, your organization either has UC on the timetable or is already putting some form of it into place.
The numbers behind VoIP adoption and growth back up its reputation as the up and coming attraction in the way we do business. Mobile VoIP is poised to hit roughly 1 billion users within the next five years. Residential VoIP subscribers hit a massive tipping point of 203 million users as of the first half of this year. And Microsoft recently let loose that over 60 percent of 500+ seat enterprises surveyed are either deploying or in the planning stages for rolling out its Lync UC environment in the workplace.
A Webtorials survey of 200 IT pros came to similar conclusions this year, finding that 75 percent of enterprises either partially or fully deployed UC in some fashion. That's 3 of every 4 big businesses, and solidifies the fact that companies are empowering workers with better tools to keep pace in the modern workplace.
The enterprise isn't the only sector eating up UC. According to a 2013 survey by SpiceWorks, 60 percent of small and midsize businesses reported that they are already deploying, or deploying in the near term, web conferencing solutions. Of the same respondents, a similarly high 58 percent claim to be handling video conferencing in the same manner.
Legacy landline and PBX service is on its way out, and I'm definitely glad to see it go.
I wanted to provide some insight specifically surrounding business-grade VoIP offerings, such as Lync and cloud-hosted IP voice from the likes of 8x8. As a technology consultancy to small and medium sized organizations, you can only imagine the amount of questions we are fielding about these offerings lately. As legacy PBX systems continue to die off in back closets, organizations of all sizes are making conscious efforts to wade through the confusing mess that is everything VoIP, and figure out what can benefit them most in a cost effective manner.
The problem with understanding VoIP is twofold right now.
First and foremost, there is so much competition in the market, and every competitor is trying to a claim a me-too spot in the playing field. Unlike maturing categories such as SaaS-hosted cloud email (Google Apps & Office 365) and SaaS-hosted CRM (Salesforce), the VoIP market takes many shapes and sizes.
And therein lies problem number two: VoIP means anything and everything to consumers and providers, depending on who you ask and what you are looking for. There's strictly softphone based solutions like Skype; IP desk phone solutions like that which RingCentral provides; and all-encompassing "unified communication" solutions like Lync that do a bit of everything (including replacing GoToMeeting/Webex).
Don't make the mistake of placing your organization's finger on a technology solution or service before you've done your homework, and answered some baseline questions. From business requirements, to infrastructure requirements, down to your reliance on faxing -- there is a lot of ground to cover before signing on the dotted line. Aligning your VoIP direction based on organizational need, not salesperson promises, is the best recipe for a successful decision.
Here are the top areas I recommend your organization takes a hard look at prior to any move into life after the PBX.
Understanding Your VoIP Endpoint & Hosting Options
VoIP as a whole is such a meandering definition that providers are doing a great job at confusing customers -- to each of their own respective courts, naturally. And as such, there is rarely a case of doing an easy "apples to apples" comparison among solutions. There's a bevy of ways in which you can have your service hosted, and also in what kind of medium you use to interact with the service.
When it comes to service hosting options, these are the two major options you have:
Cloud-hosted VoIP: This is one of the easiest to deploy, simplest to maintain, and also offers one of the lowest CAPEX propositions of any option since aside from ensuring proper network bandwidth and infrastructure, you need zero investment in things like PRIs, SIP trunks, or extra on-premise appliances. Popular options in this arena include my favorites RingCentral and 8x8, which are virtual PBX providers that offer an all-inclusive Voice-as-a-Service (VaaS) ecosystem. You pick your phones; they bring the service.
Internally-hosted VoIP: These systems come in the form of options like Lync Server 2013 and Avaya IP Office, which place some form of server or voice appliance into your office. These systems usually have to be coupled with delivery mechanisms like separate PRI lines or SIP trunk providers, which add cost but add a level of stability for larger organizations. I am rarely recommending this route for smaller (25 and under) organizations these days due to up-front and ongoing maintenance costs.
And likewise, there are a plethora of options for your users that need to leverage VoIP services. These are usually called "VoIP endpoints" and entail a variety of software based and hardware based technologies:
Softphone clients: Too many people think of telephone service in 2013 as being strictly relegated to a traditional handset that sits on a desk. This is such a 1980's style of thinking! If you've ever made a call on Skype, you've most definitely used a softphone before! RingCentral and 8x8 both offer softphone options for users -- both on the mobile phone and desktop computer side. Lync deployments go one step further in this area, with a soft client for seemingly any device out there.
IP desk phones: Most office users that like the notion of having a traditional phone on their desk will likely opt for the same in a move to VoIP. I admit, I'm one of these traditionalists. I love having a loud, clear speakerphone; access to an easy headset jack to use while at the office; and enjoy the large crisp dedicated LCD screen on such devices. This is the most common, universally offered endpoint option from nearly every provider from my experience.
ATA adapters: If you still rely on physical fax machines, and cannot imagine dumping them in a move to VoIP, you will need one (or many) of these to convert the analog connection on your fax unit to a digital ethernet based line that travels over the internet. The most common one we deploy is the Cisco SPA122 since it's cheap, stable, and works with nearly every provider we recommend.
While I will not name them directly, I will put a word of caution out against anyone looking at getting cloud-hosted Lync enterprise voice (Lync Server in the cloud, pretty much). I have personally researched and dealt with a number of these providers myself, both for my own and my clients' needs, and I was thoroughly less than impressed with the competition in this relatively small market. You can count the number of providers in this arena on one hand, and the only one which we have had good experiences with is one called SPS. Reach out to me via email if you are truly interested in this direction with Lync.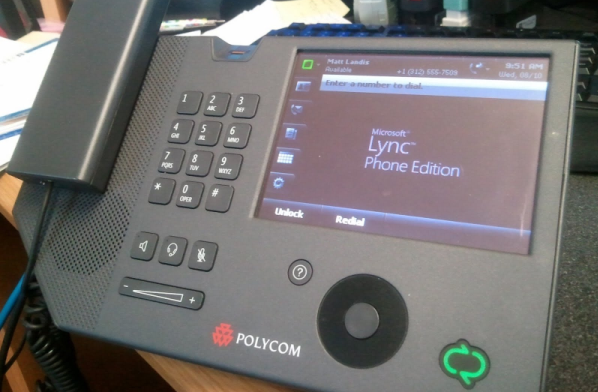 Microsoft's Lync can indeed by your company's phone system. The same tool which provides IM, voice, and video conferencing handles desk phone capabilities quite admirably. It's not as easy (or cheap) as rolling out a cloud-hosted service like 8x8, but if your organization is larger and invested in the Microsoft menu already, replacing your aging PBX with a Lync 2013 solution may be a good option. While still pricey, it's leagues cheaper than nearly any Cisco deployment I've seen. (Image Source: Matt Landis)
Lync is a very attractive option for companies looking to Office 365 and who want to get the full circle Lync experience, but the only viable option today is doing it in-house. Sorry -- this is the sad truth about going Lync for your phone system currently (until Microsoft releases it's cloud hosted Lync offering sometime in 2014, rumors say). Here's hoping Microsoft hits this area on the head sooner rather than later, as we are getting increasing demand for such a product from our clients.
And be mindful that you don't have to corner yourself into a single option for endpoints for most solutions. We have numerous clients who mix and match endpoint types, such as some users utilizing softphone clients and some having IP desk phones. This is especially common in full Lync deployments, as the feature gap between desk phones and the softphone clients is nearly extinguished. The only thing Lync can't handle well (or at all, from my experience) is faxing. Yes, faxing -- that 1900's tech that refuses to go away. If you rely heavily on incoming and outgoing faxing, going with a simpler solution like that which 8x8 offers may be your better bet. Microsoft treats faxing like a pariah in Lync 2013 from what I have seen in the field.
What Does Your Network Situation Look Like?
It goes without saying that when going knee deep into VoIP, you better have a solid grasp on your network infrastructure situation. Unless you want your VoIP rollout to be the nightmare that never ends. Shifting the telephony traffic from dedicated PRIs over to your traditional WAN pipe, as many businesses are doing, definitely saves on recurring costs but may shed light on some cobwebs in your backbone setup that wouldn't have otherwise been exposed.
Start off by evaluating your WAN connection. Even for small businesses, DSL or T1 won't cut it. I don't even offer to quote a small business out on a move to VoIP before they consider upgrading to something like business level coax. Outdated, slow connections cannot handle the bandwidth necessary for hosting numerous ongoing calls, in addition to everything else we do online. I usually use a baseline of 5Mbps down and 2Mbps up as the bare minimum for a smaller office of about 5-7 users on VoIP.
VoIP calls for cloud hosted VoIP aren't terrible in their requirements, but there are baselines you need to be aware of. For example, RingCentral states that they require about 90Kbps in/out for each call that needs to be placed simultaneously, and competitor 8x8 pits their usage at about 27Kbps for basic quality calls. You can visit the links for each aforementioned provider as they offer easy to use VoIP readiness tools to gauge where your WAN capacity stands currently.
Next, you cannot overlook the hardware backbone of your network. Still relying on old 10/100 switches from the late 90's or early 2000's? It's probably time to upgrade to full gigabit units. It's not the speed of the switches that will kill you -- it's the unreliability of old, creaky hardware that may have smaller problems sitting idly under the hood. Latency-reliant tech like VoIP will snowball any problems present in old, outdated routing and switching gear. This is a good chance for us to rid smaller companies of gear like residential level Linksys boxes in exchange for quality Cisco gear, for example.
One word of advice for those who are looking towards cloud-hosted VoIP, like RingCentral, is that you need to be VERY careful about what kind of firewall/router you have in place at your organization. I've gone through enough nightmare installs already to be certain that I'm not trying to use such services behind firewalls that employ symmetric NAT, or port restricted cone NAT. This nasty technology's problems with VoIP are widely discussed, and you can read up on the core issues all over the web.
The most common culprits I have seen in the field that use this tech are Zyxel USG-series models and Sonicwall's TZ line, but there may be others. Before investing in new firewall gear for your organization, be sure to find out from the manufacturer if this tech exists on their gear, and if so, if it can be disabled through a soft switch. We have found much success with Cisco's small business level RV-series gear (namely the RV042G), as these boxes use friendlier asymmetrical NAT that is very kind to mass numbers of VoIP phones.
Another big consideration is whether you want to use fancy tech called PoE (power over ethernet) with your new desk phones, if you are going that route. We tend to deploy Cisco SPA504G and SPA525G2 phones these days with 8x8 and RingCentral as they are rock solid, feature industry standard SIP connectivity, and are pretty cost effective for the feature set. The best part? Both of them have built in switches that can allow a single desk to share one data line, one which can power the phone through PoE (aka no AC power adapter needed!)
Using PoE with your phones requires the use of singular adapters which are unwieldy in any rollout of more than a few phones, or the use of PoE enabled switches on your backend. One of our favorite go-to units is the Netgear GS724TP, which is a 24 port full gigabit switch with PoE across all ports. This means an office with up to 23 users (1 port is always your uplink!) who have phones can rely on one data line for their LAN access and phone power. Pretty cool!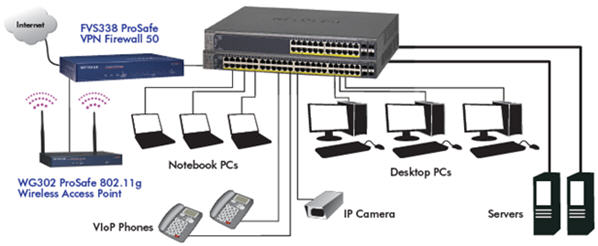 Power over Ethernet is a simple and relatively readily available technology already, baked into switches of numerous flavors on the market. A solid PoE switch in your data closet can not only provide power for desk phones over a single data line, but also light up WAPs, IP cameras, and any other 802.3af compliant device. It's worth the investment, and I often recommend to clients. (Image Courtesy: Netgear)
You can of course fall back on using AC adapters with phones, but it requires you to have access to one extra AC outlet by users' desks, which may not always be ideal or practical. Centralizing power needs in the data closet on the switch side streamlines desk phone rollout and simplifies connections (and possible issues) for end users.
And we can't forget about the most important aspect: data jacks. If you don't have one at each desk you want to place a desk phone at, you better start running the numbers on some more hard lines. Cordless VoIP phones that use wifi do exist, but they are expensive and rarely feature the same level of functionality as wired phones. I rarely recommend them to clients (but if you must, Panasonic has some better than average standard SIP-based sets).
When To Host in the Cloud? When to go In-House?
What a great question, and one that many organizations are asking me all the time. Each path has its own set of limitations, and respective costs associated, but there are some basic guidelines for making this decision. Here are some general considerations for opting to take your company down the in-house or cloud-hosted route based upon your own particular needs.
Going the cloud-hosted route is best when:
You want to keep up-front CAPEX related costs down. Cloud-hosted VoIP providers charge an all-inclusive fee, on the average, that is per-seat which covers any endpoint which offers a dial tone. If you are going in a deskphone-less route, you can save considerable sums by ditching the need for any desk phones. Even if you need phones, going cloud-hosted means you don't need any internal phone server or telco appliances, which range in price from hundreds of dollars to thousands without blinking an eye.
You have access to good bandwidth and a reliable WAN connection. If your phone system is hosted in the cloud, it goes without saying that a solid and stable, bandwidth-friendly connection is what you will live or die by. Offices we support in rural locales prefer going in-house when they were otherwise good cloud candidates solely because of their reliance on T1 or DSL lines that weren't good enough for using a cloud PBX provider. This is a huge determining factor you need to check into up front before even comparing options.
You incur, or plan on incurring, swings in staff size. The cloud route is excellent for allowing you to downsize or upsize your desk phone needs in short order with minimal effort. Going in-house for your phone system usually requires the purchasing of licenses outright, and in some cases, investing in greater hardware or PRI capacity. Not to mention, if you don't have your own IT staff, you're on the hook for the labor needed to configure extra users onto the system (which is usually self-administered on a cloud-hosted provider's website).
You don't have a dedicated IT staff. If your organization relies on outsourced IT support, like that which my company offers, then you are a great candidate for a cloud-hosted VoIP solution. Your hardware footprint is minimized, and you have 24/7 support from a trusted VoIP provider you can call anytime when things go awry. In-house systems generally require more upkeep, and problems that arise take longer to resolve, on the average.
You have staff which telecommutes or travels frequently. Cloud VoIP providers like RingCentral and 8x8 allow you to use your desk phone anywhere that has an internet connection (hard-wired, of course). This is great for clients of mine who have some parts of their staff that work from home often, or better yet -- travel and want to take their desk phones on the road for conference calls in hotel rooms and the like. Internal phone systems generally don't offer this flexibility without extra networking expertise and hardware in place.
And keeping your new VoIP system in-house is best when:
You have a need to have complex, multi-level IVR. Does your company rely on multi-stage auto attendant menus when customers call to route calls? Things like complex cyclical call patterns and automated response feedback? These advanced functions are still relatively immature in the cloud-hosted VoIP realm, and require you to take your needs in-house with a dedicated beefy phone server or appliance.
Your WAN connection is not reliable. If your organization lives and dies by the telephone system, and your WAN connection options are not up to snuff, you may be forced to go in-house and split your call traffic out to a separate pipe like a PRI. This will inflate costs, but many companies don't have a choice when downtime equals hundreds or thousands in lost revenue.
You have an enterprise level organization that wants to keep OpEx down. At the largest outer scales of organization sizing, in the hundreds or thousands of seats, you may be better suited in going in-house to reap the rewards of your own internal economy of scale when it comes to VoIP infrastructure and service capability. Cloud providers are excellent for sub-100 seat organizations, but if you have a dedicated IT staff that can implement and support a well tuned Lync 2013 system or similar, you may indeed save a great deal over the long haul.
Your organization doesn't have seasonal staff or usage swings. Cloud providers only charge you for what you use, and most of them only have one-year contractual obligations for seats you introduce. If your business is larger and doesn't have the potential influx of staff counts coming in the near term, going in-house won't eat through your pocketbook on hardware upgrades or licensing costs.
You have a dedicated IT staff. If your organization has IT staff regardless of your VoIP situation, then going in-house may not be as painful as if you rely on an MSP like mine for day to day support. When issues arise having someone on staff that knows your system inside and out is a definite plus.
A Word on Faxing, For Those Who Can't Ditch It Yet
I won't get into what I think about faxing this day in age. And I get it; not everyone can say goodbye to this insecure and old-school technology yet. Real estate agents, medical offices, and even the US Pentagon have ongoing fascinations with facsimile. Be sure any moves into VoIP entail a realization that not all VoIP providers treat fax like a first class citizen.
The biggest culprit here is Lync Server 2013 on-premises deployment situations, where you are replacing your PBX with Lync fully. The rollouts of Lync I have seen so far of this nature have not been able to entangle faxing too nicely. This excellent blog post by James Cussen goes into detail about Lync's tough time with faxing and how to work around the snags.
Virtual faxing is the best and cleanest way to handle faxing going forward, if you must still wrangle with it. My company doesn't advertise a separate number for faxing even -- and for the few people that do have to fax us, they do so to our normal RingCentral company number. Outgoing faxes are treated similarly, with most at my company opting to fax right off the RingCentral website on our web accounts. It's easy, works well, and saves paper.
If you need to keep your physical fax machine intact, be sure to work with a VoIP provider that allows for conversion of analog landline jacks into ethernet connections via an ATA adapter. I know for a fact our two favorite cloud VoIP providers, 8x8 and RingCentral, both offer this capability at differing outgoing/incoming fax page counts per month. But the options do exist, you just need to ask.
Alarm Lines, Credit Card Terminals, And Other Legacy Tech That Hates VoIP
I won't dwell on this too much. But for the most part, alarm system landlines cannot be converted to use VoIP. The same goes for credit card terminal swipes that go over landline. I'll go so far as to say that anything which isn't a desk phone or a fax machine likely can't be converted to use VoIP technology.
I may bite my words later, but I've asked enough providers about which of these niche scenarios work on VoIP so far to come to this brash conclusion. The answer is usually no. For these instances, you need to keep some legacy landlines in place, or just move away from reliance on landlines.
For example, customers who have landline alarms on their premises can usually switch to cellular based systems. Likewise, most modern credit card swipes have data jacks, meaning you can plug the device into any standard LAN port in your network and configure the box for transmission over IP. Get creative -- you may be surprised at how easily you can ditch all forms of landline phone service at your workplace.
Cloud VoIP's Biggest Differences from Traditional Legacy PBX
Some clients of ours always start out by asking the glaring question: what are the big picture differences in VoIP from standard legacy PBX? Here's my hotlist of the biggest tenets that you should be aware of, if you take nothing else away from this piece.
Per connection, not per line, pricing for cloud VoIP. Most of us think of per-unit costs in the telco realm as being per line. In the VoIP world, specifically for cloud-hosted VoIP like service from RingCentral, the number of calls you can handle at once is determined by the number of lines your phone supports. You need to think of pricing as "per endpoint" now, or more simply, how many devices or software users need a dial tone.
Line limits are non-existent. Again, we used to think of incoming call limits in the sphere of how many DIDs or physical lines our PBX afforded. With services like RingCentral, even if every desk phone is slammed to its per-device limit for number of calls, your incoming callers will still at the very least reach voicemail. The same goes for if your internet is down. As long as the hosted provider is not having issues, callers will never get a busy signal. Ever.
VoIP lives and dies by the WAN. As nice as it is to cut down on PRI costs, the sole downside to cloud hosted VoIP specifically is that when your WAN connection goes down, your phones go down. You can alleviate this by piggybacking dual WAN pipes, but I've found business level coax service to be extremely reliable in my consulting region. Rural users may opt for dual connections if service is flaky.
SIP-based desk phones are near universally supported now. Don't get stuck into proprietary systems like Cisco's enterprise products, many of which rely on their own SCCP protocol that requires special phones which usually come at a premium. Cisco makes SPA-model SIP based phones, in contrast, which you can buy and bring to a provider of your choice. RingCentral, 8x8, FreedomVoice among others, all support SIP based VoIP which has become the open gold standard for desk phone service now. Polycom, Avaya and others also make great SIP handsets.
Cat3 cabling won't cut it. If your cabling infrastructure is still Cat3-grade from your existing PBX, you need to invest in Cat5e or better for new data lines (if you don't already have data in place). There are no ways around this, unless you plan on investing in expensive and not-so-great wireless VoIP phone solutions. There are hybrid options out there which can tie into old PBX lines, but they add layers of complexity and don't solve the long term problem -- they are temporary stopgaps to get you over a short term evolutionary hump.
There are other caveats to be aware of, but the above represent the most basic items which I cover in client discussions.
What Kind of Control Do You Want?
One of the greatest aspects about going with a cloud hosted VoIP provider, like an 8x8 or RingCentral, is that they provide you with all the control you could ever want, at your fingertips. All you literally need to administer these systems in their full glory is a web browser and internet connection. It makes installation and configuration a breeze for myself, and I can help train customers on how to take care of their own phone system. Empowering the end user; it's what I love.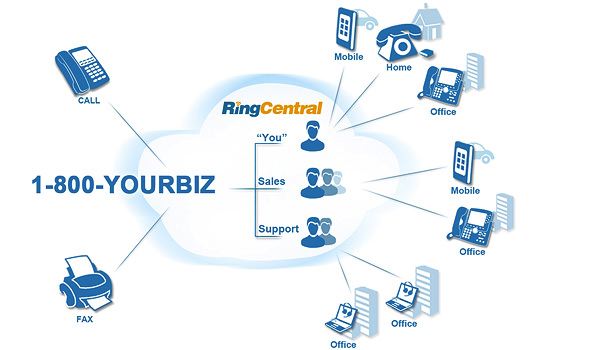 Cloud hosted VoIP providers, like RingCentral, offer the power of enterprise grade phone systems at an affordable small business price. Purchase just as many "seats" as you need; expand as necessary; and leverage the features that were available only to the big boys with fancy phone systems. If you've never had a PBX before due to upfront cost, cloud hosted VoIP is exactly what you have been looking for. Our clients have had great success with RingCentral and its competitor, 8x8.
On the other hand, more fancy systems that usually have on-premise hardware like Lync Server 2013 and Avaya IP Office, for example, require configuration and upkeep by a trained professional (most of the time). I wouldn't recommend any average customer try to self administer such systems unless they were truly geeks at heart and knew the risks of doing something wrong. So it goes without saying that if you want a system that has little barrier to self administration, you're probably going to want a cloud hosted VoIP service.
Are You a HIPAA Covered Entity? Your Cloud Hosted VoIP Options May Be Limited
If your organization is a covered entity, as defined by United States HHS HIPAA regulations, then you need to be aware of extra scrutiny that comes with offloading your VoIP needs. Using a cloud VoIP provider entails requiring that provider to abide by and offer you a fully signed BAA (business associate agreement) denoting how and where they store potential PHI (protected healthcare information). While yes, bare telephone calls and fax transmissions are exempt from regulation due to the "conduit exception" in most instances, most cloud VoIP providers handle voicemail storage and fax storage in their systems before you get a copy of the material. This is why nearly every cloud-hosted VoIP provider needs to be questioned on whether they will sign a BAA if you are HIPAA-covered and want to use their services.
This same goes for any cloud service your office may use in which PHI is stored on their systems; not just cloud VoIP. Backup services, like CrashPlan Pro, and email providers like Office 365 (both of which are 100 percent HIPAA compliant, as we recommend them to medical clients), are held to the same standards even if you are sending all of your data to them in an encrypted manner. You can read my full in-depth article about how HIPAA affects your organization's computing needs.
Our usual go-to provider for hosted VoIP, RingCentral, has made it clear that they will not be HIPAA compliant until about Q2 of 2014, and therefore we have been directly our medical customers to a comparable provider, 8x8, recently. The pricing, features, and support offered by 8x8 has been on par with what RingCentral is known for, and the best is that they are 100 percent HIPAA compliant and will sign a BAA with no hesitation. If your medical practice is looking to go cloud VoIP, then 8x8 is a provider you should be looking at without a doubt.
If you are going in-house, you are still on the hook for ensuring all PHI is kept confidential, but solutions such as Lync 2013 make this relatively easy as all transmissions are encrypted by default. If going with another provider for in-house VoIP, be sure to inquire about the security and encryption standards employed to see whether they will pass muster in the face of HIPAA regultions.
If you are looking for assistance with becoming fully HIPAA compliant, I highly recommend reaching out to HIPAA Secure Now, a company dedicated to giving organizations regulated by HIPAA full circle support in reaching and keeping federal compliance. We use them for our internal HIPAA training needs and have referred them to numerous clients with nothing but positive feedback.
VoIP Providers Are Just As Guilty With Hidden Fees
VoIP is a panacea for many things, but escaping potential snags when it comes to hidden fees is not one of them. You need to do your homework before signing on the line with any provider. For example, if you're purchasing service from 8x8, you should be aware that their base packages for service don't include any toll free minutes, and the same goes for faxing. These are additional tack-ons which must be added separately to an order. Some of you may not need these, but many clients I support in fact do.
The same goes for hosting more than one or two virtual numbers with most cloud hosted VoIP providers. RingCentral, for example, allows for free hosting of a single toll free number, a local voice number, and a dedicated fax number. Anything above this combination will incur a fee of $4.99 USD per every extra number you want to use for incoming call routing. Advertise 10, 20 or more numbers in the wild? Get ready to pony up some extra cash each month.
And of course the usual awareness on common marketplace fodder exists here like before. Ask about what kind of term you are committing to with any provider you chose. 8x8, for example, doesn't enforce a contract of any sort per-se, but it does opt to charge roughly a $60 USD termination fee for each endpoint of service you close early before the first year is over. It's not as nasty as termination fees from the likes of Comcast, but they still do exist, so you need to be clear and get these facts in writing.
The Best Part? Ditching Extras You Don't Need Anymore
Many people only count the dollars they are saving directly on phone service alone after moving to VoIP, which does indeed add up, but they overlook the numerous other overlapping areas that their VoIP solution may cover. Here is just a sprinkling of the extras we were able to trim for other clients due to VoIP switches:
Conference bridge lines. Our two favorite providers 8x8 and RingCentral both bundle conference bridges into their service offerings. If you're paying per month for separate conference calling service, you can wave those fees goodbye. In example, 8x8 offers up to 15 callers per bridge line, and RingCentral has near limitless bridges. And these are given out per user, not per company account!
WebEx/GoToMeeting fees. I wrote extensively already about how Lync can replace and surpass that of what GoToMeeting and WebEx provide. If your company is moving to a full Lync system, or even merely has Office 365 level E1 or better, you already have access to Lync in its full web conferencing glory. Use it! The Office 365 edition, Lync Online, supports full HD video and meetings of up to 250 people. GoToMeeting and Webex can't touch that in any way unless you have deep pockets.
Dedicated fax lines. Lync systems can't do this, but most cloud VoIP providers offer integrated faxing at little to no extra cost each month. Our RingCentral service we use at FireLogic includes this for free. No fees for fax machines, extra toner, or paper wasted on printing incoming or outgoing faxes. Not to mention the phone lines that they required.
Overflow DID numbers. If you didn't want any callers to hit voicemail, you likely paid for extra DIDs to tack onto your phone system to handle overflow capacity for incoming callers. Virtual PBX systems like 8x8 can handle as few or as many callers as you can throw at them. The very need to have overflow DIDs is old-hat, extinguished with the introduction of cloud hosted VoIP.
PBX maintenance. The specialized service required by "the phone guy" to fix desk phones, lines, and the PBX itself (with its myriad of add-in cards and such) is a thing of the past. With cloud-hosted VoIP, your internet connection and your desk phone is the only thing you have to worry about. And I'll be completely honest: today's desk phones rarely die unless they are physically abused. Of course, your mileage may vary depending on chosen equipment, but we are having rock solid luck with Cisco's SPA line of SIP handsets.
You don't need a desk phone, either. Many Lync enterprise voice rollouts have sizable numbers of users that don't even opt for desk phones anymore. They are merely using their mobile or computer-based softphone clients for telephony, further reducing capital costs on PBX replacements. RingCentral and 8x8 have similar apps available. If you have a modern workforce willing to wade into new usage territory, going softclient-only may not be a bad option.
Cheap(er) call recording. I know for a fact that any company that wanted to use call recording on their PBX had to purchase add-on hardware for their closet. Plus the labor to install it, maintain it, and replace it when it died. No more. Most modern virtual PBX systems like 8x8 and RingCentral offer cloud based call recording which is either free or cheap to add on. We use RingCentral for our company, and it comes included at no extra charge. Any of my staff members can use it by initiating a recording via hitting a designated digit on their keypad. Great for getting verbal confirmation from clients while on the road, away from our desks.
Those aren't the only likely areas where money can be saved. I'm sure there are many more, which others have encountered or know about. But off the top of my head, that list is what rings a bell quite loudly for me.
Whatever You Do, Don't Put the Cart Before the Horse
Switching from a costly, yet well known technology like the PBX over to a cloud or on-prem VoIP solution can be a risky endeavor if approached in the wrong manner. Don't make the same mistake of many of my clients who have predetermined visions of what solution they believe will solve their ills. Ask the tough questions; take an inventory of where your network stands; and make the business case for what a new system will solve in all aspects of its usage.
Choosing a system just because it offers option A over provider X's option C, without considering other auxiliary needs like conferencing or softphone requirements, can sink your decision's effectiveness over the long term. Think in a mindset of positioning any move to VoIP as the beginning of offering unified communications to your workforce. Even if the only goal is to fill a limited needs gap in the short run, like purely deskphone based service -- choosing a solution that is expandable in the future for long term growth may reap wonderful rewards as your organization continues its path towards full circle modernization.
Photo Credit: alphaspirit/Shutterstock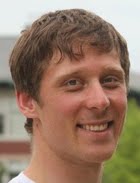 Derrick Wlodarz is an IT Specialist who owns Park Ridge, IL (USA) based technology consulting & service company FireLogic, with over eight+ years of IT experience in the private and public sectors. He holds numerous technical credentials from Microsoft, Google, and CompTIA and specializes in consulting customers on growing hot technologies such as Office 365, Google Apps, cloud-hosted VoIP, among others. Derrick is an active member of CompTIA's Subject Matter Expert Technical Advisory Council that shapes the future of CompTIA exams across the world. You can reach him at derrick at wlodarz dot net.