Microsoft helps Hardee's sell burgers with Windows 8.1-powered Dell kiosks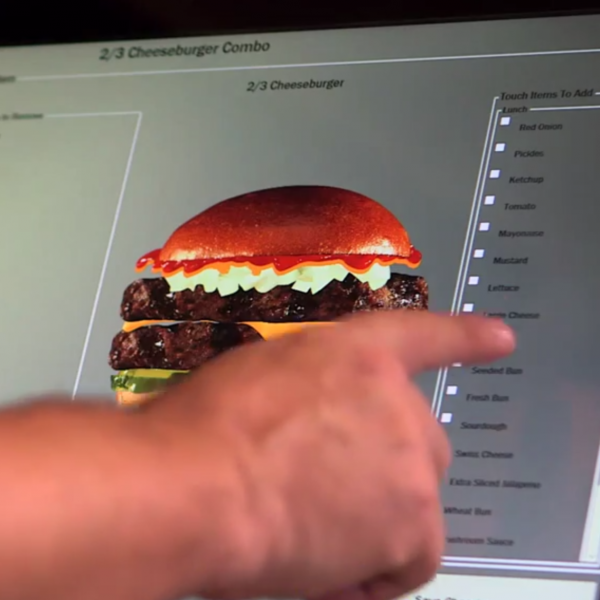 One of my favorite things in the world is playing with computers. Whether building them or using them, I am as happy as can be. We computer nerds get hungry, however, and we need to fuel our bodies. Sure, some of us nerds eat healthy (Mark Wilson is a vegetarian), but fast food and caffeinated beverages are still staples in many of our nerdy diets.
Hamburgers and cheeseburgers are still wildly popular and there are many places to choose from. While I usually eat Burger King's Whopper, Hardee's is actually my favorite. Sadly, we do not have that restaurant on Long Island, so I can only get its delicious burgers when traveling south. Today, Microsoft announces that it has partnered with the burger-chain to offer Windows-powered kiosks. What does this mean? Computer nerds have a new nerdy way of ordering fast food!
"The Intel-powered Dell 3030 kiosks with Windows 8 provide a touch-friendly, familiar experience for customers and employees. Restaurants where Hardee's has deployed the kiosks have seen a dramatic reduction in wait times and an increase in per-ticket totals, all while their customers are creating the perfect burger or biscuit, made just how they like it. For example, guests can add or eliminate ingredients such as holding the mayo on the Mile High Bacon Thickburger or adding extra bacon to the Bacon, Egg and Cheese Biscuit", says Microsoft.
Tracy Issel, GM of Worldwide Retail, Consumer Goods, Hospitality and Travel at Microsoft says, "Hardee's is changing the way it interacts with its customers, making the ordering process more streamlined, personal and fast. This is just one example of how Microsoft is giving retailers new ways to reinvent the customer experience".
Microsoft touts the following features and benefits.
Point-of-service (POS) purchasing. Customers can review menu selections, customize and place orders, and pay for purchases. The device can double as an employee POS when needed.
Order entry and menu updates. The kiosks relay orders directly to the kitchen, allowing customers to get their food more quickly and accurately. Employees can simply update the kiosk menu to include seasonal offerings or price adjustments, or to add language capabilities to suit the store's customer base.
Reporting and personnel management. Managers can run various sales and shift reports; employees can use the kiosks to clock in and out for shifts and breaks.
While the kiosks can definitely benefit Hardee's, I am more intrigued with the customer benefits. Having the ability to customize your order on-screen can make sure that you have a meal that is tailored to you without any misunderstanding. Many times I have ordered a burger without pickles, or something similar, and gotten it anyway. This kiosk should reduce human error in the ordering process.
What is your favorite burger joint? Tell me in the comments.