Acer announces the world's first Chromebase All-in-One Desktop with a touchscreen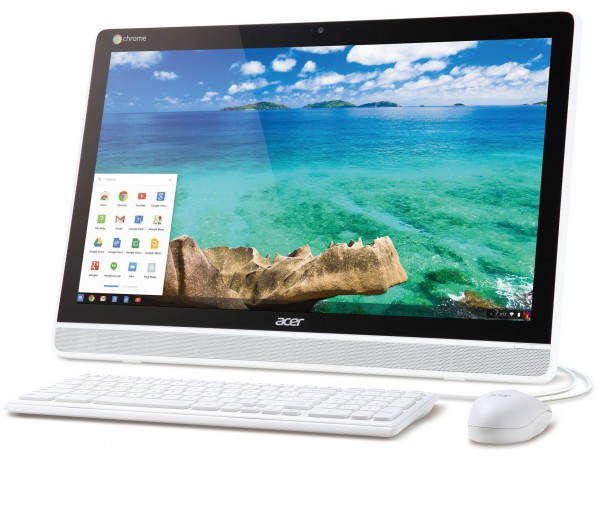 Chrome OS is a wonderful operating system for some users. If you live in the web browser, Google's Linux-based OS can be a brilliant way to  both work and play. Some people may have trepidation in investing in such a limited ecosystem, where only one web browser is permitted, and that does make sense. However, others are comfortable with one company controlling their window to the web, and that is OK too. In other words, people have different needs and ideology, and that is a beautiful thing.
While many associate Chrome OS with Chromebooks, there are many other form factors too, such as Chromebox, Chromebase and the recently announced Chromebit. Today, Acer announces the world's first Chromebase with a touchscreen. Yes, you can finally have a Chrome OS All-In-One with touch-friendly design.
"The Acer Chromebase is powered by a class-leading NVIDIA Tegra K1 quad-core processor, helping it deliver a responsive and rich multi-tasking experience, and stay quiet even when running heavy workloads. It has a built-in HD webcam, so that users can chat face-to-face with family and friends on Google Hangouts with amazing video image quality on the 21.5-inch 1080P Full HD display. The Acer Chromebase is VESA-compliant so that it provides flexible viewing options when mounted to a VESA-compatible stand, bracket, arm, or wall mount suitable for search or navigation use in public areas. It has two 3W audio speakers and provides HDMI out, USB 3.0, USB 2.0 ports in addition to 802.11a/b/g/n Wi-Fi and Bluetooth 4.0 wireless connectivity", says Acer.
The manufacturer further explains that the computer "comes with a Full HD resolution, 178-degree viewing angle display which incorporates 10-point touch technology, enabling more than one user to work, play and interact together. The device boots up in 10 seconds, and has multiple layers of security built-in with automatic system updates. Chrome OS supports multiple users and accounts while photos, videos, music, and documents are all synchronized and backed-up with the user's Google account. Acer Chromebase also comes with a complimentary 100 gigabytes of Google Drive storage so users have plenty of space".
The design is very nice; the black bezel coupled with the white chassis is absolutely gorgeous. Both the keyboard and mouse are white, lending to a feeling of elegance. More importantly, however, they are both of the wired variety, which I appreciate. Why? I hate batteries!
This touch-friendly Chromebase will be available in Q2 2015, which means we will not have to wait long. Sadly, price and configuration options are not yet available. I am hopeful that there will be a model with at least 4GB of memory, as 2GB just is not enough.
Will you consider buying Acer's Chromebase? Tell me in the comments.