System76 Oryx Pro is the Ubuntu Linux gaming laptop of your dreams [Review]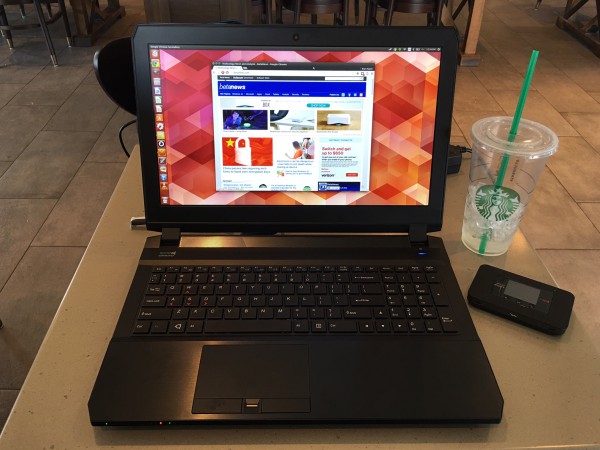 When you think of a gaming PC, two things probably come to mind -- Microsoft Windows and desktop computers. In other words, gamers don't typically target laptops for playing their favorite games, and even when some do, they will likely aim for Windows 7, 8, or 10. Thanks to Steam, however, Linux-based operating systems are a legitimate option for gaming.
If you want a Linux-based gaming laptop, your choices are slim. Yes, you can buy a Windows laptop and replace the operating system with Ubuntu or another OS, but that isn't the best experience. Ideally, you want a machine that was designed and sold with Linux in mind. Enter the Ubuntu-powered System76 Oryx Pro. This beast of a gaming laptop can be configured with some jaw-dropping specs. The one I have been testing features an Intel Skylake Core i7 processor, 32GB of DDR4 RAM, NVMe SSD and NVIDIA graphics, including G-SYNC. Are you salivating yet? Read on for more specs and my impressions.
Notable Specs ($2,317 as configured)
Display: 15.6 inch 1080p matte IPS w/ G-SYNC
Graphics: NVIDIA 980M w/ 8GB video RAM
Processor: 3.5GHz Intel Skylake i7-6700HQ
Memory: 32GB 2133MHz DDR4 (2 x 16GB)
Storage: 256GB M.2 PCIe NVMe SSD
Wireless AC: Intel 8260
Weight: 5.5 pounds
Unboxing
Impressions
As you can see from the video above, the laptop is beautiful. Upon taking it out of the box, I was immediately impressed by the design. The aluminum body feels extremely premium, which should make you feel confident about your purchase. It is obvious that much care went into the design; I love the many striking angles. It is clearly a gaming machine in its design, but not overly flashy like other game-focused laptops. It is elegant and mature, while also looking bad-ass.
Equally impressive is the number of ports. On the right side, there are audio ports, an SD card reader, two USB 3.0 ports, gigabit Ethernet and a Kensington lock hole. There is also a sim card slot, but it is non-functional -- sorry, folks, there is no cellular radio. On the left, there are two mini Display Ports, an HDMI port, and a USB 3.0 port. This can easily push multiple 4K displays.
The rear is home to the power connector and an additional USB 3.0 port. This is extremely important to me, as I don't like to see wires. At home, on a desk, a USB 3.0 hub can easily be hidden behind it as a pseudo docking station. Many laptop manufacturers have stopped offering a rear port, meaning you have to have a hub and power cable hanging off the side. System76 gets it right here -- everything is so well thought out.
Opening up and powering up the laptop, I am presented with a beautiful backlit keyboard. Since this is a gaming laptop, the WASD keys are even marked with arrows -- useful for newbies. Because this is a 15 inch laptop, there is enough room for a number pad too. While I don't use the number pad, this is important to many people -- especially for those that may use this for a small business -- so it is appreciated. Most importantly, however, the keyboard is a dream to type on. The keys are solid and have a satisfying amount of depth. I can be confident as I type; it is rewarding.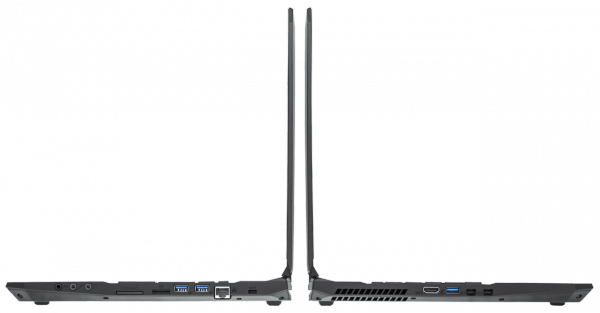 Above the keyboard is branding that had me very excited -- Onkyo. Yes, the speakers are made by the famed audio hardware manufacturer. Guess what? They sound brilliant. Whether gaming, listening to music, or watching movies, audio is loud and crisp. While the bass is a bit lacking, it is still one of the most satisfying audio experiences I've had on a laptop. The speakers are even angled towards the user for optimal positioning.
Speaking of audio, there is something else audible -- the fan. A few people have asked me if the fan is loud, and the answer is no. It is not loud, but it can be heard in a quiet setting. In other words, if you were working in a library, where it is very silent, you will be able to hear it. Still, it is not distracting, nor is it excessive. Quite frankly, given the power of this beast, the fan is surprisingly quiet; it is a non-issue.
READ MORE: 5 ways Ubuntu Linux is better than Microsoft Windows 10
The 15.6 inch 1080p display is absolutely gorgeous. It is a matte variant, meaning it does not show excessive reflections or glare. Text is crisp and beautiful, while images and movies look wonderful. The G-SYNC technology from Nvidia will help against tearing for movement too.
The Oryx Pro ships with Ubuntu 15.10, which is an absolute treat -- dare I say, my favorite operating system of 2015. It comes configured with Nvidia proprietary drivers, so you are ready to game right away. Of course, you will want to install Steam to take advantage of premium games. With Steam installed, I played some great games, such as Dying Light, that look absolutely gorgeous. The NVIDIA 980M is insanely capable, making the laptop a gaming beast.

You will want to invest in a mouse or gamepad for serious gaming, however. The Oryx Pro's trackpad is spectacularly responsive, featuring dedicated buttons, but no trackpad will ever best a mouse in gameplay. Throw a nice wired mouse in your backpack and you will be glad that you did.
Gaming aside, the Oryx Pro absolutely flies; this is cutting edge specs, folks. The Core i7 Skylake processor, 32GB of DDR4 RAM and NVMe SSD will tackle absolutely anything you can throw at it. Seriously, this is an absolute powerhouse that will last you many years. Heck, you can even configure it with up to 64GB of RAM, but that is probably taking overkill to another level. Most users should be more than happy with 16GB of memory.
While acceptable heft is subjective, I can say that the 5.5 lbs is a bit heavy for me. As someone who is constantly on the go (I work wherever I can), carrying this in a backpack with a single strap (like the cool kids wore it in the 90's), I did experience some shoulder strain. Wearing the backpack properly (aka not like a poser) largely alleviated the issue.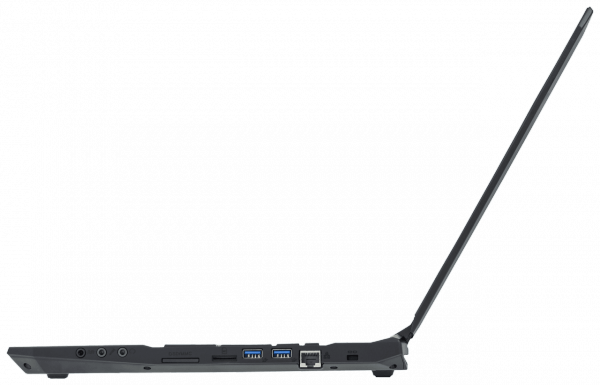 Battery life is a tad disappointing at about 2 hours. Look, Linux-based operating systems have never been the most power-optimized, but these powerful components are very energy hungry. Heck, even the power adapter is quite massive, looking a bit conspicuous when I was working at Starbucks.
It is worth mentioning that the Oryx Pro comes with a fingerprint reader, but it is essentially non-functional due to the poor biometric support on Linux. With that said, it is still appreciated for potential future use. If you plan to dual-boot with Windows 10, however, it should work fine with the 'Hello' feature. The Oryx Pro will run Windows like a champ, but I did not test it -- I only wanted to experience it as intended -- with the wonderful Ubuntu.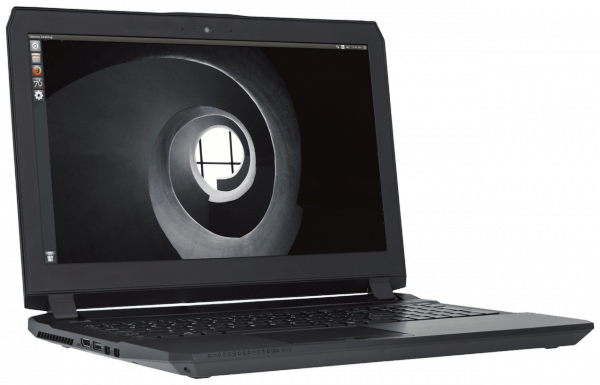 Final thoughts
So, who is this laptop for? Well, it depends. While the big focus is on gaming and LAN parties, this could also serve as a solid all-purpose family PC where kids want to game, or as a Linux workstation for a small business. Remember, you get what you pay for. Yes, your family or business could get by with less, but as an investment, and with cost-averaging, it is a smart buy. System76 even offers the option to finance.
Do I recommend it? Oh, hell yes. It is undoubtedly one of my favorite laptops ever. It is important to understand the limitations in portability, however, due to the heft and relatively short battery life. This is a machine that shines when stationary and plugged into the wall, but has the added benefit of being portable when needed. Road warriors should look elsewhere, but if you crave raw power and beautiful design -- portability be damned -- this is the Linux laptop for you. Very much recommended.
Want to design and configure your own Oryx Pro? You can do so here. If you buy one, please tell me what specs you chose in the comments below.