SanDisk Extreme 510 Portable SSD is a hardcore water-resistant USB storage drive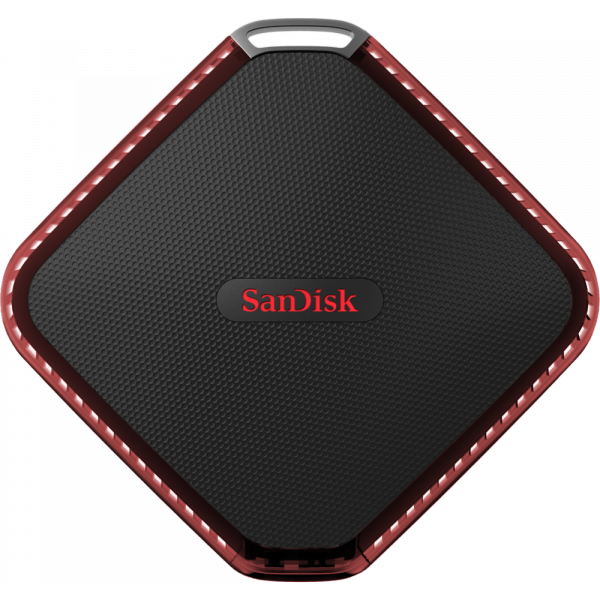 Hey, bro -- ready to do some extreme sports? Yeah, me too. I'm about to do some naked skydiving and then surf during a hurricane. Of course, I will capture all of my gnarly adventures with my camera, so I can show-off how extreme my life is on social media, bro.
Obviously, I am joking, dear BetaNews readers. As you know by now, the most extreme I get is getting a venti blonde roast from Starbucks rather than a tall. Still, despite my boring life, I like rugged technology. This is especially true when it comes to backing up files. My family photos are precious to me -- the more durable the storage drive, the better. Today, Sandisk announces such a hardcore external drive -- the Extreme 510 Portable SSD.
"In a pocket-sized design, the SanDisk Extreme 510 drive delivers powerful performance with transfer speeds up to 430MB/s to quickly access massive video files or photo libraries -- outperforming a traditional external hard drive with speeds of up to four times faster. Available in 480GB capacity, this all-terrain drive offers high-speed storage for anyone looking for a fast, reliable storage solution that battles the elements. The new SanDisk Extreme 510 Portable SSD also features SanDisk SecureAccess software with 128-bit encryption to secure files", says Sandisk.
The company further explains that the drive, "builds on the compact design of the highly-rated SanDisk Extreme 500 Portable SSD to offer ultimate portability and provide greater protection for users who want to take their storage on-the-go. With its rubber bumper and IP55-rating for water and dust resistance, the SanDisk Extreme 510 Portable SSD stands up to hazards such as rain, spills and rough, dusty trails, while also cushioning against falls".
Sandisk shares the following specs.
Storage: 480 GB
Read Speed: up to 430 MB/S
Write Speed: up to 400 MB/S
Interface: USB 3.0
Dimensions: 2.98 x 2.98 x 0.42 in. (75.69mm x 75.69 mm x 10.67 mm)
Weight: 0.17 lbs (78.9g)
Water resistant: IP55
Interface: USB 3.0
Operating temperature: 32ºF to 113ºF (0ºC to 45ºC)
Storage temperature: -4ºF to 158ºF (-20ºC to 70ºC)
Shock Resistant: up to 800 G @ 0.5 m/sec
Vibration: 5.35 gRMS, 20-2000 HZ
Compatible with: Windows 10, Windows 8, Windows 7, Windows Vista and Mac OS 10.4
While 128-bit encryption is appreciated, 256-bit would be very much preferred in 2016. Also, while the drive is both attractive and durable, it is a tad disappointing to see only one capacity offered. Some consumers may like this design, but need a larger capacity. Heck, some may even want less storage as a way to save money.
Luckily, a single capacity makes decision-making easier for shoppers; they can pick up the 480GB Sandisk Extreme 510 Portable SSD now for $250. Keep in mind, however, that this is a USB 3.0 drive, and not 3.1. While faster than a 2.5-inch HDD, there will be more affordable USB 3.1 portable SSDs on the market as the year goes on.
If you need a rugged drive now, it looks like a good choice. However, if you can wait, holding out for faster drives to drop in price may be the better option.