CNN and MSNBC embracing Microsoft Pulse for President Obama's final State of the Union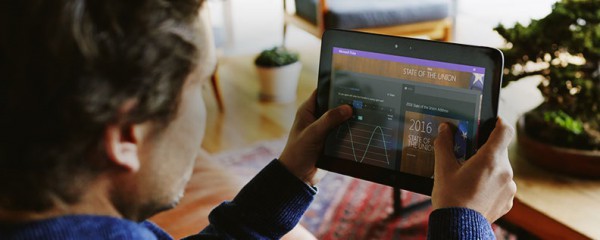 Tonight is President Barack Obama's final State of the Union address. Regardless of your opinion of the man, or his policies, it is certainly monumental. After all, his being elected broke racial barriers; inspiring countless people of various backgrounds. More importantly, however, he has done many arguably positive things. While he has many more months in office, it is still a farewell of sorts.
Hopefully you will tune in for the historic broadcast, and if you do, you might consider choosing CNN or MSNBC. If you are Spanish-speaking, you should consider NBC Universo, and Telemundo too. Am I endorsing specific networks? Not really. I only suggest them because they will be leveraging Microsoft Pulse; something BetaNews readers should appreciate and enjoy.
"As the State of the Union begins on Tuesday, January 12, at 9 p.m. EST, viewers will be able to vote on whether they agree or disagree with what the president has to say through the tap of the screen or the click of the mouse on any smartphone, tablet, or PC. Pulse allows participants to react to the speech on a continuous basis by voting every five seconds, and as often as they want", says Microsoft.
The Windows-maker further explains, "additionally, Pulse now integrates with multiple communications products within the Microsoft family. For example, through a new integration with Azure Media Services, broadcasters can now push video content to all viewers' second screens during a live program or commercial breaks, synchronized with TV programming or advertising, allowing for an additional revenue stream".
READ MORE: Google further legitimizes YouTube creators with upcoming interview of President Obama
Formerly known as "Bing Pulse", it was renamed to signal its broader reach and integration with other Microsoft solutions. You can read more about it here. The company is quite enthusiastic over this solution and for good reason -- user opinion and sentiment is very valuable data.
In regards to tonight's State of the Union, we can learn how viewers react to what Obama says in real time. The problem? Both CNN and MSNBC are traditionally left-leaning. While there is nothing wrong with that, it can arguably weaken the data, as the sources are more likely to agree with the president. From an analyst's point of view, a best practice would be to simultaneously capture data from a right-leaning network, like Fox News, for comparison.
Either way, it makes the State of the Union much more interactive and enjoyable. I look forward to watching Mr. Obama, and will certainly tune into CNN to participate in Microsoft Pulse. After all, if you are going to watch, you might as well participate too, right?
[UPDATE] Check out some of the results in the below video.
.@tomforemancnn unveils the results of #CNN's #SOTU @microsoftpulse test https://t.co/unfWn9YIdU

— CNN Newsroom (@CNNnewsroom) January 13, 2016