Microsoft issues KB3173040 as a final in-your-face reminder to upgrade to Windows 10 for free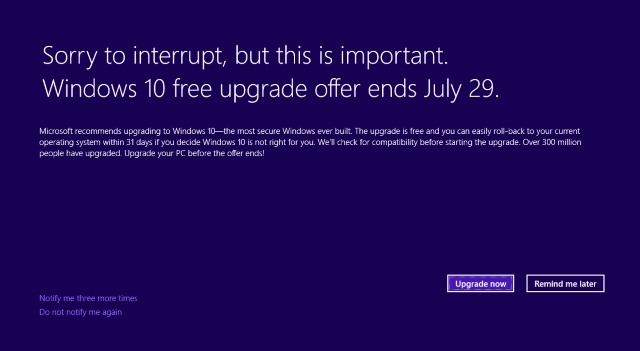 The promotion of Windows 10 upgrade by Microsoft has certainly proved controversial, and it was only this week that users were given an easy way to decline the upgrade offer. With the 29 July deadline for free upgrades fast approaching, the clock is really ticking now, and Microsoft is giving Windows 10 one final push.
Window 7 and 8 users are being offered update KB3173040. Its sole purpose is to advertise the availability of Windows 10 and to remind people that time is running out. Given the criticism Microsoft's decision to promote the Windows 10 upgrade deadline with a full-screen notification is a little... odd.
Microsoft does seem to have learned something from the Windows 10 upgrade debacle. While the full-screen reminder is certainly very in-your-face, the release notes for KB3173040 explain that it is possible to postpone or prevent the re-appearance of the notification. If you are running Windows 7 or Windows 8.1 and you're still considering taking advantage of the free upgrade to Windows 10, hitting Remind me later means you'll be nudged again in three days' time.
Microsoft explains that not everyone will see the reminder. It will not appear if any of the following is true:
You have a recent version of the "Get Windows 10" app installed.
You have selected the Do not notify me again option.
Your computer is detected to be incompatible with Windows 10.
You have previously uninstalled Windows 10 after you upgrade.
Your Windows 10 installation failed and rolled back.
You have hidden the "Get Windows 10" app notifications.
You have disabled the Windows 10 upgrade or you have disabled the offer screen through registry key settings.