Microsoft finally lets users say no to Windows 10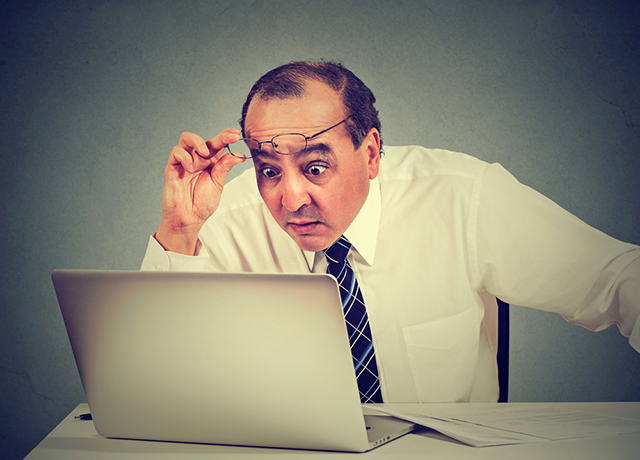 Microsoft has used every trick in the book to get Windows 7 and 8.1 users to upgrade to Windows 10. From making the new operating system free, and introducing an app to simplify the upgrade process, to fooling users into requesting an upgrade even if they really don't want it.
The latest approach has been to change the behavior of the red corner X in the Get Windows 10 popup. People who clicked the button to close the message assumed they'd rejected the new OS, but had in fact sanctioned the upgrade. Microsoft even went so far as to remove the X in some cases, so people couldn't even close the popup without agreeing to install the upgrade either immediately, or at a time arranged by Microsoft.
Tricking users in this way -- Microsoft's paying customers, let's not forget -- was universally criticized by everyone except the most die-hard Microsoft fanboys, and even they probably secretly felt Microsoft had gone way too far this time.
SEE ALSO: Windows 7 and 8.1 users turning off critical updates to avoid Windows 10 'malware'
But finally, with just a month to go until the free upgrade period expires, it seems Microsoft is giving Windows 7 and 8.1 users a reprieve from the constant nagging and scummy trickery. The Verge reports that the software giant will soon launch a new version of the Get Windows 10 app with a straightforward decline option.
Yes, that's right. Soon instead of just having the choice of upgrading now, or choosing a time to upgrade, you will be able to say no by clicking a 'Decline free offer' link.
Obviously the emphasis of the new app design is still very much to get you to upgrade -- the popup now warns you that the free upgrade offer period is coming to an end on July 29 -- but at least there will be a clear decline option visible.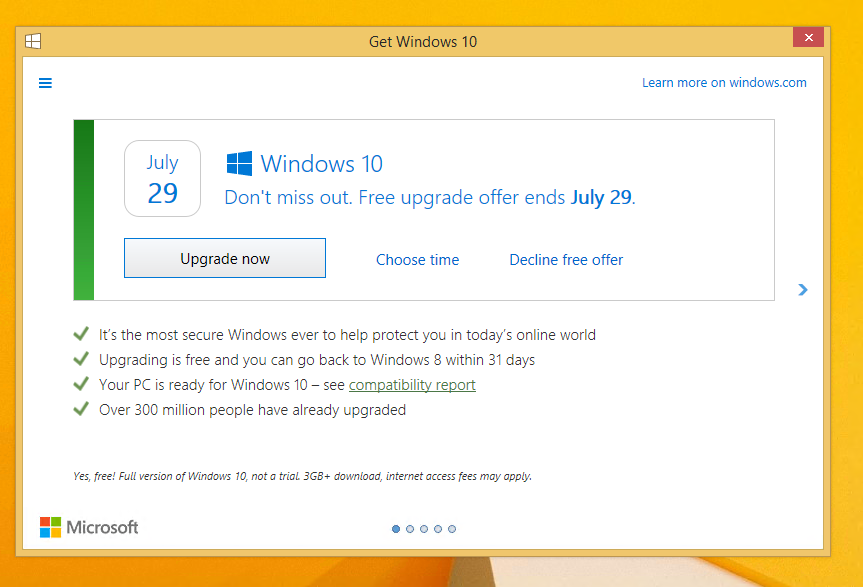 Windows chief Terry Myerson claimed in a statement to The Verge: "Since we introduced a new upgrade experience for Windows 10, we've received feedback that some of our valued customers found it confusing. We've been working hard to incorporate their feedback and this week, we'll roll out a new upgrade experience with clear options to upgrade now, schedule a time, or decline the free offer". That's certainly an interesting spin on things. Microsoft tried to trick users into upgrading, pure and simple -- nothing "confusing" there, Terry.
The updated app isn't currently available, so it's hard to say exactly what will happen if you click Decline (will any pre-downloaded installation files vanish, will app itself be removed? -- both doubtful) so we'll have to wait to see just what this change brings.
It's interesting that Microsoft has chosen to make this move now, especially with only a month left to go until the free period expires (unless, of course, Microsoft changes its mind at the eleventh hour regarding the free offer -- don't bet against it). This, in many ways, is the most important month for Microsoft to drive updates. But maybe the company realized it could only get away with crappy behavior for so long, and wanted to try to regain a little trust from its users, or maybe it just wanted to avoid yet more inevitable lawsuits.
Photo Credit:  pathdoc/Shutterstock