Google Duo video chat app arrives on iOS and Android with end-to-end encryption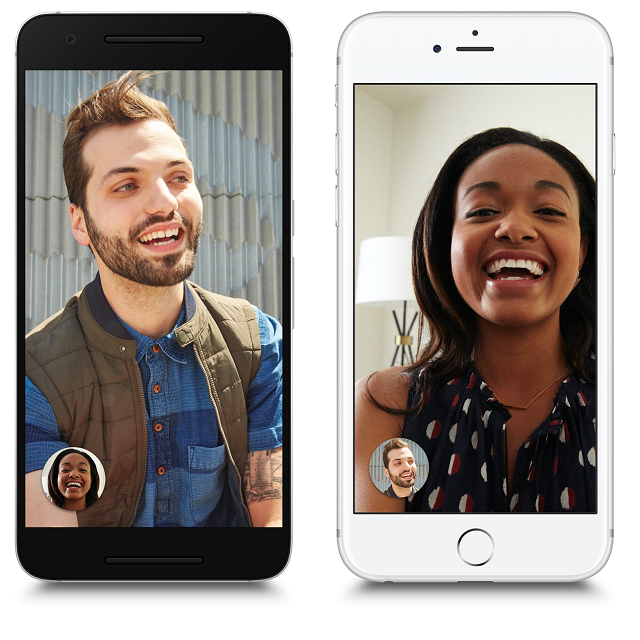 Video chat should be simple, but it is not. The biggest issue is fragmentation. On iOS, for instance, Facetime is a wonderfully easy solution, but there is no Android client. While there are plenty of cross-platform third-party options to solve this, they aren't always elegant. Skype is a good example of an app that should bridge the gap, but ends up being buggy and clunky.
Google is aiming to solve this dilemma with its 'Duo' video chat app. With it, the search giant is putting a heavy focus on ease of use. The offering is available for both Android and iOS -- the only two mobile platforms that matter (sorry, Windows 10 Mobile). Announced three months ago, it finally sees release today. There is no news about the Allo chat sister-app, sadly.
"Duo is simple from start to finish. To get started, all you need is your phone number and you'll be able to reach people in your phone's contacts list. No separate account is required, so you can sign up in just a few steps. From there, you can instantly begin a video call with a single tap", says Justin Uberti, Principal Software Engineer, Google.
Uberti further says, "we designed Duo to feel warm and inviting, focused on just you and the person you're calling. To make calls feel more like an invitation rather than an interruption, we created a feature in Duo called Knock Knock which lets you see live video of your caller before you answer, giving you a sense of what they're up to and why they want to chat. Knock Knock makes video calling more spontaneous and welcoming, helping you connect with the person before you even pick up".
Privacy focused consumers will likely appreciate the end-to-end encryption more than anything else. With all of the hacks and leaks nowadays, it will make people more confident when video chatting. It should make communications more difficult to intercept.
While Google touts the 'Knock Knock' feature as a way to possibly see the content of a video communication before accepting it, I do worry about the privacy of the person initiating the chat. Maybe the person picks their nose, for instance, while waiting for the other person to accept -- it could be very embarrassing.
If you are ready to download, you can get it immediately in the USA for both Android and iOS. Unfortunately, there are no desktop or web clients, allowing solutions like Skype to retain value for some.