System76 updates its affordable Ubuntu Linux 'Lemur' laptop with Intel Kaby Lake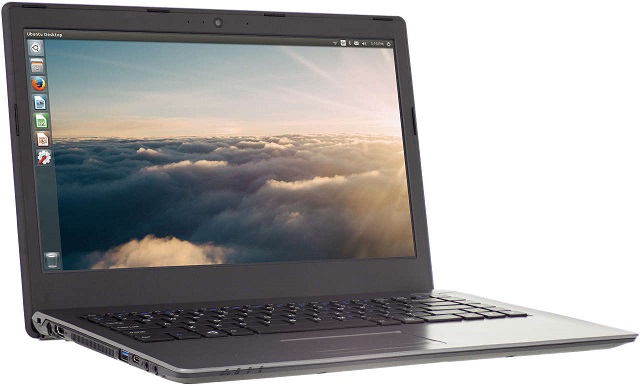 Dell recently updated its XPS 13 Developer Edition laptop with Kaby Lake processors. While that company's laptop is beautiful, it is also very expensive. For developers and home users looking for a solid laptop running Ubuntu Linux, System76's 'Lemur' has historically been a great value. Not only is the affordable machine both powerful and well supported, but it is built like a tank too.
Today, System76 updates the aforementioned Lemur with Kaby Lake processors. While Dell's XPS 13 starts at $949, the Lemur begins at a much more reasonable $649.
That starting price gets you a solid machine. It has a Core i3-7100U processor, 4GB of RAM and a 500GB HDD. If you want more power, storage, or memory, you can configure to your heart's content. Not everyone needs the most hardcore specifications and unlike Dell's machine, the Lemur will better meet the needs of those on a budget.
For instance, Dell offers a Core i5, 8GB of RAM and 256GB XPS 13 for $1,349 -- this comes with a high-resolution touch screen. What if you do not want touch and are happy with 1080p? If you don't need the fancy screen found on the XPS, spending the money on it is a waste. You can get a System76 Lemur with a better i7-7500U processor, 32GB of RAM, and a 256GB PCIe SSD for under $1349. Think about that -- quadruple the memory and better CPU for less money. Wow!
ALSO READ: Ubuntu Linux 16.10 'Yakkety Yak' Beta 2 open source OS now available for download
If you were to configure with the same specs as Dell's $1,599 machine -- i7-7500U processor, 8GB of RAM and 256GB PCIe SSD, you are looking at $1,097. Is Dell's high-resolution touch screen worth more than $500? That is for you to decide, but I say no.
The refreshed System76 offers the following specifications and options.
Operating System
Ubuntu 16.04.01 LTS (64-bit)
Processor
7th Gen Intel Core i3-7100U or i7-7500U

i3-7100U: 2.4 GHz – 3 MB cache – 2 cores – 4 threads

i7-7500U: 2.7 up to 3.5 GHz – 4 MB cache – 2 cores – 4 threads

Display
14 inch 1920×1080 IPS, Matte Finish
Graphics
Intel HD Graphics 620
Memory
Up to 32 GB Dual Channel DDR4L @ 2400 MHz
Storage
M.2 SSD, 2.5 inch 7mm height drive. Up to 4.5 TB total
Expansion
USB 3.1 Type-C, USB 3.0 Type-A, USB 2.0 Type-A, SD Card Reader
Input
Multitouch Touchpad, Chiclet Keyboard
Networking
Gigabit Ethernet, Intel Wireless-AC, Bluetooth
Video Ports
HDMI, VGA
Audio
Stereo Speakers, Stereo Mic, Headphone Jack, Mic Jack, 5.1 channel (HDMI)
Camera
720p (1280×960) HD Webcam
Security
Kensington Lock
Battery
Removable 4 Cell Smart Li-Ion – 44 Wh
Charger
40 W, AC-in 100–240 V, 50–60 Hz
Dimensions
13.4 inch × 9.5 inch × 0.9 inch (34.01 × 24.21 × 2.21 cm)
Weight
3.6 lbs. (1.6 kg.)
For home and business users looking for an affordable Ubuntu machine, the Dell -- while great -- is clearly a non-starter. The System76 Lemur, however, offers reasonable pricing with cutting-edge processors. Not to mention, System76 is entirely Linux-focused, offering unparalleled support and service. Dell's bread and butter is Windows, making Ubuntu less important to it overall.
If you want to buy your own Lemur, you can configure it here.