The HD DVD booth at CES: A somber sight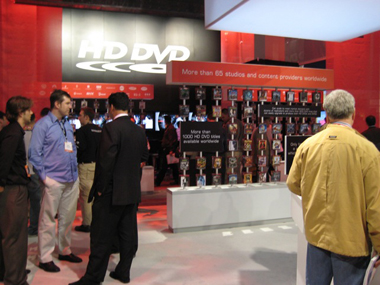 The atmosphere at the HD DVD booth Monday at CES was anything but enthusiastic. Demonstrators forced smiles while politely answering questions from visitors, but their attempts to mask the appearance of utter defeat at the hands of an ally proved challenging.
After <!article id="1199481429">last week's announcement from Warner Bros. that it would use Blu-ray as its exclusive content medium come next May, and the HD DVD Promotions Group's subsequent and prompt cancellation of all one-on-one meetings with the press, it's hard to ignore the message the HD DVD Group is sending to the general public. The format war is far from over, however.
Although we obviously caught the HD DVD representatives on a bad week, there were still plenty of fans eager to show their support. While we were chatting with folks from the HD DVD camp, several passers-by stepped in to offer words of encouragement. There are many who feel strongly that HD DVD is the better format, and that it will prevail in the long run.
Last week, the HD DVD group sent out a promotional notice reminding consumers that about one million of its consoles had been sold to date in North America.
Just a few feet away on the show floor, the Blu-ray booth was emanating a smug glow of self-congratulation. None were willing to say the battle was over, but it was clear they felt the handwriting is on the wall for HD DVD.
With <!article id="1199766332">rumors of Paramount dropping the HD DVD format as well, the curse of the self-fulfilling prophecy may be inevitable.