Creative inPerson the biggest hit at CES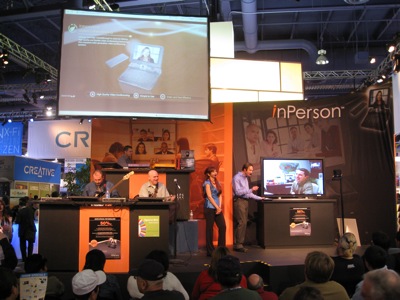 The spotlight item from Creative this year was the inPerson, a WiFi video phone device. The booth at CES was standing-room only, as many were eager to see a demonstration of the inPerson's capabilities.
<!image id=1266>
Despite lackluster demand for video phones in the market, the inPerson demo drew a crowd that rivaled Panasonic's 150-inch HDTV display. Creative hopes its solution will entice people to forgo voice calling for something more futuristic.
<!image id=1267>
Featuring a 7-inch screen and H.264 video compression, the inPerson can be used to make video-calls to another device. The configuration relies on the consumer to adopt a VOIP service, but built-in WiFi ensures the user can interact cable-free.
<!image id=1268>