Where does Joe Biden stand on technology issues?

As the Democrats' presumptive vice presidential nominee prepares to take the stage to accept the nomination of his party this evening in Denver, BetaNews' Ed Oswald takes a look at his long record.
Hailing from the state of Delaware, Senator Joe Biden has spent 36 years in the Senate. Along the way, he's gained a reputation for his direct, often outspoken, sometimes confrontational personality. His positions on technology, which reflect that personality, are sure to please some and enrage others.
Coming from a state which has some of the most lenient business and tax laws, its no surprise that many of Sen. Biden's position's may go against what some consider an anti-big business slant among the more left-leaning members of his party.
A staunch defender of copyright
Biden's pro-business stance is evident in his efforts to expand copyright legislation, often siding with the entertainment industry. His pen has produced significant pro-copyright legislation, and most notably in 2002, he asked the Justice Department to take a tougher stance on those who commit copyright infringement.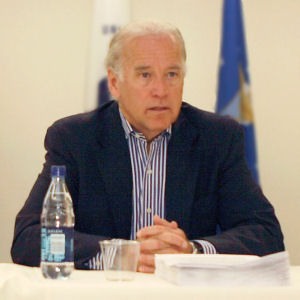 Biden's more noteworthy efforts included the PROTECT Act of 2003, signed into law that May, making it a felony to forge keys to force players to play unauthorized computer programs, or to use forged keys to use counterfeited software. Another bill sponsored by Biden last year would limit how consumers would be able to record and play back digital content.
He also co-founded and co-chairs the Congressional International Anti-Piracy Caucus, which includes over 70 members from both houses of Congress, including former Democratic presidential candidate Sen. Hillary Rodham Clinton.
Is Biden's anti-piracy stance necessarily a bad thing? As you might expect, he has defended his position, telling the Hollywood Reporter in May 2007, "When somebody holds you up on the street and takes your wallet, we call it robbery. And when somebody steals your idea and creation, we call it theft, plain and simple."
Supporters of copyright law have come to his aid. "Biden has always been a believer in enforcing laws and reducing crime, and he has brought that approach repeatedly to the world of copyright," the Copyright Alliance's Patrick Ross said.
Either way, the subject of copyright is a hot-button issue. It's not out of the question that the topic will be addressed by an Obama/Biden administration.
An opponent of 'warrantless wiretapping'
In an opinion that put him at odds with the man who would be his boss. Sen. Biden sided with his friend, Sen. Patrick Leahy (D - Vt.), in an attempts to blocking immunity for telecommunications companies cooperating in anti-terrorism investigations -- an attempt that ultimately failed.
Biden had argued that passing the bill would give President Bush too much power in allowing for surveillance without any justification. He found himself in the minority on this issue (along with Sen. Clinton), and the final FISA reform bill passed the Senate 69-28.
Next: How "green," and how "neutrality-friendly," is Sen. Biden?