At the end of the 2000's, the era of the iPod draws to a close

Like the Walkman was to the 80's, and the Discman was to the 90's, the dedicated, disconnected portable media player will no doubt be looked upon as a relic of the 00's.
Today, the ability to play media files is stock functionality in tech devices. All computers have media players, four out of the five video game consoles have them, and most smartphones have them. You can pick up a low-quality Portable Media Player for $20 at the local all-night drug store, or you could even fish them out of a 50¢ Skill Crane machine.
Apple effectively cornered the market for portable media players in the United States, and has arranged it in such a way that the iPhone/iPod Touch "app device" will be the eventual replacement for the dumb PMP.
But here's the thing, as "app device" functionality (that is, music, video, games and applications) develops strongly across numerous smartphone platforms, a lot of people will find themselves perfectly able to replace their iPod with their smartphone of choice. Since many smartphones also offer Web radio apps like Pandora, Slacker Radio, ShoutCast, SiriusXM, and various podcatcher apps, there is actually plenty of motivation to make that shift.
I look at the "What's in your Bag?" Flickr pool as a sign of this looming change. In combing through the thousands of entries, you will see that there are several types of people: Those who carry an iPod and a feature phone together, those who carry a fully-featured smartphone and a high-capacity iPod together, and those who simply an carry a current generation smartphone. In the nearly 9,000 pictures on the pool, only a scant few deviate, and those are people who carry redundant home/work devices or nothing at all. The added bulk of a discrete media player and its sync cable it an easy weight to shed.
In fact, it is completely possible to replace your iPod with a smartphone today. However, you're not likely to see many people doing it until smartphones improve in three key areas: battery life, storage capacity, and synchronization.
1.) Battery Life: Smartphones are subjected to rigors comparable to most notebook PCs, yet they are expected to retain a battery life many hours longer. The more jobs you assign to a single device, the more cycles you assign to its CPU, and consequently, the shorter you make its battery life. So when you need your smartphone for serious communications and personal information management, it's hard to justify expending battery on non-essential entertainment functions like music, photography, and gaming. Until smartphones get heartier batteries, they cannot be a full replacement for dedicated media players.
2.) Storage Capacity: Since most smartphones accept microSD for memory expansion, the current maximum capacity hangs around 32GB. Apple exceeded 32GB of storage in the iPod in 2003, before it even had color screens. When 128 GB microSD cards become an option, then they start to become true replacements for iPods.
3.) Sync: The iPhone carries on Apple's iTunes legacy, where apps, music collections, playlists, and podcasts are kept up-to-date between the owner's PC and iPhone by frequent plugging and refreshing. Other smartphones have their own solutions for mobile data synchronization, but none are as media-oriented as iTunes. Once a solution for cross-platform media management comes around for other Smartphones, the final piece for comprehensive iPod replacement will be complete.
Testing the smartphone's viability as an iPod replacement has been something of a pet project of mine for the last few months, and I regard the sync issue as the most pivotal.
You see, I have been an iPod user for most of the decade, and I've never been all that fond of iTunes. It's rigid, oversized, and generally unpleasant. Worst of all though, it never sparked in me the excitement that Winamp did in the late 90's. Maybe it's because it didn't support .sid files, but I digress.
I'm constantly on the prowl for the next great iTunes replacement, and I'm a firm believer that the first device/ecosystem that will freely and easily sync ALL of your content will be the true dominator in the mobile space. That's why I have hope for Windows Mobile and MyPhone. With that free service, you can sync your calendar, contacts, tasks, text messages, browser favorites, photos, videos, music, documents, and the contents of your phone's memory card with your Windows Live account.
But I'm an Android user. Android syncs contacts, calendar, and email with Google and Picasa and YouTube handle photos and videos, but it doesn't have a desktop or cloud-based service with which to sync the user's music collection.
That's why Dazzboard popped up on my radar again last week. We first heard from the Finnish company in July, in the midst of the Palm Pre/iTunes support scuffle. The company's browser-based music, photo, and video sync service (billed as Universal Media Management or UMM) could bridge the gap between a user's device and his media, even content was in iTunes and the device was unsupported.
Now, Dazzboard had shown up again, this time with Android support.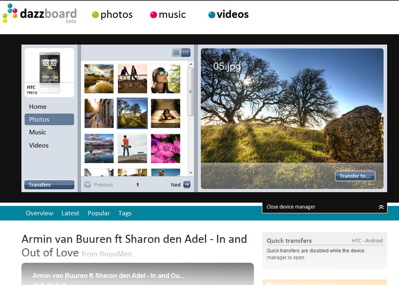 "Google's Android technology is by far the most advanced, and takes mobile phones experience to the next level of innovation," Tero Salonen, Dazzboard's CEO said in a prepared statement. "However, it is crucially important for the user experience to carry through onto the PC, and our new system provides the missing link."
Dazzboard is a Windows (XP, Vista, 7) plug-in for Internet Explorer and Firefox that lets Android devices be recognized in Dazzboard's Web interface, and opens them up for file management. The service is still in beta, so it has its bugs, but it can act both as a bridge to iTunes and as a standalone sync tool.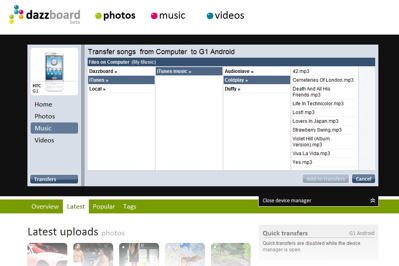 Only HTC's Android devices are supported by Dazzboard at present, and when I tried hooking up the Motorola Droid, it was not recognized. Plugging in the G1 successfully established a connection, but the Dazzboard navigator recognized it as the HTC Hero, a minor quibble, really, since file transfers all worked successfully.
Dazzboard offers a simple, menu-based interface to your files, and lets the user queue up the content he wants to send to the mobile device, and then drop it all in at once. It's an effective way to share files, but lacks the simple auto-update functionality that makes syncing with iTunes so simple.
Using Dazzboard and the MediaFly desktop podcatcher software can bring your mobile device an experience that begins to compare to iTunes in functionality, but it still has a long way to go before it can compare in simplicity.
As we progress into the new decade, it's all but certain that mobile storage will increase and battery life will improve. The birth of an effective music sync solution for smartphones, on the other hand, is not such a sure thing.
But that doesn't mean we won't keep looking.