TiVo revamps its UI with new Premiere DVRs, fuses Web, music, movies, and TV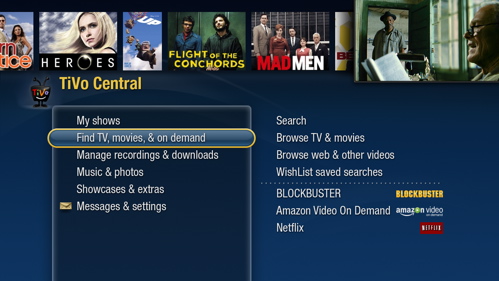 For the first time in the company's history, TiVo has completely redesigned the user interface of its popular DVRs with the introduction of the new TiVo Premiere and Premiere XL. TiVo says it has "reinvented" the DVR with what it calls the "One Box," which incorporates content from the Web, movies, music, and TV into a unified library.
The problem with any media, be it print, audio, or video, is that there's simply too much content for a user to be able to casually browse it and still be satisfied by what he's seeing. That's why news aggregators are so handy, and why there's a whole industry dedicated to social media content sharing. When there's so much stuff, you need something to filter it for you.
TiVo has been doing that for pay TV for a decade now, and the job keeps getting tougher.
As if 500+ channels of linear content wasn't enough, there are now thousands of on-demand movie and TV episodes distributed through various popular sources, and countless thousands of short-form Web shows and user-generated clips whose relevance needs to be parsed.
This is why the TiVo Premiere line is such a big advancement for TiVo. It's not just a DVR and set top box, it's a source agnostic interface that decides what content is good for you. While much of what the device does is stuff that TiVo has always done, it has never done it in such a simple way.
Completely new UI
<!image id=4609 center>
The first thing you notice is that the UI is no longer a bunch of nested screens, it's now a much simpler two-column interface where the menu is on the left and the options are on the right. TiVo has taken full advantage of the added resolution in high definition and added a live video preview window to the TiVo Central menu. This has been one of the most demanded features for quite some time, TiVo's Director of Product Marketing Bob Poniatowski told us.
"In the standard definition user interface, we would have had to rewrite every screen to include that preview window. Since we were rewriting everything for high-def, we've put it in," Poniatowski said.
<!image id=4606 center>
When you want to watch a show, you'll find TiVo has organized all of the available content under the show's heading. You can actually comparison-shop to see if it's available on demand from multiple sources. There's a list of upcoming episodes, an episode guide, and you can cross-search by cast members in an IMDB-like catalog of content available to you. Content on YouTube is presented as "bonus material" for shows, and you can link away to Amazon if you want to buy a DVD or other material related to the show you're looking at.
"The important thing is, all of that technology has been around in TiVo for a long time," Poniatowski told us. "We had Amazon, we had searching by actor, we had wish lists...but they were all separate destinations in the UI. We've completely rethought how we present things. Now it's, 'Here's the show you like and here's everything about that show.'
"If you're watching Fringe, we've constrained the view of YouTube to just showing the YouTube that's about Fringe, or just showing the view of Amazon that's about Fringe...It's about your relationship to the program, not your relationship with the box or these services. It's how we help you find the best content and get the most out of what you're paying for."
<!image id=4607 center>
It's an approach not seen in other set-top boxes, which typically arrange content by the source it's coming from. TiVo has arranged it by show.
"This is really source agnostic," Poniatowski told Betanews. "This is all the sources coming into your home, aggregated into one UI, so we'll tell you about Netflix, and we'll tell you about Amazon, we'll tell you where you get it from, but until you go and buy it from Amazon or buy it from Netflix, it's a TiVo experience...Broadband, broadcast, it doesn't matter where it comes from, you can get it in this UI."
It's a good thing that TiVo tackled the content management problem when it did, because the Premiere XL can now record 150 hours of HD content, or 1400 hours of standard definition. Back when TiVo started in the DVR business in 1999, the series1 could only hold 14 hours.
Further simplifying the experience for users, TiVo has redesigned title searching (you are now given a list of most popular titles by the first letter typed in), browsing by genre (you rank your favorite types of content by a one-to-three thumbs up rating), and hard drive navigation ("Now Playing" has become "My Shows" and now includes dedicated "A, B, C" function keys for changing the hard drive view.)
About the new A, B, and C soft keys in the "My Shows" menu, Poniatowski said, "We've had these features as keyboard shortcuts for years, but nobody knew! The only people that would know would have either read the manual, personally talked to me on the Internet, or sat on the remote and accidentally changed it, then they'd call us and say 'I lost all my folders, what happened?' We don't want to take those calls," he joked.
TiVo Premiere:
$299.99
320 GB HDD, records up to 45 hours of HD programming or up to 400 hours of standard-definition
TiVo Series4 architecture
Supports digital cable, high-definition digital cable, antenna (ATSC), and Verizon FiOS. Does not support satellite or AT&T U-verse.
Outputs: HDMI, component video, composite video, optical audio, analog audio

Video output modes include: 480i, 480p, 720p, 1080i, 1080p

Inputs: CableCARD support, cable coax, antenna coax, Ethernet, USB 2.0 ports (2), E-SATA support for external storage
TiVo Wireless-N and Wireless-G network adapter support
Energy Star certified
TiVo Premiere XL:
$499.99
1 TB storage -- Records up to 150 hours of HD programming, or up to 1350 hours of standard-definition
Features all of the same ins/outs as the Premiere box, plus a backlit, programmable, and learning remote
TiVo Premiere XL is the first HD product to feature THX Optimizer, a video calibration tool that lets users fine-tune color, black levels, and other settings to improve picture quality.
TiVo Premiere and TiVo Premiere XL boxes will be available in retail nationwide in early April. They are also available for pre-order today at <!external href="http://www.tivo.com">tivo.com.