41% of new smartphone buyers choose Android

"The race for the lead in US. smartphone operating system (OS) consumer market share is tighter than it has ever been," begins a blog post today on Nielsen Wire. The winner is? No one yet. Apple's iPhone leads in total US consumer market share, while most people who recently bought a smartphone chose Android. I'm among them. "This race might still be too close to call," Nielsen asserts.
Perhaps the more important data point is about the broader smartphone category. "In November, 45 percent of recent acquirers chose a smartphone over a feature phone," according to the Nielsen post. That's up from 34 percent in June. Apple and Research in motion are "statistically tied" with respect to US smartphone OS market share -- 28.6 percent and 26.1 percent, respectively. Android's share is 25.8 percent.
However, 40.8 percent of recent acquirers chose a smartphone running Android, compared to 26.9 percent for  iOS and 19.2 percent for BlackBerry OS. Perhaps the longer trend is more interesting; Nielsen's data is for the six months from June to November 2010. BlackBerry share as measured by new acquirers, fell about 10 percent in June, when Apple released iPhone 4, and continued to decline thereafter. After a nearly 5 percent surge between June and July, iPhone share was flat through November. By stark contrast, Android share increased during the entire six months, undeterred by iPhone 4.
Apple is hobbled by single-carrier distribution in the United States, while Androids and BlackBerries are available through all major carriers. That said, Android's dramatic surge against iPhone's flat sales raises doubts about how much boost Apple might eventually get from a distribution deal with Verizon, as oft is rumored.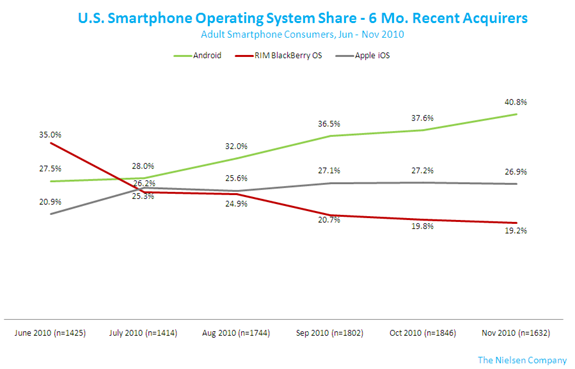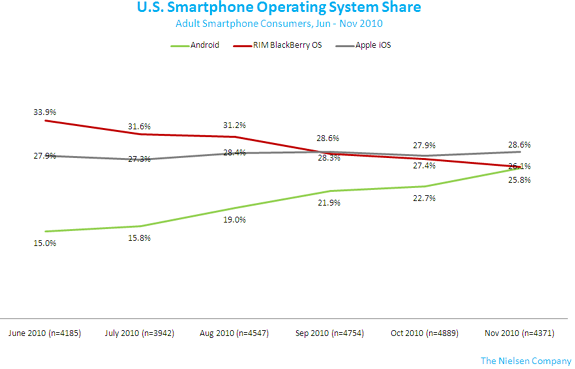 Samsung is one of  the beneficiaries of the Android surge. Today, the company revealed that it sold 10 million Galaxy S smartphones since June. In December, Samsung extended the S line to include the Google-branded Nexus S.