Intel tries to redefine mobile computing (again) with Ultrabook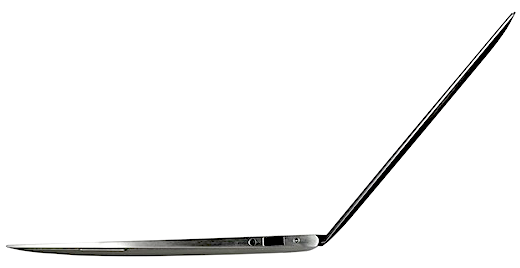 Computex kicked off today in Taipei, with Intel looking to open a new mobile computing category. Now that iPad and other tablets are killing off the netbook category, Intel is looking to start another -- Ultrabook. Intel is pitching Ultrabook as a laptop with tablet-like features, which based on size, features and performance looks lots like Apple's MacBook Air.
Ultrabooks will be thin and light, measuring less than 20 mm (0.8 inches) thick and selling for less than $1,000. By thickness (16.3mm), the Samsung Series 9 fits the category definition but costs considerably more, starting at about $1,300. The laptop is available now.
The first Ultrabooks are expected to ship in time for holiday 2011. Asus UX21 will be among the new models. "At ASUS, we are very much aligned with Intel's vision of Ultrabook," Asus CEO Jonney Shih says in a statement. "Our customers are demanding an uncompromised computing experience in a lightweight, highly portable design that responds to their needs quickly. Transforming the PC into an ultra thin, ultra responsive device will change the way people interact with their PC."
Ultrabook couldn't come at a more important time for Intel and its OEM partners. PC shipments declined unexpectedly during first quarter, forcing Gartner and IDC to reevaluate full-2011 forecasts.
"Weak demand for consumer PCs was the biggest inhibitor of growth," says Mikako Kitagawa, Gartner principal analyst, in a statement issued last month. "Low prices for consumer PCs, which had long stimulated growth, no longer attracted buyers. Instead, consumers turned their attention to media tablets and other consumer electronics. With the launch of the iPad 2 in February, more consumers either switched to buying an alternative device, or simply held back from buying PCs."
PC manufacturers face two problems then: Low pricing isn't driving sales and tablets are cannibalizing PC sales. Ultrabook's potential appeal, if any, is two-fold -- enticing consumers to spend more on more luxurious but thin-and-light portables and offering them laptops with tablet-like features. Among the most important: Instant-on, or near instant-on capabilities.
Intel's goal is ambitious, moving 40 percent of the laptop market to Ultrabook by the end of next year.
The chipmaker isn't giving up on netbooks, however. Today in Taipei, Sean Maloney, Intel executive vice president, discussed the-next generation netbook platform codename "Cedar Trail." Intel is touting fanless designs, 10-hour battery life and 32nm processors. Cedar Trail will support Chrome OS, Meego and Windows.
Meanwhile, Intel pushes ahead into tablets and smartphones, with the 32nm "Medfield" processor. However production won't begin until later this year, with the first sub 9-mm, 1.5-pound tablets expected to ship by mid 2012. Intel showcased a Medfield prototype running Android 3.1.