Chromebook presale already sold out, but there's a wait-list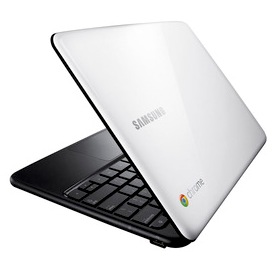 Samsung's Galaxy Tab 10.1 isn't the only new portable getting the early sales treatment -- and, hey, it runs another Google operating system. Gilt Groupe is offering the Samsung Series 5 Chromebook, for presale. I meant to write about the offer yesterday, but got sidetracked with other news. Gilt Group spam promotional email reminded me today.
Yesterday I received an unexpected email from "The Chrome Team" offering the presale, starting at Noon ET June 1, but leading to the Gilt Groupe site. Can you say phishing scam? So I suspected before confirming legitimacy.
"Since we announced the Chrome Notebook Pilot Program back in December, we've been humbled by the amount of interest that we've received from users like you," the email reads. Humbled? Google received 1 million requests for the 60,000 Cr-48 Chromebooks, unveiled in December. The laptop, like the Series 5, runs Chrome OS.
"We're excited about the brand-new Samsung Chromebook that goes on sale on June 15," the message continues. "Fortunately, we've managed to get our hands on a few machines a little earlier, and we'd like to make these available to you, our biggest enthusiasts." Oh yeah? I immediately thought Google would be showing its gratitude with a free Chromebook or discount on one. Nope.
<!image id=6995 left>"When you buy your Chromebook, you'll also be getting a limited edition, custom-fit Chrome sleeve designed by Rickshaw so you can carry your new Chromebook in style. Our good friends over at Gilt, the premier invitation-only shopping site, have agreed to put these Chromebooks up for sale -- but only for a very limited time," the message ends.
If you want one, I owe you an apology. They're sold out already! But you can still get on the wait-list before the sale ends June 3 at 9 a.m. EDT. Perhaps someone will have second thoughts and cancel. Yesterday's Windows 8 demo sure was compelling. Maybe some of the Gilt shoppers will get an attack of guilt and cancel.
By the way the Chromebook is listed for $499, but I could have sworn it was $599 yesterday. The hgher price put me off, even for the 3G model. I wasn't that impressed with the free, designer case, either. Are you?