I gave away 7 Samsung Galaxy Tabs last night -- did you get one?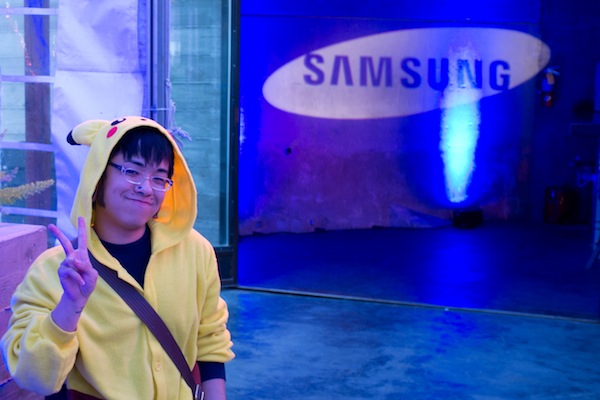 Enthusiasts are the best marketers. Repeat until memorized.
We live for enthusiasts here at Betanews, from bug-eyed junior high school students coding websites to grey-haired mainframe administrators turned Linux hacks or Windows Server admins. Enthusiasts are the lifeblood of many products or brands, but nowhere do they matter more than in tech. Last night, I was simply delighted to mingle with tech geeks at the Samsung Galaxy Tab Meetup in San Francisco.
Samsung Mobile put on the event, cosponsored by NetShelter, Betanews' publishing partner. A meetup just like it took place the night before in New York City. More than 400 free tickets were available on first-come basis for each event. I'm no judge of crowds, but it looked to me like a helluva good turnout. I wish you could have been there. Samsung did something really smart here, by engaging enthusiasts so intimately. I hope the South Korean manufacturer continues to sponsor events like these two, and that more tech companies imitate the approach.
New Tab is the Marketing Hook
The Galaxy Tab 10.1 officially launches June 17, but will be available June 8 from one store only -- the Best Buy Union Square in New York City. The two events are part of Samsung's marketing efforts gearing up for the big launch. Considering the drowning buzz for Apple's iPad 2, Samsung probably can't do enough to promote its iPad-competing tablet. Buyers didn't exactly rush out to buy the Motorola XOOM, which was the first truly drool-worthy iPad 2 competitor. Samsung should learn from XOOM's clumsy start.
<!image id=7020 center>
Early arrivals discuss the Galaxy Tab 10.1
Samsung provided a couple-dozen Tab 10.1s for enthusiasts to play with, and they did. I spoke with two attendees who admitted to monopolizing Tabs for an hour or more. Hey, and it was only a three-hour event! Then there was the schwag --20 7-inch Tabs and six 10.1s. I drew numbers for the last giveaway of the evening, and two of those six big prizes.
Last night, I learned a new measure of an audience's enthusiasm. On TV game shows, cheering is the norm for everything. Real life is different. Last night's audience exhaled a collective rumbling sigh after the number on each raffle ticket was read. That's how badly these people wanted a Tab or Samsung smartphone.
Two winners caught my attention. A young woman from Detroit had been in San Francisco for three weeks. While Googling for jobs, she came upon the Eventbrite invite. She signed up, attended the event and won a 7-inch Galaxy Tab. A 15 year-old boy took away a Droid Charge smartphone. When asked if a geek, how did he know? He hacked his cell phone was the answer. Well, there you go.
It was a really fun event, where geeks were free to be themselves, revel in an exciting-new product and wolf down some gourmet chow -- mushroom sandwiches with some fancy name. I'm from Maine, which culinary mainstays are baked beans and whoopie pies (the dessert may be the sole cause of obesity in the Pine Tree state). The Samsung event was booze-free, and that should be standard for any geek meetups. Save your brain cells and get high on the tech.
<!image id=7021 center>
The crowds arrive and mob the Tabs
A Really Good Idea
I can only guess what Samsung spent on the two events, but there's a measure of value, which is the whole point of engaging enthusiasts. Someone pointed out last night that surely the marketing benefits equal or exceed taking out a full-page ad in the New York Times. Oh really? Advertisers in the tech category pay $107,075 for a full-page Times ad, without applying discounts. Let's presume that, hypothetically, Samsung spent $100,000 for each event -- or the equivalent of two big print ads. Who knows -- $50,000 each. I don't.
A $100k newspaper ad would reach as many as 915,000 Times readers, based on daily circulation. That's a helluva lot of eyeballs. The two Samsung events reached about 800 people, maybe more. It's not how many that matters but who they are. Even during the Google era of targeted advertising, too much is still about quantity versus quality. Most people seeing a Galaxy Tab 10.1 advert probably wouldn't be the least interested in the tablet or any other; if pining for iPad 2, they wouldn't likely change plans because of a print ad. However, a good friend encouraging to buy Tab instead of Pad could change everything -- like one of the people attending last night's Samsung event.
The Times reader didn't ask for that one-page ad, but the geeks attending the Samsung events asked to participate. They're a smaller audience but one with bigger interest -- people more likely to buy Galaxy Tab 10.1 and to recommend it to friends. Social media amplifies their influence.
Be totally honest. Would you rather: a) Read a one-page ad or watch a TV commercial about the Galaxy Tab 10?; or b) Get to play with the tablet before it goes on sale and possibly win one? If "b," storm the forums of your favorite tech company and ask them to start holding meetups like Samsung did the last two nights.
Photo Credits: Joe Wilcox