OS X 'Lion' will cost $29.99 for all your Macs -- how much will Microsoft charge for Windows 8?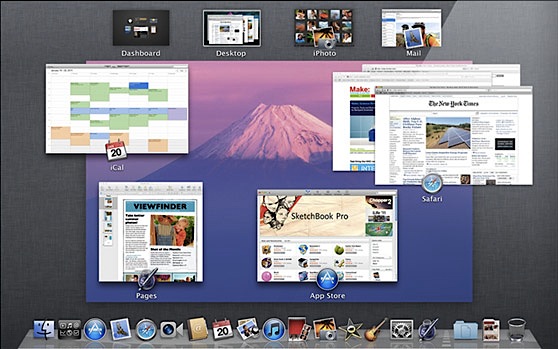 Apple's newest operating system, Mac OS X 10.7 "Lion" is coming next month, with Apple passing big savings to customers. But you'll need v10.6 "Snow Leopard" to get it. The announcement came earlier today during Apple's Worldwide Developer Conference.
Lion will be distributed as a software download through the Mac App Store, which is available as an add-on to Snow Leopard. Mac App Store is built into Lion. The in-app upgrade is a new distribution mechanism for Apple, and the company is passing on savings to its customers. Apple offered v10.6 Snow Leopard as a $29 upgrade from v10.5 Leopard on DVD. More typically Apple charged $129 for a single license and $199 for 5-license Family Pack.
In a startling price cut, Lion will cost simply $29.99. Pay once and download for all your personal Macs. However, those Mac users running older OS X versions will need to upgrade to Snow Leopard first, making their upgrade cost about $59 -- and that's still considerable savings.
By comparison, Microsoft's online store charges, get this, more for Windows 7 downloads than the box copies (because a disc is sent out, too). Windows Home Premium 7 upgrade is $119.99 or $199.99 plus $14.95 additional fee. Ultimate version, which is more comparable to Lion, costs $219.99 for the upgrade and $319.99 for the full version, plus the aforementioned fee.
Suddenly Mac OS X looks like a bargain compared to Windows. Of course, Apple makes more of its money selling hardware, while Microsoft's business is selling software.
Lion Roars
Phil Schiller, Apple's senior vice president of worldwide product marketing, introduced Lion to WWDC attendees. In January, Apple CEO Steve Jobs went on indefinite medical leave from Apple. Jobs spent hardly any time on stage before handing the demo to Schiller. That Jobs didn't give the demo is commentary on his state of health. During healthier days, Apple's CEO would do most of the presentation himself. Still, his presence is meant to convey something to Apple investors and Wall Street analysts.
Lion is one of Mac OS X's biggest upgrades in years. Apple previewed the operating system in October 2010, under the marketing tagline: "Back to the Mac." Jobs explained how iOS derives from OS X and that Lion would incorporate features from the mobile version back to its desktop relative. Mac App Store is one of the more notable features, as well as user interface changes.
Among them: Launchpad -- what Apple calls an iPad-like screen of apps that looks to me more like a secondary screen of icon shortcuts. Full-screen apps, which mimics iPad's presentation of them. Mission Control -- a graphical task manager for showing what applications are open. Other new capabilities include auto-save, multi-touch gesturing, instant resume and document versioning.
Regarding Mission Control, Gartner analyst Michael Gartenberg tweeted: "Unified Expose and Spaces. Yep, this will work much better I think...I can see how Mission Control will tie into the way I'd like to work on my computer. Excellent."
Lion shows Apple's continued commitment to Mac OS X, but iOS increasingly matters more. During fiscal second quarter 2011, iOS device sales accounted for about two-thirds of Apple revenues.
More Like iOS
Schiller demoed many of the above features -- and others, such as updated Photo Booth. But what perhaps was most startling -- how much more Lion is like iOS than its predecessors. This offers some advantages to developers creating apps for both platforms, with full-screen support being one of the most important additions. But as Gartenberg observed: "Developers will have to do some work to make the full-screen optimized experience. Apple apps already done of course."
The new Mail client, while previously announced, demoed well. "The Mail clients on iPhone and iPad are so easy, sounds like the new Apple OSX Lion Mail Client may enable users to switch from Outlook," Saba Software's Jim Lundy tweeted.
Apple faces some unexpected competition. Last week, Microsoft previewed Windows 8, which features an exciting task-oriented user interface. Windows 8 made Lion look antiquated just four days before today's keynote. Microsoft has taken one of the freshest approaches to operating system user interfaces since, well, the Macintosh in 1984. The new UI is fluid and modern, using HTML5 for rendering. The styling resembles the tiles used on Windows Phone 7.
Microsoft delivered a big surprise in Windows 8 last week. There were few surprises during Schiller's Lion preview. Apple already had disclosed most of the features. How many of these features introduced today will also come in Windows 8?
Wes Miller, a research vice president for analyst firm Directions on Microsoft tweeted: "As Microsoft watches the WWDC demos, they add the same autosave fundamentals to Windows 8 apps. Please!?"