Forget iPhone 5, Samsung sells 3 million Galaxy S IIs in just 55 days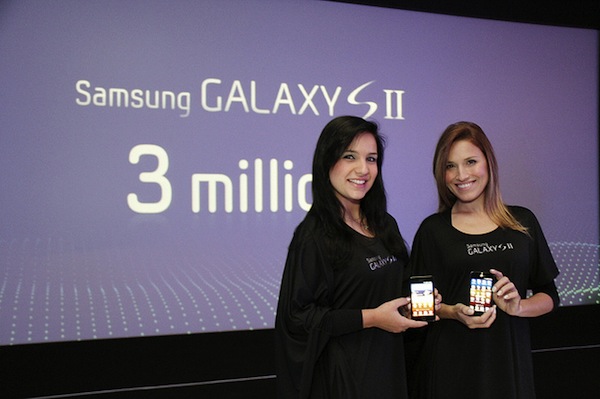 You want to know why Apple is so hellbent on stopping Samsung selling smartphones in the United Sates? Reread this post's headline.
Samsung's sales milestone comes as competition increases with Apple here and abroad. Galaxy S II sales success also partly explains the ongoing patent claims and counter-claims spat going on between the companies. In its boldest move yet, Apple on July 1 requested a preliminary injunction barring Samsung from selling Droid Charge, Galaxy S 4G, Infuse 4G  and Galaxy Tab 10.1 here. (Justia.com has consolidated case history.)
Unfortunately, I haven't had the privilege of using Galaxy S II, but reviewers who have rave about it. "The Galaxy S II's screen is nothing short of spectacular", writes Vlad Savov for Engadget. Praise continues -- from the "onscreen keyboard is terrific" to "general responsiveness is absolutely exemplary". Savov concludes: "It's the best Android smartphone yet, but more importantly, it might well be the best smartphone, period".
Another: "The finest Android phone we've seen so far, the Samsung Galaxy S II isn't just a competitor to the current iPhone. It competes with the next iPhone", writes Sascha Segan for PC Mag.com, giving the smartphone an "Editor's Choice" rating. That last statement is the clincher. Samsung already is one generation ahead of Apple.
The Samsung smartphone, announced in February, features a 4.27-inch Super AMOLED display with 800 x 480 resolution; dual-core Samsung processor; 8-megapixel rear-facing and 2-megapixel front-facing cameras; Android 2.3 (Gingerbread); 1080p video recording; Bluetooth 3.0+HS; and HSPA+ network support, among other features.
Samsung's three-mobile operating strategy, with Android increasingly most important, is succeeding in an iPhone one-OS world. During Q4 2010, Samsung smartphone shipments grew 439 percent, according to IDC. However, despite strong continued growth during first quarter 2011, Apple led Samsung in smartphone market share based on shipments -- 18.7 percent (ranking No. 2) and 10.8 percent (placing No. 4), respectively. That said, in the broader cell phone category, including smartphones, Samsung leads and is closing on marketing leader Nokia globally. During Q1, Samsung overtook Nokia on its home turf, Western Europe, according to IDC; Apple leads in smartphone shipments.
Last week, I corrected some of the recent misreporting about iPhone stalling Android sales. Samsung's sales success with Android-based smartphones like Galaxy S II is another proof point for that case.
I can't figure out Samsung. The company posted photos indicating the 3 million sales to Flickr on June 28 and 30. The official 3 million announcement came yesterday, during one of the busiest US holiday weekends of the year. Granted, Samsung is a South Korean company and its products are sold across the globe, but the United States is still one of the biggest markets for smartphones. Surely, Samsung could have maximized the PR value better, particularly since so many blogger and journalists here belong to the Apple Fanclub. Perhaps since the phone is still coming to US carriers, someone in Seoul didn't see the need for bigger promotion here. Bad idea.
From Samsung's Flickr account, regarding the 55 days: "Within the period, a unit of Galaxy S II was sold in every 1.5 seconds. This record shortens the record of 85 days of its predecessor Galaxy S, a ten-million global seller, by 30 days".
In a statement, within the period, JK Shin, president of Samsung's Mobile Communications Business says: "This milestone reflects the continued strong support from our carrier partners around the world who have chosen the GALAXY S II as their flagship Android device".
Oh yeah? How about a little more carrier commitment here in the United States?