Apple, Samsung battle for smartphone supremacy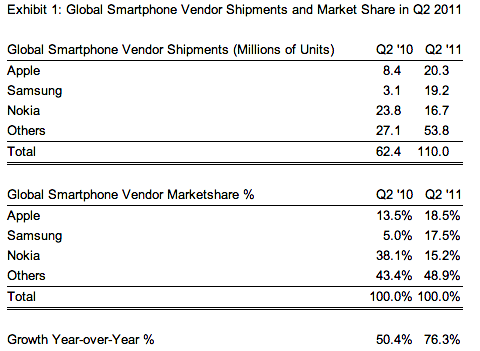 In a near photo finish, two upstarts simultaneously dethroned smartphone king Nokia as they scrambled for top spot during second quarter, globally. Apple and Samsung shipped 20.3 million and 19.2 million smartphones, respectively, according to Strategy Analytics. Nokia fell from first to third place, with 16.7 million units.
Samsung's ascension is nothing short of phenomenal, and that's remarkable considering how exceptionally Apple performed. Apple smartphone shipments rose from 8.4 million a year earlier, but Samsung even more -- from 3.1 million.
"Samsung's shipments grew a huge 520 percent annually, for [17.5] percent global smartphone market share. Samsung's Galaxy portfolio has proven popular, especially the high-tier S2 Android mode", Neil Mawston, Strategy Analytics director, says in a statement.
Samsung's three-mobile operating strategy, with Android increasingly most important, is succeeding in an iPhone one-OS world. The company identifies five "flagship" phones and two tablets -- all running Android. As Mawston observes, the Galaxy S series, including the hot S2, is hugely successful. This week, Samsung bragged about 5 million sales as of July 22, up from 3 million 30 days earlier. Galaxy S II achieved both milestones in 85 days and 55 days, respectively. In January, sales of predecessor Galaxy S topped 10 million -- after 7 months of sales.
Second quarter's results set up a showdown starting in Q3. Samsung's Galaxy S II achieved its big shipments during the quarter, China sales started this week and the handset won't be available in the United States until August at the earliest. Meanwhile, Apple is rumored to be launching iPhone 5 as soon as September. Samsung is in striking distance of Apple during third quarter. The longer-term question: Will Samsung's surge (assuming there is one) be sustainable after iPhone 5 launches?
Perhaps the Galaxy S II's late US launch partly explains Samsung's much weaker competitive position here than globally. Yesterday, Nielsen reported smartphone share based on 20,000 "post-paid mobile subscribers". Android leads smartphone operating systems, with 39 percent share, followed by iOS at 28 percent. By manufacturer, Apple is tops with 28 percent share. Samsung's share is just 10 percent, split between Android and Windows Mobile/7.
Samsung reported second-quarterly results today. While overall company revenues fell, the mobile division was the star performer, with sales up 43 percent year over year. Samsung reported a $1.58 billion operating profit for its mobile division from $11.55 billion revenue. That's about a 13.7 percent margin. HTC also reported earnings and, by comparison, 15.5 percent margin. Samsung's lower margins result from the high number of feature phones shipped.
<!image id=7653 center>
IDC also released phone data today, but for the broader handset market. Manufacturers shipped 365.4 million mobiles during Q2, up 11.3 percent from 328.4 million a year earlier. IDC had forecast 13.3 percent growth. Feature phone shipments declined 4 percent as buyers in so-called mature regions like the United States shifted to smartphones.
"For the overall market to grow by double digits year over year, despite the decline in feature phones, is testament to the strength of the global smartphone market", Ramon Llamas, IDC senior research analyst, says in a statement. "While this is not a new trend -- smartphones have been the primary engine of growth for the last several quarters -- it does mark something of a transition point, as demonstrated by the growing number and variety of smartphones featured in the vendors' portfolios".
IDC predicts global smartphone shipments will top 1 billion by 2015.
Back to smartphones, shipments rose 76 percent, reaching 110 million units globally, in second quarter, says Strategy Analytics.
Nokia the smartphone king is dead. Long live Apple and Samsung. But can Apple keep its global crown? We'll know when third quarterly numbers release in October.