Norton Security 2012: Better protection, less overhead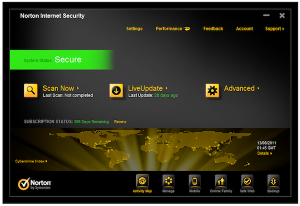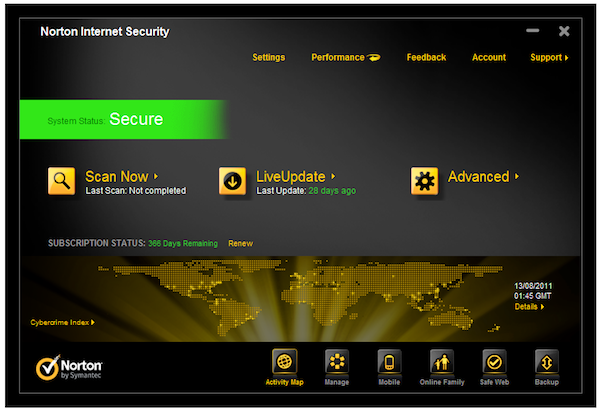 Symantec has released brand new versions of its antivirus and Internet security products. Norton Internet Security 2012 and Norton AntiVirus 2012 both launch with new and improved features to boost the brand's security reputation even further.
Norton 2012 promises improved Norton Protection System and Insight features, a new parental controls tool and built-in optimization for netbooks, claiming it will conserve battery life and preserve network usage while running on battery power.
Both 2012 editions are available as free updates to anyone running the 2011 version with a current subscription; to update, either download the full install file or open the Support menu and choose New Version Check to download via Symantec itself.
Norton Internet Security 2012  and Norton AntiVirus 2012 appear on the surface to be light on new security features, but behind the scenes Norton continues to evolve its background protection technologies. These include SONAR 4.0, which can now block potential threats based on their behavior while also extending its reach to cover Non Process Threats (NPTs), which inject themselves into legitimate processes in an attempt to hijack the system.
Norton Power Eraser, which helps clean up malware-infested systems, is now be capable of running from the Norton Bootable Recovery Tool, where it can more easily dispatch malicious software because no malicious processes are running.
Norton Download Insight has been updated to version 2.0 in Norton 2012. The original release scanned all newly downloaded files, comparing them with known threats and community-led feedback to provide you with a security rating. Version 2.0 now allows users to also rate applications for stability, adding an extra element of protection against potentially problematic programs.
Norton Internet Security 2012 also introduces a new start-up manager component, accessible from the Performance section, that provides information about each startup entry that helps you determine if it's worth disabling or not; it's also possible to delay startup programs, too, so they launch at a "quieter", less disruptive time. It's a straight port of the startup manager bundled with the current version of Norton 360.
Other changes to Norton Internet Security include a redesign and tweaking of Norton's Identity Safe, which now works in a similar way to Lastpass, meaning it'll auto-fill login details and syncs across all your devices via the cloud. Norton Web Safe -- the browser add-on that alerts you when you attempt to visit risky or malicious websites -- has also been expanded to cover Google Chrome, and it now also scans your Facebook news feed for dangerous links and downloads too.
Elsewhere, new features applicable to both Norton Internet Security and Norton AntiVirus include Norton Product Management that allows you to control all of your Norton product installs from a single location, and Metered Network Settings, which allow you to restrict what updates the program can download according to specific network adapters. The idea here is that if you're on a capped or slow connection, you can instruct Norton to download critical updates only. This feature is configured from the Settings > Network > Network Security Settings menu.
The user interface has also been tweaked -- all of the options displayed on the Norton 2011 interface have been hidden from view (click the Advanced button to view them all again) in favour of a simple, streamlined interface.
Norton Internet Security 2012 and Norton AntiVirus 2012 can be downloaded as free trial versions for PCs running Windows XP SP2 or later. A full subscription lasting 12 months costs $40 (Norton AntiVirus) or $70 (Norton Internet Security).