HP board looking to Meg Whitman to solve its problems, say insiders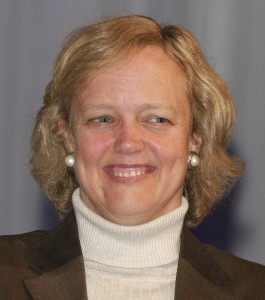 The man behind the change in strategy at Hewlett Packard may be on his way out. Kara Swisher of All Things Digital reported on Wednesday that sources indicated that HP's board was considering replacing current CEO Leo Apotheker with former eBay chief Meg Whitman.
If true, the move could signal deep divisions within HP over its future. Apotheker was behind the company's move out of the consumer business and WebOS. The simple fact that the board now is looking for new leadership may indicate that abandoning the consumer market was not an opinion shared by all of HP's executives.
Swisher reports that a significant portion of the board wants Apotheker gone after what they see as mismanagement of the company. Indeed, his record is by no means stellar: he has cut sales forecasts for the company at least three times during his tenure, and has pushed the company towards a significantly smaller market.
While it is true that the enterprise sector offers higher margins, HP would find itself competing with already established players in the sector such as IBM and Oracle.
The company would have to build that business up on its own, and it probably would require significant shifts in how the company works internally.
While Whitman's hopes to become the next Republican governor came up short, her ten year tenure at eBay's helm should certainly be considered a success.
She led the company to become one of the web's premier e-commerce destinations, and while eBay had its share of mistakes Whitman was able to maintain that success. It is said that Whitman wants to return to management following a brief stint as a consultant with venture capital firm Kleiner Perkins.
HP could not be immediately reached for comment on the report.
The move would also mean that HP would see its third CEO in two years. Apotheker replaced disgraced former CEO Mark Hurd, who was ousted in August 2010 over accusations of improper relations with an HP consultant. Before that was Carly Fiorina, who also had her share of troubles surrounding HP's botched merger with Compaq.
Apotheker at the time of his hire was seen as a "strategic thinker with a passion for technology, wide-reaching global experience and proven operational discipline" by the board. It now seems that even his previous experience did little to solve what appears to be deep structural issues in HP's overall business.
Photo Credit: Joe Seer/Shutterstock.com