Samsung Galaxy S II Epic 4G Touch first impressions review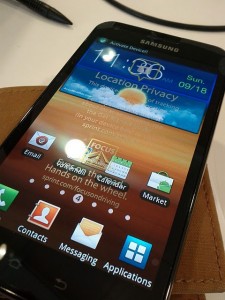 Sunday, September 18. Sprint Store, North Jersey.
This fanboy stalked his Sprint Dedicated Care rep for many moons, leading up to this day. What hardship getting here. Samsung announced the Galaxy S II in February, and it started selling everywhere else in the world in April. But not the United States. As if the waiting wasn't enough, 10 days earlier the rep informed me that I would have to go to the local Sprint Store to pre-order the Samsung Galaxy S II Epic 4G Touch, but only if I bought a $50 gift card first. Then I would have to return to the store on Sept. 18. Sprint couldn't mail the phone to me. Surely this was a joke.
When I pre-ordered, one other person was on the list.
I arrived at the store, expecting great fanfare. The Galaxy S II is considered top-of-class for Android phones, and Sprint has the prestige of offering the phone here first. But there were no signs, announcements or funky T-shirts proclaiming the arrival of the most powerful, thinnest, most beautiful smartphone ever to arrive in these United States.
I coughed up my gift card and was handed the SGS2E4GT (cue harps).
The Sprint tech turned it on, thus activating the number for the line I opened to qualify for the phone. But when I informed him I needed to do phone swaps, he referred me to customer care.
WOW!
I went to the parking lot to unbox the phone and to call Sprint Premier Care. This is one handsome phone. Not only is the Epic 4G beautiful-looking, it is a marvel of modern technology. Here are the stats (I hope you are sitting down):
1.2 Ghz dual-core processor; 4.52-inch Super AMOLED display, with 800 x 480 pixel resolution; capacitive touchscreen; huge battery -- 3.7 volt, lithium ion, 1800mAh; claimed 10.5-day standby time and 8.7-hour continuous talk time; 16GB internal memory, expandable to 32GB with microSD card; 8-megapixel rear-facing camera/camcorder with 4x digital zoom, auto-focus with varying shot modes and various software add-ons like geo-tagging, photo editing and HD playback via adapter, video-share, and TV out (also with an adapter); 2-megapixel front-facing camera; Bluetooth (BT profiles: A2DP, AVRCP, GAVDP, HFP 1.5, MAP, OPP, PBAP); WiFi and WiFi Hotspot (known issue that is being resolved -- check Sprint site); WiMax; Samsung's TouchWiz 3.0 UI; and the expected standards like GPS, accelerometer, proximity sensor, etc. The Epic 4G Touch runs Gingerbread, but despite the rumors of Android 2.3.5 it's 2.3.4. The phone measures 5.11 x 2.74 x .38 inches -- yes, .38 inches thick. Right now it comes in just black, however, an all white version was released on a Canadian carrier recently.
Some things I observed while unboxing the Epic 4G Touch:
Samsung/Sprint didn't include earbuds.
The charger is smaller than its predecessor.
There is no SD card. Other Sprint Android phones I purchased usually came with one.
Sprint Premier Care had me activated with my old number in no time; 30 minutes, and I helped, but she did most of the heavy lifting.
Finally I could marvel over the phone and the amazingly fast boot time. My Nexus S 4G and the SGS1 before took twice as long to boot. I guess Samsung's boast that it "virtually eliminated waiting and disruptions by installing a 1.2 GHz dual core processor" can be taken quite seriously.
Once I get over the speed, my attention turned to the 800 x 480 pixel, 4.52 inch, Super AMOLED screen. The display is so large, that even when the phone is not in landscape view, the touchscreen keyboard is bigger than I -- and likely you will -- need. Turn the phone sideways to landscape mode and the keyboard is laughably large.
Samsung's lock screen is an improvement. I enjoy changing backgrounds often, so to have a family pic as the lockscreen and another one as the wallpaper means I won't as easily get bored by my wallpaper.
Samsung's Touch Wiz 3.0 user interface is what it is. It's straightforward and maintains continuity from the SGS1, so the casual user will have no trouble adapting. The Epic 4G Touch runs Gingerbread, but it's not a pure Android experience. While it is not as polished or free of debris (those darn Samsung and Sprint modifications) as the version that shipped on the Nexus S 4G, it is still otherwise the slickest version of Android. The Motorola Photon 4G is closest competitor, and I have to say that I did not like that phone in or out of the dock. I was there on release day at the Sprint Store and played around for about thirty minutes with it and was not impressed. The Photon 4G didn't make me want to give up my Nexus S 4G. Not even close.
Digital Maverick
The Epic 4G Touch's 8-megapixel, rear facing camera takes jaw-dropping photos. This is eight times as many megapixels as my first digital camera. Images are crisp, with vivid contrast, there is a LED flash. The word on the street about the HD Camcorder capabilities are true. The phone eliminates the need for a separate camcorder -- shooting 1080p video at 30fps.
Sound quality is just as good as its predecessor. Sprint Stores have the hard case with kickstand in stock. Netflix & Crackle streams have to be seen to be believed. If you happen to have one of those DLNA cables, you can stream in HD to any DLNA equipped TV. This is what the directions and the website stats say. I wouldn't know because I have only seen DLNA one time, at Sprint's NYC 4G/SGS1 Epic launch. Needless to say, they didn't let me handle the phone for more than ten seconds during the demonstration.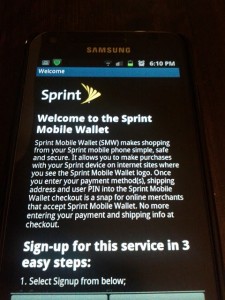 Something struck me as really odd; the phone comes pre-loaded with Sprint Mobile Wallet. I had initially thought it was Google Wallet all gussied up for Sprint in the partnership. This is clearly not the case. Take a look at the photo of the welcome screen. Further down it talks about their partnered retailers. These include Namco Wireless and Skymall with more "coming soon". When you click the signup button you are brought to the EULA where it rambles on about how you give up your rights regarding most disputes, but makes no mention of Google Wallet. After that it takes you to a signup page where you enter your profile information. That is where my investigation stopped. Googling Sprint Mobile Wallet just made me more confused.
Aside from that, the rest of the software is not as eyebrow raising. Unsurprisingly, there is a bunch of Sprint-branded apps, and the Sprint ID pack -- it's serious bloatware. But new widgets, Social Hub, and pre-loaded Kies Air (browser-based wireless tethering) more than makes up for the bloatware.
Bottom line, I am a lucky man, because in the end I didn't get the Epic 4G Touch for me. My wife has been waiting for this phone for months. For anyone wondering if this behemoth is too big, my wife is a good test case. I had already upgraded to the Nexus S. She didn't want to because she liked the SGS1 Epic's full qwerty keyboard. She has used the SGS2E4TG (how silly is the name?) for the last five days and reports: she's in love.
I am not giving up my Nexus S 4G -- yet. If you believe the rumors, the Nexus Prime is not far from release; maybe 30 days? And I really have become accustomed to its predecessor. The Nexus S 4G may be slower and smaller, but it is a damn solid phone. Couple that with the non-bloatware, stock Android 2.3.5 experience, and it is a steal at $45.00 with new Sprint contract. (And it is an even better phone if you are looking to try out some of the mods that are out there. Currently I am running Oxygen -- very clean AOSP -- but I have also run Cyanogen 7.)
It is easy to see why Samsung sold 5 million Galaxy S IIs in 85 days in Europe and Asia. The phone, due to its size, speed, and screen quality, absolutely demands your attention. In fact, come to think of it, it demands your attention in a way that is different than the first time you laid eyes on an iPhone.
Sprint's Samsung Galaxy S II variant has a magnetic quality that, as I expressed earlier, has to be seen to be believed.
Photo Credits: Joseph LoRe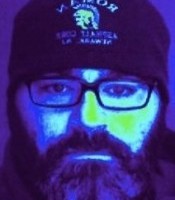 Joseph LoRe is chief of operations for LoRe Sweeping Co., Inc. He is married and a father of three. You can follow him on twitter: @DarthSpacegrass