What I learned while buying my daughter iPhone 4S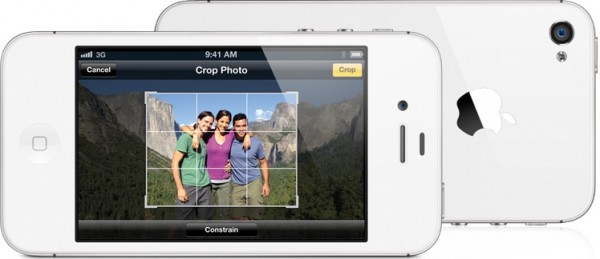 I missed out on the big iPhone 4S launch here in San Diego, which turned out to be a blessing in disguise -- as the anachronism goes. There was chaos this morning in BetaNews manor, so I ground my teeth, cursed often and kept my fingers pounding the Lenovo ThinkPad T420s keyboard. I wouldn't have gone to buy iPhone 4S but to take photos before the store doors opened at 8 a.m. My sixth sense sniffed opportunity -- that the line outside Apple Store Fashion Valley would be nowhere near as big for iPhone 4S as it was for v4. I was right. It wasn't, I later learned. Grumble, grumble.
My daughter texted soon after going to school. She needed me to sign some papers for taking tests and to cough up payment for exorbitant fees. She needed everything during lunch, and "It'd be amazing if you could bring some food too!!!" Parenthood. I needed a break, so we met and squared everything away. Then I got to thinking about Apple Store. It was only a few miles away. Why not pop over there and see how the line looked and if iPhone 4S had sold out.
No Sell Out
I arrived to see a sparse line of perhaps 20 people, which suggested the store still had phones to sell. Sure enough. When I asked, an employee answered: "We've got plenty for AT&T". But the store had sold out of Sprint phones.
"Sprint today reported its best ever day of sales in retail, web and telesales for a device family in Sprint history with the launch of iPhone 4S and iPhone 4", Fared Adib, Sprint product chief, says in a statement. "We reached this milestone at approximately noon CT/1pm ET".
I arrived at the Apple Store around 1 p.m. PT, or so about three hours after Sprint achieved its sales milestone. Someone in the newsroom sent around the Sprint statement soon after I returned from Apple Store, remarking: "we can stop asking if the 4S will be a massive success". To which I responded: "I'll keep right on asking. My local Apple Store had at 1:30 overwhelming stock of iPhone 4S for AT&T and Verizon. Sold out for Sprint. Only...Of course, Sprint launch was huge. First-time iPhone carrier".
"The response to this device by current and new customers has surpassed our expectations and validates our customers' desire for a truly unlimited data pricing plan", Adib says. Right. iPhone is completely new to Sprint.
So the first thing I learned: Sprint had a helluva good sales day -- perhaps too good if people want to buy and there's nothing to sell. The second: AT&T hadn't sold out its phone. The third: Neither had Verizon. Well, at least in San Diego. I queried an Apple employee with stacks of cards in her hand. I've seen them before. It's how an Apple Store tracks inventory out in the waiting line, asking people which models they want and ensuring those are available. Clearly the store had hundreds of Verizon iPhone 4S models still available and she told me even more for AT&T.
How's the stock holding up, as I write about four hours later? My local Apple Store still has plenty of AT&T and Verizon models. Perhaps it's different on the East Coast. So I called Apple Store Tysons Corner, the first of the company's shops to open -- May 2001 (I was there) -- at 7:35 p.m. ET and asked. Employee told me that all colors, all capacities are available for AT&T; similar availability for Verizon. But the store sold out of 16GB models for Sprint. Oh yeah? Tysons still has some Sprint iPhone 4S models! So there was something else I learned -- at least one Apple Store has Sprint iPhone 4Ses.
I also learned that either 4S demand isn't exceptional compared to iPhone 4 or Apple has gotten much more efficient stocking inventory -- or both.
AppleCare+
But that's now. I'm not done with then. Since the iPhone 4S waiting line was so short -- and the promised wait time 15 minutes -- I joined. Right now my family is split between AT&T and T-Mobile, which is overly costly. We need to consolidate to one carrier. If not for the troubled AT&T merger and my daughter and father-in-law using iPhones, I would move the family to T-Mobile. The contracts expire next week, and I will instead migrate the remaining two lines to AT&T. I planned to buy a new phone anyway and had been nudging my daughter towards Android, which most of her friends have. I texted her and asked whether Android or iPhone 4S. Her answer didn't surprise. I was right to stand in line.
Only about 12 minutes later, an Apple employee ushered me inside the store. He confirmed that my daughter's line isn't eligible for a subsidized upgrade. I would purchase the phone with a new line. I asked for the 16GB white model; my daughter would go from the 32GB black iPhone 4. I couldn't afford more but unexpectedly ended up paying as much as the 32GB iPhone 4S -- another $99.
What a sales pitch! The employee introduced me to AppleCare+, which is new. That was the next thing I learned while buying my daughter iPhone 4S. Apple raised the protection plan's price from $49 to $99 -- well, if you want the plus. I also learned: "AppleCare+ must be purchased together with your new iPhone", according to the company. And something else: Plus really offers something extra -- replacement of damaged iPhones. I twiced asked the employee if replacement was free, and he assured me it is. But it's not, which is another thing I learned but only later when checking out AppleCare+ for this story: The plan "adds coverage for up to two incidents of accidental damage due to handling, each subject to a $49 service fee". That's still cheaper than what AT&T charges for insurance and replacement, and the Plus service also extends AppleCare to two years.
But what about the people who preodered iPhone 4S? The answer is another thing I learned. According to Apple: "AppleCare+ will be available through November 14, 2011, to customers who pre-ordered iPhone 4 (8GB) and iPhone 4S. After you receive your new iPhone, contact us at 1-800-275-2273 to purchase AppleCare+". You've got a month, baby.
After choosing to add AppleCare+ to the purchase, I completed the transaction and activated the phone while still in the store -- at 1:30 a.m. PT. About the same time, something else happened, which I learned about later. "As of 4:30 pm ET today, AT&T had already activated a record number of iPhones on our network -- and is on-track to double our previous record for activations on a single day", according to a company statement. I'd like to think my activation put AT&T over the top (say is there a prize for this), but I'm not quite that presumptuous.
I learned something else: iPhone 4S really doesn't interest me. I wrote last week: "You can have iPhone 4S, I'll take Samsung Galaxy S II". I felt no tug to buy one for myself or even to commandeer my daughter's iPhone 4S for a few hours before she gets it. I'm completely satisfied with the S2.
But I learned one more thing -- not while at Apple Store but while writing this story about the visit. Governor Jerry Brown tweeted about an hour ago: "This Sunday will be Steve Jobs Day in the State of California". Can you believe that?